First chance to blog since I got back to the UK from the final-year geophysics field course. We run this course in conjunction with the  University of Munster and the Universite Paris Sud, going to England, Germany and France in successive years. This year was Germany, and the Vogelsberg Mountains in Hesse, just to the northeast of Frankfurt.

The countryside there is mostly rolling hills, forests and dairy farms and I spent most of the week measuring its gravity. The students did their one day of gravity and a day each of four other field geophysics techniques. After a week we had measured gravity at a massive 64 points.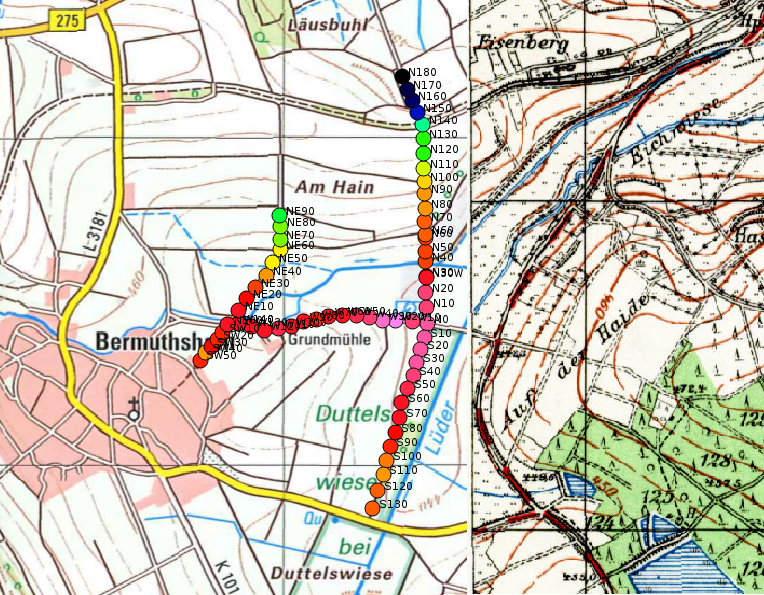 The panoramic photo is looking south down the longest line of data points on the map, from roughly the location of the green point marked N120.  Gravity is certainly not a fast technique: 14 points per day is a good speed for students new to the Lacoste Romberg gravity meter. The big positive anomaly (pink)  doesn't correlate in an obvious way with the geological map and  presumably corresponds to a structure some distance below the surface.
Although I was doing gravity all week, I got occasional glimpses of the other groups.

This group are doing a seismic survey. Or they have a misbehaving piece of gear which requires some particularly severe re-programming.
The weather was good all week, right up to the point where we had to drive back to Frankfurt. I'm already looking forward to France next year!