Making climate change solutions accessible through free online courses: Q&A with Dr. Erika Warnatzsch
Making climate change solutions accessible through free online courses: Q&A with Dr. Erika Warnatzsch
It is essential that we tackle the biggest challenge of our time – climate change – by giving each of us the knowledge and tools we need to make a real difference. Dr. Erika Warnatzsch and her fellow MSc Carbon Management alumni have put in tremendous amounts of effort to create course content for the University of Edinburgh's free short online courses focused on Climate Solutions.
In conjunction with the release of the Climate Solutions: India course on 6th December, the Online Learning Marketing Team took this brilliant opportunity to ask her a few questions about her work on the Climate Solutions courses.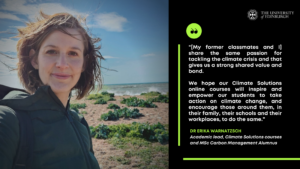 Q: Tell us a little bit about yourself and how you developed an interest in climate change and the environment.
A: I am a climate change researcher, digital education designer and teacher at the University of Edinburgh. I teach postgraduate Carbon Management students and am also developing a suite of short online courses for an international audience on Climate Solutions. My most recent research has focused on the interaction between climate change, food security and health in Malawi. Outside of academia I have a background in carbon accounting and I have had the privilege to work with businesses, policy makers, communities and individuals from around the world on climate solutions.
I was very fortunate to have the opportunity to live in various countries around the world as a child. My parents always ensured that, wherever we lived, nature was accessible and that I learned about the people and the environment around me. It became clear to me, that while humans are intrinsically linked to nature, there were clashes occurring and this often led to terrible outcomes. I saw landslides and flooding result from the destruction of virgin rainforest, I breathed in the smog from forest fires and industrial processes, I saw normally shy animals coming into villages and cities after their habitat was disturbed or destroyed, I saw extensive algae blooms kill off whole marine ecosystems, I noticed the change in the timing of seasons and the arrival of snowfall… These personal experiences, while a drop in the bucket to the realities faced by many all around the world, inspired a passion for understanding this interaction between human systems and the rest of the natural world. I wanted to understand the drivers behind the changes we are seeing, and the characteristics and processes which drive vulnerability and resilience in the impacted populations and systems. Humans are part of nature, not a separate entity, disruption to the natural system is making our dependency and vulnerability within this relationship more and more clear – and we need to listen to the warnings nature is giving us.
Q: Why did you decide to pursue the MSc in Carbon Management at Edinburgh?
A: I knew from an early age that I wanted to study the natural environment, and I discovered more about climate change in my undergraduate. I learned how climate change impacts all aspects of the human and natural world – all nations, all systems, all industries. I wanted to learn more, but was not ready to focus in on just one aspect of climate change – I wanted to explore the natural science, but also understand all the various interactions which occur. The University of Edinburgh leads the world in many aspects of climate change research, offering the expertise, facilities and resources to carry out inter-disciplinary learning. The MSc Carbon Management is a fairly unique programme, not only as it is one of the only places to learn about climate change at this level, but also because it allows students to look at the science, business, economics and policy of climate change. Students on the MSc learn not only the facts, but they also gain insight into the barriers faced by others, and the language that will be necessary for us all to work together to solve this global challenge.
Q: Can you tell us a bit about how you and your peers contributed to the Climate Solutions free short online courses – how the idea for it all started, how the syllabus was created, how much you contributed, etc.
A: When I started working on the online course, the UK Climate Solutions MOOC was already built. I was brought on to look at expanding our offerings and create international versions of the MOOCs to reach more people from all around the world. In collaboration with Professor Dave Reay, it was decided that our first international MOOC would target an Indian audience. India was chosen due to their great importance in the fight against the climate crisis, the high vulnerability of the country to the impacts of it, and the large network of amazing alumni we have from the country.
Together with Galina Toteva and the Indian alumni network, I have built the syllabus and content for the new version of the Climate Solutions online course – our first international version – Climate Solutions: India. Again, with the help of our Indian alumni network, this course will also be translated and launched in Hindi in the near future.
All of our MOOCs are a partnership between the University of Edinburgh, the Edinburgh Centre for Climate Change (ECCI), the Climate Solutions Network (RSGS, University of Stirling, Institute of Directors and University of Edinburgh), and the COP26 Universities Network.
Going forward we hope to create Climate Solutions online courses for as many countries as possible in as many languages as possible. I look forward to working with more of our amazing MSc Carbon Management alumni from around the world to turn this dream into reality.
Climate Solutions course trailer
Q: What was it like to collaborate with your former classmates again and what were the benefits of this approach?
A: Working with former classmates is always a great pleasure. We come from a great variety of backgrounds in terms of our national identities, cultures, career paths and interests. However, we all share the same passion for tackling the climate crisis and that gives us a strong shared value and bond.
Q: Why should our readers enrol on the Climate Solutions online courses?
A: Climate change is a global challenge which will impact all corners of the Earth and all industries. No matter which path you choose to take, climate change will influence your life – be it through direct physical impacts, access to safe and diverse nutrition, supply of your favourite products and services, ecosystem services, financial security, and general wellbeing. Taking the short Climate Solutions online courses will help give you the knowledge and language needed to go forward in a changing world. We hope our online courses will inspire and empower our students to take action on climate change, and encourage those around them, in their family, their schools and their workplaces, to do the same.