Celebrating the first year of CMALT
Celebrating the first year of CMALT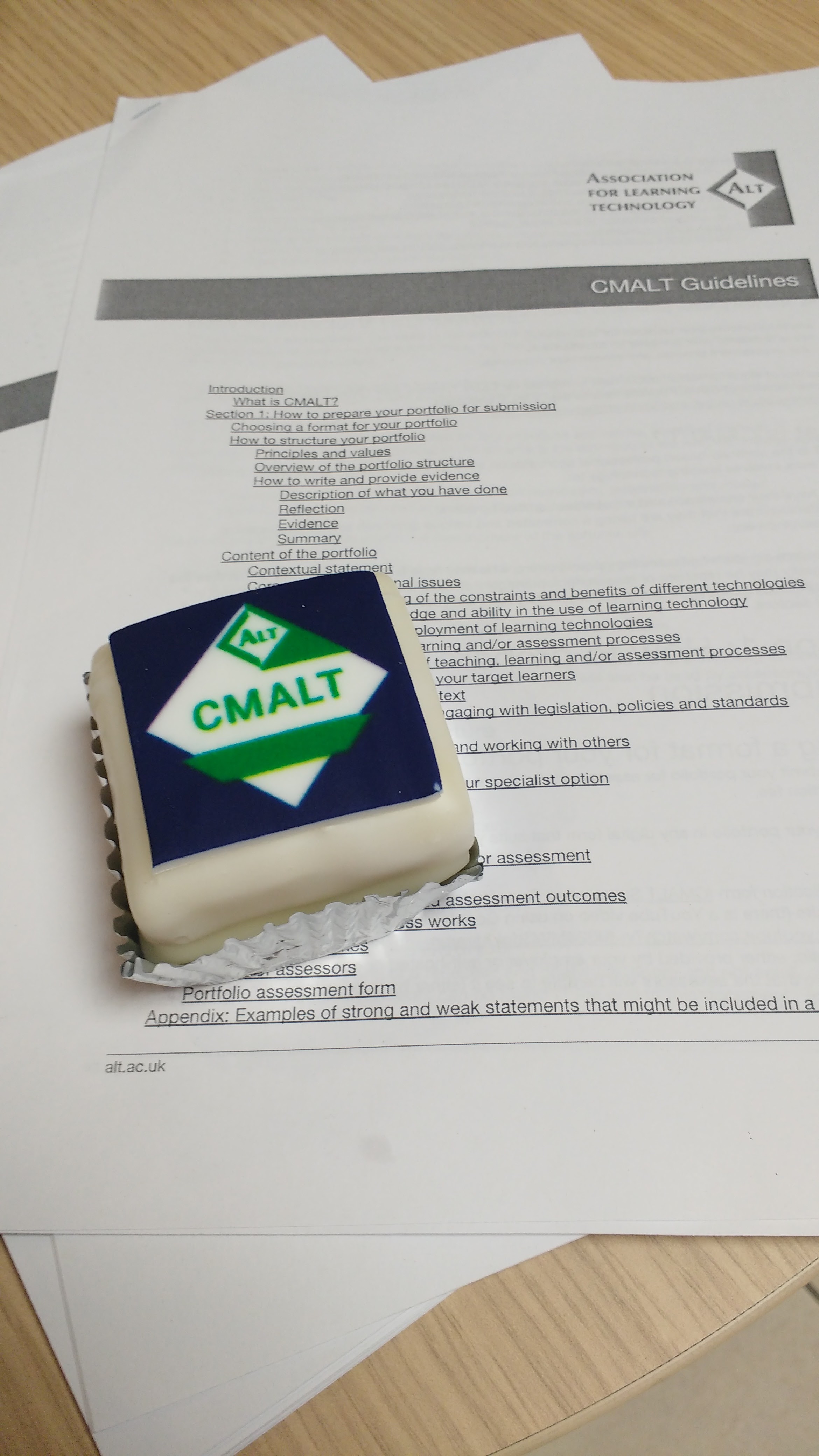 On the 20th of June we held a Celebration Event to celebrate our first year of supporting a cohort of staff from across the University to put together their CMALT portfolios.
As I wrote my speech for this event I realised that this project has been such a pleasure to work on thanks to to the enthusiasm and good will of a great many people, and for those who weren't able to join us on the day and hear said speech, I'd like to share my thanks in this blog post.
Firstly, thanks to everyone (all 23 of you) who took part in this year's cohort, who between you came to the 12 meetings, 6 writing retreats and 4 open events. Members of the cohort are at different stages of their CMALT journey but I'm really pleased to say that everyone who started with us, is still planning on completing their portfolio – so at the very least I haven't put anyone off!
Congratulations to the 12 people who have submitted portfolios and are patiently awaiting their results – I'm planning another event like this later in the year to celebrate these results and I hope that these celebrations will be an ongoing part of the annual CMALT calendar. [Update: Further congratulations are now due to the 5 people, so far, who have passed their CMALT accreditation]
Thank you to all of the line mangers who supported their CMALT applicants and encouraged them through the process.
Thank you to Melissa Highton, Director of the Learning, Teaching and Web services division (LTW) for instigating this project and for her ongoing support.
Thank you to Jenni Houston for supporting the scheme from Digital Skills and Training Team and to Stuart Nicol, my line manager in Educational Design and Engagement Team, for their continued support.
Thank you to the people from other institutions who were already running cohort schemes and were kind enough to advise me in setting up this scheme:
Sarah Sherman from the Bloomsbury Group
Stefanie Anyadi from University College London
Julie Voce at Imperial College London
Thank you to Daphne Loads from the Institute for Academic Development (IAD) for her advice on setting up the scheme, facilitation of writing retreats and for speaking to the cohort about reflective portfolios.
And thank you to Rosie Bree for setting up the Writing Retreats and to the Institute for Academic Development for providing the room and supporting the Writing retreats
Thank you to Rachael Mfoafo for her excellent organisation of rooms and catering.
Thanks to all of our guest speakers:
Professor Lesley Diack who shared her insights as an experienced CMALT assessor
Toni Fisher, E-learning Advisor at Robert Gordon University who joined us for a webinar to share her recent experience of successfully completing her CMALT accreditation.
Eugen Stoica from the Scholarly Communications Team who spoke to use about Copyright and Open Access
Stuart Nicol who spoke about Open Educational Resources
Ruby Rennie who shared her insights on Accessibility as School Coordinator of Accessibility
Stephanie (Charlie) Farley Board Game Jam (Make your own OER using OERs)
Thank you to Martin Hawksey, Maren Deepwell and Thomas Palmer from the Association for Learning Technology –for their ongoing support and enthusiasm.
We have now opened the scheme for its second year, and I am greatly looking forward to working with another cohort as they start their CMALT journey.
Share