23 Things wins LILAC's Credo Digital Literacy Award
23 Things wins LILAC's Credo Digital Literacy Award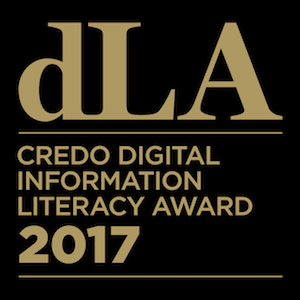 23 Things for Digital Knowledge has been awarded the Credo Digital Literacy Award for LILAC 17.
The Credo Digital Award for Information Literacy rewards an innovative/high impact digital resource developed by a UK-based individual or group.
The award was judged by Katharine Reedy (Learning & Teaching Development Manager, Open University) and Josie Fraser (Social and Educational Technologist). Katharine explained: "we both agreed this is a superb resource which builds digital literacy through a well-designed combination of information, discovery and social interaction. It is very flexible in how it can be used, with bite-size chunks of learning, and accreditation through badging for those who wish to work through the whole course. It therefore appeals to a wide range of learners."
Created by Stephanie (Charlie) Farley from our Educational Design and Engagement team, 23 Things for Digital Knowledge is an open online self-paced course designed to encourage digital literacy and is aimed to be of use to a broad audience.
What is 23 Things for Digital Knowledge?
The University of Edinburgh (UoE) launched the course in September 2016 to enhance digital literacy for primarily the UoE community but also a broad external audience. Created by Stephanie (Charlie) Farley from our Educational Design and Engagement team, 23 Things for Digital Knowledge is an open online self-paced course inspired by 23 Things Oxford and based on the original 23 Things program which ran at the Public Library of Charlotte & Mecklenburg County in the USA in 2006.
Why we developed the course

The UoE is a citywide institution spread across multiple campuses. It has a devolved structure that encompasses 3 Colleges and 20 schools. Our Digital Skills team received feedback from staff and students at the University that they would like to learn more about digital literacy, however, they didn't feel that there was time available to attend training.
In order to address this our Educational Design and Engagement team decided to build on the success of the 23Things model – originally aimed at librarians and research staff – by providing a course focused on digital wisdom and literacy skills. This aligns with the University's digital transformation strategy to create a digital educational experience to provide staff and students with the tools to succeed in a digital future. Its openly licensed content and broad appeal to users both internal and external also aligns with the University's Open Educational Resources Policy and mission to "make a significant, sustainable and socially responsible contribution to Scotland, the UK and the world, promoting health and economic and cultural wellbeing".
Who was the course for?
The course is aimed at students and staff at the UoE, and open to anyone interested in taking part. The course was actively promoted to broader communities via social media.
We anticipated and designed towards three levels of participation:
Those who wished to sign-up in order to see how the course was constructed (e.g. other educators) or to access the information for use at a later time.
Those who wished to pick and choose from the course content according to their own development goals and interests.
Those who wished to work through the content from beginning to end with recognition of their achievement.
Course Design
Using the established structure of twenty-three 'Things' – with each 'Thing' being a subject or tool – 23 Things for Digital Knowledge presented each 'Thing' in bite sized portions with an introduction to each tool or literacy, followed by a task, additional suggested readings, and resources. Participation was estimated at 1-2 hours of self study per week with an emphasis on autonomy and encouraging the development of a regular learning habit.
This course scaffolds learning of digital literacy by introducing digital concepts, encouraging practice to develop literacy and digital wisdom. First addressing key concepts of diversity, accessibility, security, and footprints in digital environments. Next by encouraging the playful exploration of digital tools. Followed by guided blogging activities encouraging reflection of and the examination of tools both familiar and unfamiliar through the lens of these concepts. The course innovatively provides multiple levels of interaction with a flexible self-paced delivery, and a deliberate playfulness in its approach.
At the start of the course participants are invited to set up a blog and to register this with the course team. They are then shown how to tag posts relevant to the course, and those with the tag '23ThingsEdUni' are then aggregated onto the Community Blog. Anyone can work through the course without the use of a blog. However, reflective and open blogging is used to create a community of participants, to share different perspectives, uses, and understandings of the Things being explored. The blog is also used to submit completion of the Things to be eligible for an Open Badge, which could be used as evidence for Continuing Professional Development (CPD) either for work appraisals or towards external accreditation, for example CMALT (https://www.alt.ac.uk/certified-membership).
Course Participation and Response
23 Things for Digital Knowledge builds on the many strengths of the 23 Things model (e.g. open, literacy building, collaborative blogging), with a design that broadens the relevance to users with varied levels of digital literacy, and moves beyond library and research contexts in order to encourage multiple levels of participation. Its success in achieving this is reflected with participants from a variety of backgrounds including students, teachers, learning technologists, academics, support staff, information, library, and other professionals. It also appealed to an international audience with participants hailing from the UK, America, Australia, Germany, and Kenya.
Attention the course has received since its September 2016 launch include Charlie being interviewed about the course by Radio EDUtalk, and a widely received blog post by Maren Deepwell, chief executive of Association for Learning Technology. The course is soon to be featured on the LSE Impact Blog, and has been picked up by libraries in Australia (Adelaide University, RMIT, and the University of New South Wales) who worked through the course as part of their own professional development and are now encouraging their own staff and students to take part.
Quotes from participant blog posts:
I think this course has very much improved my digital literacy knowledge and skills and has made me want to work on and continue to develop my knowledge and skills.  – letusreadallthebooks
23 Things has certainly taught me to move more confidently in the digital world and to tackle new services or tools with curiosity and a more conscious critical eye. – oddforaliving
Accessibility, Open Licensing and Re-Use
The UoE is committed to creating and sharing openly licensed content. The content of this course, except where otherwise stated, is licensed under a Creative Commons Attribution 4.0 International License (CC BY). We actively encourage others to take our course and adapt it, and have already been contacted by the Scottish Social Services Council who are doing just that.
All of the excellent images used on our website were created by our Interactive Content team at the University are also available on a CC BY licence and can be downloaded from the Interactive Content Flickr account
The course content was carefully selected to be as accessible as possible to anyone with an internet connection, to appeal to a broad range of users with varied levels of digital literacy, to provide an original approach incorporating playful learning, and took care through the deliberate selection of tools available on multiple operating systems. The website was built with an eye to meeting accessibility standards, using a responsive design, careful selection of colour contrasts, and consideration of assistive technology needs.
Future Development
The first active iteration of 23 Things for Digital Knowledge has completed and our aim is to build upon this framework to continue to deliver an innovative approach to digital skills, literacy and education within our institution while ensuring that our content is open and accessible. For the first iteration a great deal of work went into researching and writing the course content. However, we anticipate being able to re-use this for several years with only partial updating. Also, the brand and Social Media presences are now established allowing us to build on these over further interaction. Support continues to be provided via blog interaction, and social media on Twitter (@EdUni23Things), Facebook (https://www.facebook.com/23thingseduni/), and the email account.
Alongside the content on the website which can be accessed and used at any time, we will be running another iteration for the 2017/18 year over a longer time period with increased online hangouts, twitter chats, and interaction both on and offline.
Share