Goodbye TREE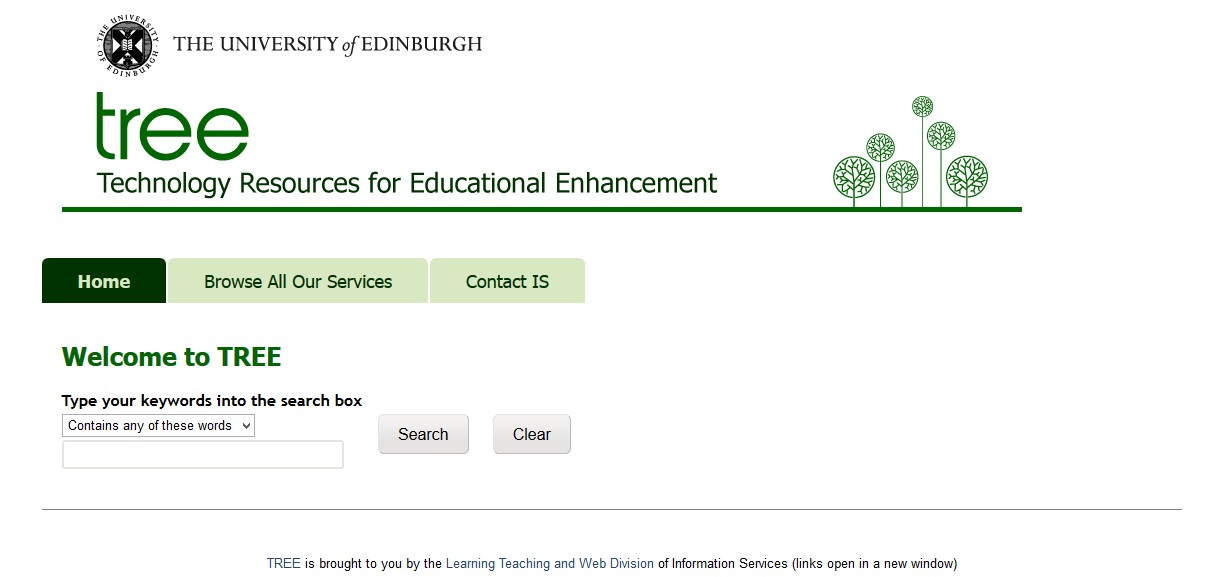 It's sad to close a service, especially one that you were involved in developing – but it is also a chance to reflect on what was learned from the process.
TREE was conceived in 2014, when our website was still using the somewhat clunky Polopoly content management system (CMS). The original vision was to develop an interactive tool aimed at teaching staff, to help them find out about the technology tools we offer and how these can be used for teaching and learning. We had ambitions to develop an interactive system that allowed people to rate our services add comments. We used extensive user consultation to develop requirements for this tool which I wrote about in a previous blog post – Setting out on an Agile project journey: Part 1, User Stories and Poker Chips.
TREE went live in summer of 2014. It was developed in Drupal – and its appearance was much cleaner than our webpages at the time. However, even with very limited content we had issues with the available search options.
Our main stumbling block however was with encouraging people to author content, and in keeping this content up to date. This required duplication of their effort as they were often already maintaining very similar content on service webpages.
We soon realised that there is too much overlap between TREE and our university webpages. Also, in 2015 our university website content management system changed from polopoly to Drupal. This has made it more user friendly to maintain webpages and offers better functionality than the previous CMS.
By creating a different web tool we were creating another place to direct staff too, this required an effort to promote, when staff were already going to our well recognised website in search of similar information.
We experimented with different channels for promotion – I set up the TREE Twitter account. I now see that I only posted 34 tweets – but I'm sure at least an hour of agony went into each composition! This was on top of email correspondence, print articles and some of my earliest blog posts. This experience introduced me to digital marketing and promotion and I learned that this requires a clear focus and vision and time to devote to development.
Lynda.com, which the University of Edinburgh subscribed to last year, has several courses that look useful for those interested in this area https://www.lynda.com/learning-paths/Marketing/become-a-digital-marketer
What we did right:
We learned from users – through comprehensive requirements gathering and later usability testing. People don't all use websites in the way you think they will or that you do. Taking the time to consult with users on requirements and to sit with users during testing provides amazing insights.
We built relationships through requirements gathering and consultation and from this developed large mailing list.
What we learned:
If you can, put information where people are already looking for it – publicising a new website is hard! It's much easier to improve content in the place people were going to look.
Share