GeoLocation in Learning and Teaching Event Wednesday 25th February 2015
GeoLocation in Learning and Teaching Event Wednesday 25th February 2015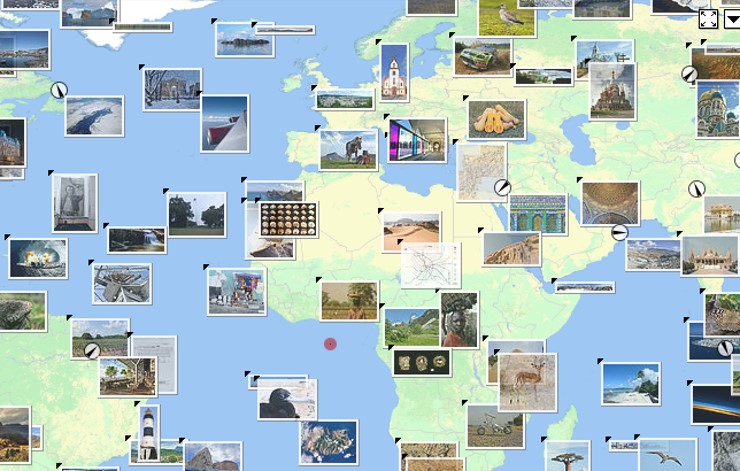 As part of the Social and Cloud based Learning and Teaching Service I recently organised an afternoon event focusing on Geolocation technology used in learning and teaching at the University of Edinburgh.
In this post are brief summaries of the presentations and links that the presenters have kindly shared:
Dr Hamish Macleod, Senior Lecturer, Education, discussed the INGRESS game which is produced by Google. It is a location dependant game based on google maps. It is a mobile game, but not a casual game (which requires little commitment from the user) it has a rich back story and ongoing objectives to capture portals. Hamish was interested in the learning potential of the collaborative elements and the possibilities of proposing missions within the game.
Dr Hamish Macleod – Presentation on INGRESS PDF (Will open in a new window)
Tom Armitage, Geoservices Support, EDINA presented on the mobile mapping and data collection app Fieldtrip GB.
A titbit for me from this session was the description of the 'Urban Canyon' effect, which explains why GPS reception can be so poor in streets flanked by tall buildings.
Armitage, Geoservices Support, EDINA presentation on app Fieldtrip GB is attached as a PDF (will open in a new window).
Dr. Anouk Lang, Lecturer in Digital Humanities, School of Literatures, Languages and Cultures discussed how she uses the SIMILE Exhibit platform, which runs off Google Maps API, to create an interactive map to use with students to explore the literary culture of Paris in the 1920s. Dr. Anouk Lang did not use slides for her presentation instead giving a live demo from her website, which you can access for further information: http://aelang.net/wordpress/mapping-modernist-paris/
The Map data is held in a Google Spreadsheet which the students edit (the students take this very seriously as they know that their contribution will be public). She emphasised the transferable skills gained by students. The precision required for basic coding forces them to pay attention to detail, for example, if they make typo's the entry will not appear.
Duncan Shingleton presented on various location based research projects Design Informatics has done:
Walking though time – negotiating the streets of Edinburgh in 1860
Download the App from: https://itunes.apple.com/gb/app/walking-through-time-edinburgh/id381528712?mt=8
Comob – Networking people movements
Download the App from: https://itunes.apple.com/gb/app/comob-net/id326303438?mt=8
GoGet – Objects hitch hiking on the path of humans
Download the App from: https://itunes.apple.com/gb/app/coget/id843552747?mt=8
Treasure Trapper – Mobile game in conjunction with Edinburgh Museum and Galleries.
Download the App from: https://itunes.apple.com/gb/app/treasuretrapper/id898429541?mt=8
Mr Seels Garden – Food narratives in the city of Liverpool. This App uses local informational clouds, so only works when you use it in Liverpool.
Ghost Cinema – cinematic narratives in Battersea – also a local App.
Duncan Shingleton's presentation PDF (will open in a new window).
Jonathan Silvertown, Chair in Technology Enhanced Science Education in the School of Biological Sciences – presented persuasively on his vision for "Virtual Edinburgh: turning the whole city into a mobile learning environment"  taking us on a journey from Calton hill to King's buildings to show how much data is already available just waiting to be linked up. We will watch with interest as this project develops.
Jonathan Silvertown "Virtual Edinburgh: turning the whole city into a mobile learning environment" PowerPoint Presentation – will open in a new window.
At the close of the session I spoke briefly about Wikipedia 'nearby' functionality.
This uses the GeoData extension for Media Wiki, which provides a structured way to store geo-coordinates for articles, as well as an API to make queries around this information. (source http://blog.wikimedia.org/2013/01/31/geodata-a-new-age-of-geotagging-on-wikipedia/)
It is designed for mobile (just download the Wikipedia App) but can also be accessed via the desktop – http://en.m.wikipedia.org/wiki/Special:Nearby
It is aimed at getting people to explore their surroundings, so could be useful for tourists or new students?
This quote comes from a Wikimedia blog post:
"The mobile team has focused on using the Nearby page to surfaces articles in close proximity that lack images, inviting users to add one. Upon visiting those pages, the user will be prompted to illustrate the article, which they can do quickly and easily if they're on a mobile device that supports taking and uploading photos."
My colleague and I have tried to test this but can't find the prompt to illustrate the article, or an easy way to upload photos? I'd be interested in hearing from anyone who has made this work?
Can you think of any uses to put this to with your students, exploring an environment using Wikipedia, setting up a scavenger hunt activities, or developing activities editing pages?
Thanks again to all the speakers for presenting at this event and to everyone who attended, it was a most enjoyable and inspiring afternoon.
Please do get in touch if you have any suggestions for topics or speakers you'd be interested in hearing at future events.
Links
For further details of these presentations Nicola Osborne wrote a live blog of the event which you can find here: http://nicolaosborne.blogs.edina.ac.uk/2015/02/25/geolocation-in-learning-and-teaching-liveblog/
Share