Recognising and dismantling our privileges in childhood research
Recognising and dismantling our privileges in childhood research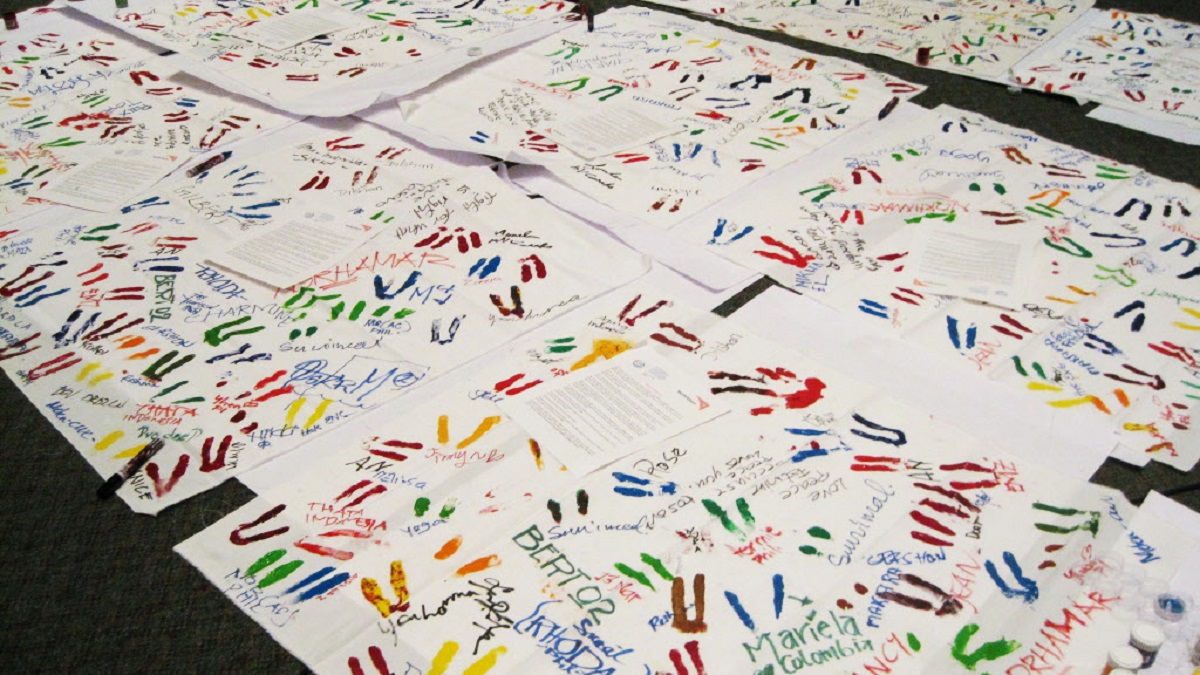 Reading Time:
4
minutes
Author: Dr Patricio Cuevas-Parra, Director of Child Participation and Rights, World Vision International
Once, many years ago, I was told by a colleague that my privilege puts me at an advantage over others. I was offended by this statement; I genuinely assumed that I did not hold any special privilege and everything I had in life had been earned. With time, though, I learned that my privilege was invisible to me, and some of my social standings had been unearned and granted to me based on certain social identity groups.
In my personal experience as a childhood researcher, a professional and an individual, I distinguish two types of complex relations based on privilege: one is my position as an adult with other adults, and the second is the relationship between myself as an adult researcher and research participants, especially children and young people within my field of work. I believe that the complexities interwoven within these relationships perpetuate a history of inequitable practices and experiences built around power, inequalities and disparities.
In order to explore and address these issues, I held long conversations with my peer colleague Maria Alejandra Sagues, a New York-based Chilean educator, and then published an article at the Global Studies of Childhood Journal entitled 'Positionality and reflexivity: Recognising and dismantling our privileges in childhood research through the use of windows and mirrors' (Cuevas-Parra, 2021).
Ms Sagues introduced me to the metaphors of 'windows and mirrors' and the 'danger of the single story', both of which can be used as tools to reflect critically on positionality. The 'windows and mirrors' metaphor was coined by American educator Emile Style (1988), and then popularised by multicultural children's literature scholar Rudine Sims Bishop (1997).
Mirrors have the ability to reflect our own story and culture. When we stand in front of a mirror, we can see ourselves reflected on it as this image almost perfectly duplicates ourselves. In contrast, a window is a resource that enables us to see through the glass and view other people's experiences; however, windows do not necessarily reflect our own lives. In Style's metaphor, windows are a helpful means for learning about others and the world around us, and mirrors are tools that we can use to recognise and embrace our own identity and representation.
Unfortunately, mine and other people's experiences show that we are influenced by predominantly Western perspectives of childhood which often discount other understandings and worldviews. Our windows mostly focus on Western childhoods, and thus we have only a few mirrors that are able to reproduce childhoods from the Global South. As a result, most of our work and meaning-making is influenced by hegemonic views that present one dominant social understanding over others that are marginalised and subordinated.
Closely linked to the 'windows and mirrors' metaphor is the concept of 'the danger of a single story' — a term devised by writer Chimamanda Ngozi Adichie (2009). She argues that there is a tendency to describe people's lives in reductive ways based only on one lens of analysis and narrative. Single stories are overly one-dimensional, and often convey false perceptions about individuals, groups or countries.
I personally have been profiled into a single story my entire professional life as I am a person from the Global South who works in the Global North. I have been oppressed and disenfranchised in multiple forms. I even thought that it was fine as we all are confined to disadvantages in some degrees. My battle against prejudice and discrimination will never end and, despite my privileges, I will continue to be levelled based on multiple minority identities.
Consider, then, how we, childhood researchers, profile children and young people from own our perspectives and build one-dimensional views of children and young people that harmfully deprive them of their identity, history and dignity. Hence, I argue that we need to continue working to prioritise analysis which problematises our positions and privileges, and to reflect on the construction and reconstruction of our own identities within a context of cultural consciousness. Our social identities can increase the risk of oppression, domination and vulnerabilities for ourselves and others,  and this can happen within spaces, cultures and contexts (e.g. Diversi and Moreira, 2016). Thus, we can potentially be either the oppressed or the oppressor as power differentials are relational and contextual.
I am confident that we can benefit from tools like the 'windows and mirrors' and 'the danger of the single story' metaphors to remain aware and vigilant in addressing power and privileges, resulting in more equitable relationships at all stages of the research.
Author's biography
Dr Patricio Cuevas-Parra is an Honorary Fellow and member of the Childhood and Youth Studies at the University of Edinburgh, and Director for Child Participation and Rights with World Vision International. His research interests are around children's participation in public policy and decision-making and child-led research, methodologies and impact.
References
Adichie CN (2009) The Danger of a Single Story. TED: Ideas worth Spreading. Available at: http://www.ted.com/talks/chimamanda_adichie_the_danger_of_a_single_story (accessed 22 March 2021).
Bishop RS (1997) Selecting literature for a multicultural classroom. In: Using Multiethnic Literature in the K–8 Classroom. Norwood, MA: Christopher- Gordon, pp. 1–19.
Cuevas-Parra P (2021) Positionality and reflexivity: Recognising and dismantling our privileges in childhood research through the use of windows and mirrors. Global Studies of Childhood Journal: 1–15. DOI: https://doi.org/10.1177/20436106211052295.
Diversi M and Moreira C (2016) Betweener Talk: Decolonizing Knowledge Production, Pedagogy, and Praxis. London: Taylor and Francis. DOI: 10.4324/9781315433059.
Style E (1988) Curriculum As Window and Mirror. Social Science Record. Available at: https://nationalseedproject.org/images/documents/Curriculum_As_Window_and_Mirror.pdf (accessed 14 January 2021).