Group Project: Identifying a Communication Channel
Group Project: Identifying a Communication Channel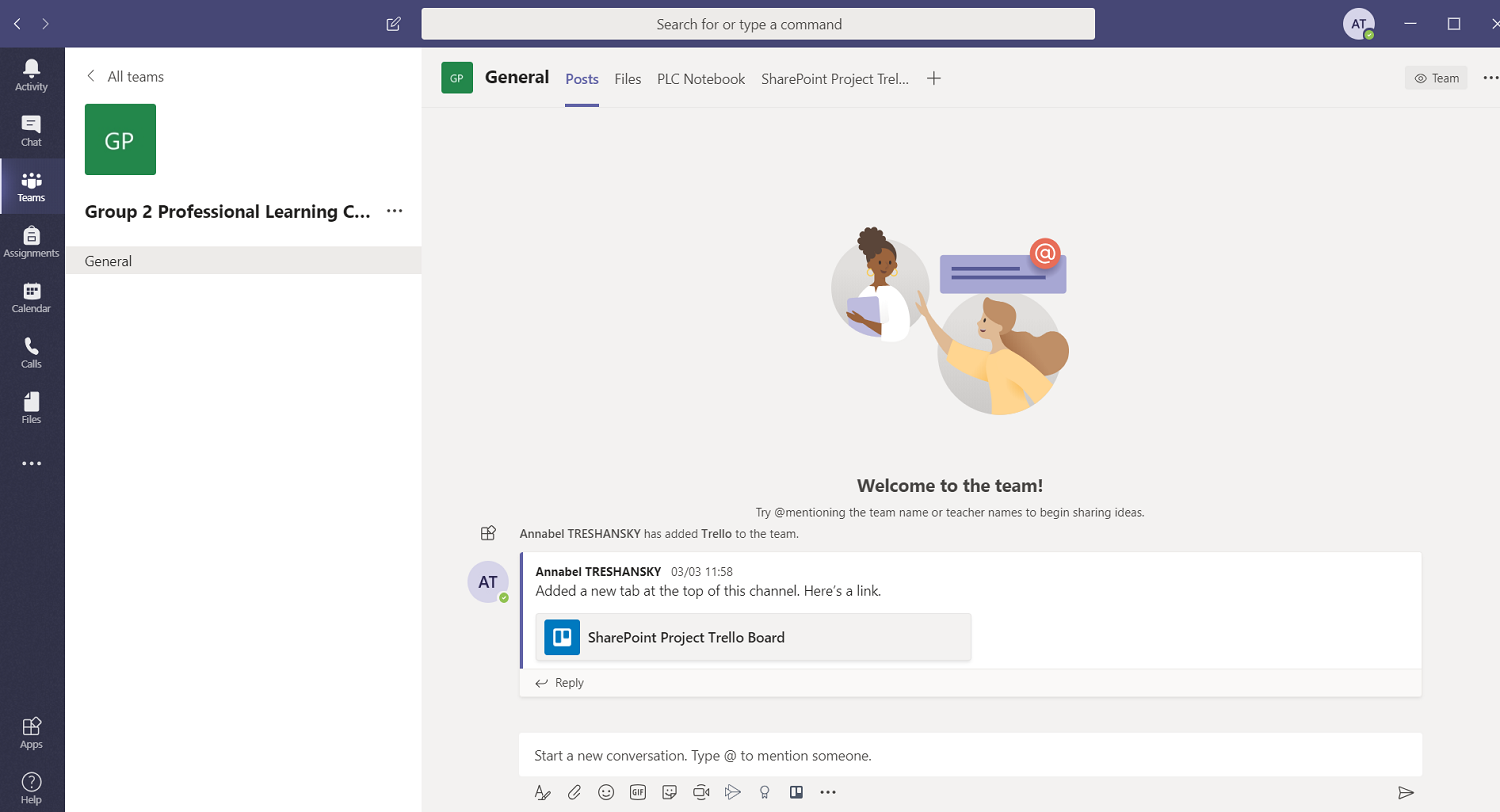 You have been put into pre-determined groups. Throughout this module you will only interact with those group members in the discussion forums and to complete this task. You can use the discussion forum below to introduce yourself and begin the task. You are then encouraged to identify a communication channel that suits your group and will allow you all to contribute toward that task. This might mean setting up your own group Microsoft Teams, Slack, Skype or email. The choice is yours!
Sadly, my group never got off the ground, but I did do this activity of looking into communication channels, which meant that at least I got to find out more about Microsoft Teams. So this was my contribution:

Hi everyone else in Group 2! (I started off optimistically 😁)
How does everyone feel about Teams vs Slack etc? I've had a look into the options available for creating groups in Teams and I think the 'Professional Learning Community' option could work well for us as it includes a shared OneNote notebook with templates for various planning tasks and activities.
The OneNote notebook includes an action plan template that might be useful for submitting our 'final action plan', and to submit this work the document can be shared within the University, either to specific named people or by sending a link. Does that sound useful to you too?
I've created an empty Team of this type to see what it's like, so I can add anyone who wants to check it out (or everyone if you think it sounds good). It's possible to make the group public and then post the link here, but I don't know how public that would be!
I've tried creating a Class Team type too, but it looks more like it's meant for a teacher and their students. The Staff Team type looks fine too and has a blank notebook option. The Other Team type doesn't have a shared notebook but they all have a space for uploading files.
I'm listing the Team types below:
Class Team
Teachers are owners of class teams and students participate as members. Each class team allows you to create assignments and quizzes, record student feedback, and give your students a private space for notes in Class Notebook.
Professional Learning Community
Educators work together on shared goals or professional development. Each PLC team allows you to organise materials, collaborate and access a OneNote notebook populated with templates for common PLC tasks.
Staff Team
Staff leaders are owners of staff teams and add others as members. Each staff team allows you to communicate, share important documents and set up a Staff Notebook to track common administrative goals.
Other Team
Educators or students can create teams to work together on any shared goal, project or activity.
Let me know if I should go ahead and add everyone to the Professional Learning Community team (or another one). I think it could work well.
Sadly, no one else in my group ever appeared, however I did find this infographic for comparison:
The history and evolution of online communities:
(Screenshot: A 'Professional Learning Community' Team, with added Trello)