In the second post in our series about sustainability at Christmas, we will be focusing on cards, wrap and decorations. These are all standard elements of our Christmas experience but could they be greener?
Cards 
We are spoilt for choice when it comes to buying cards, here are a few things to consider:
Make your own – get in the festive spirit with some crafting! There are lots of websites where you can find inspiration, Pinterest is always a good place to start.
Consider not sending cards to people you see every day and instead use them as a way to keep in touch with people you see rarely. You could also donate to a charity in lieu of sending cards
If crafting isn't your thing then there are still things you can do. When buying cards, choose some which are made from recycled materials or one which support a charity. The Woodland Trust recommends choosing cards with are Forest Stewardship Council (FSC) Certified, this ensures that the paper used has been sustainably and ethically produced. Try to buy cards which are plastic free too, avoiding glitter and cellophane wrapping.
Once the festive season is over you can recycle your Christmas cards. Lots of retailers have collection points for Christmas card recycling, just remember to remove any glitter, plastic or embellishments. You could also recycle cards for your own craft projects or use them to make gift tags or decorations for next Christmas!
And remember to tear your stamps off your envelopes when you receive Christmas cards and donate them to a charity that can make money from them.  Don't forget to leave a border around the stamps when you tear them off. You can send your stamps to the WTCRF Admin Team who are collecting for the PKD Charity this year.
Wrapping 
The Christmas period will see households overcome with reams of wrapping paper – 83 square kilometres of wrapping paper will be thrown out, that's enough to gift-wrap the island of Jersey!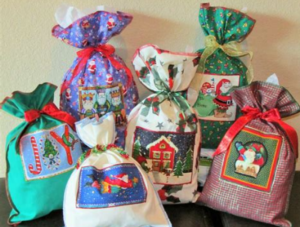 There are lots of options when it comes to sustainable wrapping:
Consider wrapping your gifts with reusable wrapping materials and decorate them with a spring of holly instead of using throwaway tags and ribbons. You can buy reusable fabric gift and bottle bags (just try to gift them to someone who will reuse them) or use Christmas themed fabric or tea towels with eco twine or ribbon.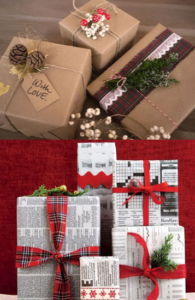 If paper is your preference, then brown paper is one of your cheapest options, and yet has the most potential to look impressive. You can also skip the gift tags and just write your message directly onto the paper.
Raid your recycling bin for newspaper or magazines, these can make for interesting wrapping paper (obviously make sure the stories printed are appropriate!)
You could reuse old wrapping paper and gift bags and don't forget to keep the ribbon and bows too, as these can easily be reused!
If you are buying new rolls of wrapping paper and want a more eco-friendly option, try to make sure they are made from recycled materials and that the paper is recyclable too.
Decorations 
This is another great chance for a bit of festive crafting! There are lots of things which can be reused and recycled into decorations, buttons, ribbon and toilet roll tubes are a great place to start. You could get out foraging for pine cones and holly, these can also make great embellishments for gifts.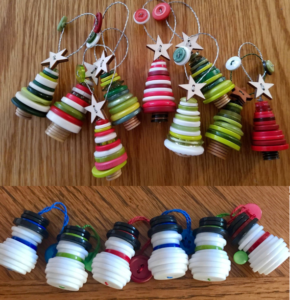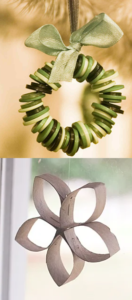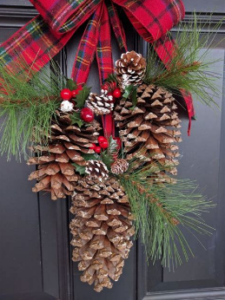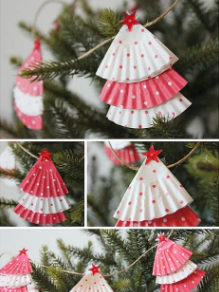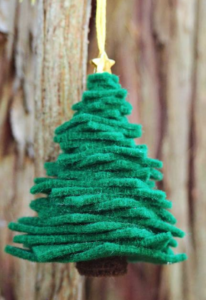 Share