WELCOME TO STAND UP FOR HEALTH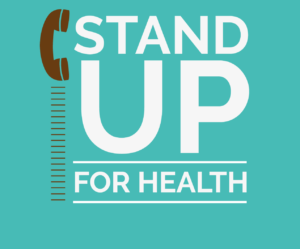 The Stand Up for Health intervention has been developed and tested within the Ipsos MORI call centre in Leith. The researchers conducted qualitative focus groups and facilitated a workshop to understand the needs and context of the call centre. Based on the qualitative data, activities to reduce sedentary behaviour were developed to target four levels of the call centre: individual, social/cultural, environmental, and organisational levels. Examples of these activities include personal goal setting, healthy competitions, implementation of equipment (standing desks, treadmill desks, stair stepper, etc), and the creation of a wellness committee to organise and administer activities once the researchers have left.
SCPHRP commissioned a video to be created at Ipsos Mori in Leith, with support from staff at both the call centre and SCPHRP. The filmmaker is Felix Adamson (http://www.felixadamson.com). 
You can watch the video here or find it on our YouTube channel
For more information please contact ruth.jepson@ed.ac.uk
The goal of Stand Up for Health is to create sustainable activities that will lead to a cultural norm of reduced sedentary behaviour within call centres. SCPHRP is currently working on a CSO funding proposal to further pilot Stand Up for Health in a range of call centre settings across the UK.
More info on STAND UP FOR HEALTH
---
Tips for reducing sedentary behaviour at work:
Walk around the office                   Take a walk outside                 Take the stairs
Stretch at your desk                       Wear a pedometer                       Set personal goals
Images taken during the Stand Up for Health workshop at Ipsos MORI call centre.
---
Additional links and resources regarding sedentary behaviour
Sedentary behaviour evidence briefing
http://www.bhfactive.org.uk/resources-and-publications-item/40/328/index.html
What is sedentary behaviour?
http://www.bhfactive.org.uk/resources-and-publications-item/40/415/index.html
Factors influencing sedentary behaviour
http://www.bhfactive.org.uk/resources-and-publications-item/40/416/index.html
Share