Thursday 18th February 2016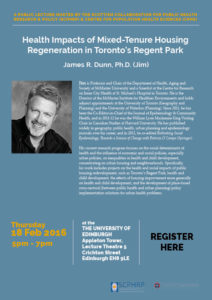 James R Dunn, Ph.D. (Jim) is Professor and Chair of the Department of Health, Aging and Society at McMaster University and a Scientist at the Centre for Research on Inner City Health at St Michael's Hospital in Toronto. He is the Director of the McMaster Institute for Healthier Environments and holds adjunct appointments at the University of Toronto (Geography and Planning) and the University of Waterloo (Planning).
Post event information and a copy of Jim's seminar slides can be found on our news & blog pages here.
Share