Research Bow was launched in 2019 as an initiative to make our postgraduate research community links stronger, by sharing and learning from each other's experiences, insights and tips! Since then, we have experienced a steady growth with the help of our core editorial team members and lots of engaging contributors across the school, normalising the ups and downs of our PGR journeys!  
Last year, although definitely not the year we had expected or hoped for, we were awarded the 'Enterprising Student Award' and successfully applied for a 'Student Experience Grant' to organise community events that would support our vision of "independently growing together". Did you miss our previous events? Don't worry at all! Exciting times (and events) are coming up! And as every beginning demands, we are here to reflect on our past events and give you a sneak peek of our upcoming ones! If any of the following sparks your interest come on this journey with us.   
Previous events 
YOU DON'T ALWAYS FIND THE WORDS TO EXPLAIN YOUR PHD? 
"Bake your PhD"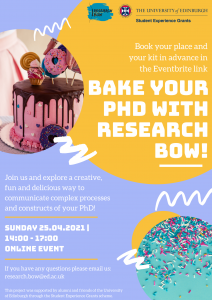 Can you mix fun, food, and creativity when doing a PhD? Yes, you can! Last April we organised an online interactive workshop called "Bake your PhD". Students at the School of Health in Social Science joined online with their ingredients to bake a cake, bread or muffins. The aim: translate their PhD projects, be it outcomes, constructs, overall topics, or methodologies in a unique, fun, and creatively edible way. After a brief "mindful baking" presentation, students prepared their recipes and shared their thoughts and experiences with the rest of the group. Participants were encouraged to document their baking process and reflections via photographs, videos or notes, which we put together into the video below. As you can witness this was a delightful and well-received activity!
DOES CREATING A POSTER MEAN LOOKING AT A BLANK TEMPLATE FOR HOURS?
"Creating an engaging poster"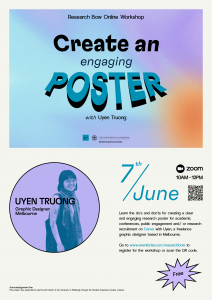 Students in the SHSS had the unique opportunity to attend the "How to create an engaging poster!" workshop in June. This workshop aimed to help students who have felt stuck with communicating clearly their ideas and research to their peers, or in conferences and other public engagement initiatives. Research Bow invited Uyen Truong (a graphic designer from Melbourne) to share her expertise on colour theory, typography, and picture placement, amongst others. Great new and engaging posters were created!  
Upcoming events 
WHAT HAPPENS NEXT?
"A post-postgraduate journey panel" 
To make the start of the semester even more special, Research Bow invites YOU to a post-postgraduate journey panel with alumni representing all SHSS departments! Have you ever considered "what happens next"? Of course, you have. Do you have plans after your PGR degree? Of course, you do. This is your chance to pose your excitements, concerns, and questions–broad and specific–to alumni who want to help you! Interested? Keep an eye out for updates! 
WHY AM I DOING THIS?
"Clay your PhD" 
Bored, "stuck", or uninspired? Research Bow's next community event of the year is Clay your PhD! A non-specialist, fun, and creative activity, Clay your PhD is an exciting opportunity to explore personal perceptions of your PGR experience, using clay-making as a tool for exploration! If you missed our Bake your PhD workshop from last term, you do not want to miss this opportunity to Clay your PhD! Intrigued? Stay tuned for more info!! 
WOULD YOU LIKE TO HAVE A JOINT WRITING EXPERIENCE?
"CollaboWrite!" 
Would you like to write a blog, but are unsure of where to start? Maybe you have an idea, but you want to talk it out with your peers before putting pen to paper. Research Bow is excited to introduce CollaboWrite.This will be an opportunity for you to meet new people, share your writing interests, and work together to create a fun and collaborative blogpost. Suitable for experienced bloggers or for those who are just starting out on their writing journey. Curious? More details to come later in the year! 
We are proud that these events have been funded by a Student Experience Grant, and are just one of the ways in which we can celebrate the achievements that we see every day within the PGR community. If you would like to contribute to Research Bow, either by writing a piece, creatively sharing your experiences, or by joining the editorial team, feel free to contact us at research.bow@ed.ac.uk or send us a message on Twitter @ResearchBow.
Share