Early in 2019 we discovered the writing of physician and counsellor Paul Tournier (1898-1986), and his approach within medicine that considers the whole person, including psychological, social and spiritual aspects. Delving further into his work, we discovered the International Association for the Medicine of the Person (Médecine de la Personne: MDP), founded by Tournier, which comprises "doctors and members of other caring professions who want to understand the ill person as a whole so that we can care for them better" (MDP, 2019).  With the MDP 2019 conference theme of "Patients without Capacity," the topic was central to the research of both of us, and all was put in motion to attend.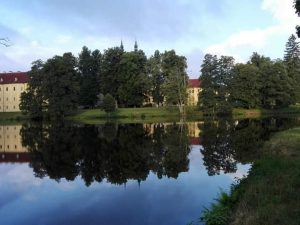 We arrived in the beautiful city of Prague and were kindly met by conference organisers who drove us to our destination. During the journey we learned more about how the conference was delivered in three languages; French, German and English. Slightly apprehensive about our language skills, any concern fell away as we were greeted with warmth and welcome from the hospitable conference organisers and delegates. We communicated by piecing together bits of each language if it wasn't one of our own, perhaps calling on others to help translate, or by picking up on tone of voice and body language. It felt quite striking that everyone wanted to communicate, and what took precedence over any potential awkwardness was the desire to get to know one another. After a dinner in the stunning monastery dining room and a fabulous classical concert from locally-based musicians, we headed gratefully to bed, looking forward to the next three days.
Mornings began with an optional silent meditation preceded by the reading of a bible passage. During the programme each day, the speakers shared reflections and case studies relating to patients without capacity; highlighting key issues for inspiration and leadership. We learned about responsive ways to support shared decision making with patients and families when issues of capacity are part of the dynamic. At the heart of this was attuned listening to, and learning from, patients, families and colleagues.
Speakers delivered their talks in one of the three conference languages, supported by a written translation in both other languages. Introductions and questions were sequentially translated, which brought a slowed pace that contrasted with what can be society's standard 'busy-ness'. Throughout, the sense of attuned listening and learning that is so much part of the whole-person approach in patient-doctor relationships, also was tangible among the group as a whole, as we listened and learned from each other.
Confidential small group reflections were scheduled into the programme as well. These offered safe space to talk through struggles and experiences from our own practice of meeting and caring for people from the whole person approach. These group discussions brought a depth of bonding and encouragement that have had a lasting impact on us.
Reflecting on our experience, we were left with three major impressions :
In the presentations, care was taken to highlight the need for delicate precision in caring for people whose condition or situation might impact on their decisional capacity, illustrating with detailed examples.
With the conference being about patients without capacity, it would have been possible for the presentations to sound like 'us' and 'them' but what we felt was communicated was a profound human connection with patients who might be experiencing conditions or situations that impact their decision-making capacity. The human connection also resonated among us all, with a sense of unity weaving together our shared humanity in unique experiences and differences.
A deep sense of compassion was communicated in all the presentations and in the small group discussions. In our experience, the ethos of MDP in caring for patient as whole person isn't limited to the patient, but is extended to everyone.
It was a privilege to attend this year's MDP meeting. As we continue with our MDP colleagues in our 'aim to develop and live the Medicine of the Person in our contemporary world' (MDP 2019), we look forward future conferences.
Martha will be speaking at the 2020's conference on the theme of 'Loneliness and Isolation in Health Care' and would love to see you in Doorn!


Share