A PGR rep "Poster of the Week" Initiative
Have you ever used your poster more than once or twice? Where do pre-loved posters end up? Is there a dusty corner with a pile of old posters somewhere in everyone's office?
Postgraduate research students very often find themselves in a "between state", a grey area, where they neither feel like a student, nor an established researcher. When it comes to attending conferences, we often face a similar dilemma: we would like to be more than just an attendee, but most of the time we are not yet confident enough to apply for an oral presentation. Posters, however, tend to sit with us in that grey area, becoming a doctoral candidate's best friend! Most conferences welcome posters from PhD students- some even encourage posters that present ongoing research projects with preliminary findings or even project protocols.
Earlier this year, to our surprise, our Clinical Psychology Department was overrepresented in the Poster Session of the NHS Research Scotland Mental Health Network Annual Scientific Meeting with eight PhD posters (and a win)! On our way back from Glasgow, with our posters in hand, we realised that probably this would be the first and last time to use these posters. This reality spawned the idea to allowing for an additional opportunity for constructive feedback from our peers.
As some of you may have already noticed, we decided to launch a "Poster of the Week" initiative in the PGR Workspace in Doorway 6. Every week we display a new poster and encourage everyone to leave a comment and/or some constructive feedback on the whiteboard next to it. This not only gives the posters a second chance, but we also learn about each other's research projects, new methodologies, different research areas and of course, we get inspiration for future poster designs!
Are you not yet convinced why you should give your poster a second chance to be in the spotlight? I bet Flora's reflections (one of our first volunteers to display her poster) will convince you: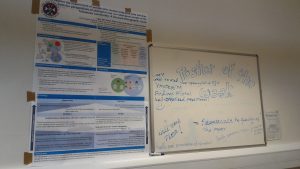 "Experiences of taking part in the "Poster of the Week" initiative were like attending a mock conference, which provided an opportunity of academic discussion but not confined by space, time and people. Instead, a more flexible and self-organised way of knowledge exchange and experience sharing took the place of a pre-structured run-down at a typical formal conference.
I am in the fourth year of my PhD studies, and I am passionate about my research, which I have devoted an enormous amount of time and efforts, fully engaged in every step in every stage of the research process. However, my enthusiasm for the research sometimes could not have been conveyed as confidently and precisely as it meant to me. From time to time, I felt slightly uncertain to express my research reassuringly.
The less-precise expression lies in a long-lasting and in-depth research process in which I have immersed myself deeply; every single detail consequently is significant to me. In that sense, it is a challenge to display the foremost significance among other less prominent items. I usually got stuck when I was trying to extract the focal information and highlights of my study. In addition, the hesitation in expressing is because the uncertainty of how people outside the supervisory team would think of the research make me wavered to convey thoroughly, provide adequate lay information for the readers or audiences to contextualise and comprehend the study. Owing to these underlying reasons, the presentation of my study was less clear and less prominent as a result.
The experience of demonstrating my poster to colleagues at the office was a fantastic opportunity for me to overcome my uncertainty through practising to talk in lay language, to explore further academically, as well as obtaining feedback and encouragements from the peers. It gave me a sound step of showcasing my research so that I can better prepare myself for future public presentations such as viva, poster-standings, or oral presentation at conferences.
I felt reassured after reading the comments left on the whiteboard, for example, "Well-organised presentation! Can't wait to read your upcoming findings." "Really interesting topic and good presentation of information." Those comments acknowledged the work was promising, which spurred me to keep going, accomplishing the last mile. What's more, I was so pleased when the colleagues came over me during lunchtime and said, "I didn't realise there are aborigines in Taiwan until I saw the poster." We later on discussed further regarding what we had known about the populations our studies involved, the ideal and practical issues we confronted, and the connotations we obtained in the real-life of the research process. With the weekly demonstration, I also learn from other people's research by reading through the weekly presented new topic. It is a podium that opens for self-learning and learning from other people. Through reading those works, I also reflect on myself. With the weekly updated poster demonstration, I can understand what other health-related studies are undergoing, how could specific populations be approached, and also the inspiring findings that have been uncovered.
The Poster of the Week works jointly with Social Lunch provides not merely a stage for the presentation; it also creates a platform for reflection, knowledge exchange and learning from the peers. Even though the studies we conduct are all health-related, we are short of proper occasion for further discussion with a pre-requested status that we possess background knowledge of individual research. I consider that a productive conversation following constructive and profound feedback is enabled after obtaining the basic understanding of research structure, philosophical stances, methodological approach and results. The platform upheld by the weekly-updated poster and social lunchtime has enhanced the potentiality of in-depth academic discussion, a step forward of catch up of research progression with the peers, which sometimes just scratches the surface."
Including Flora's poster, another nine lucky pre-loved posters have been given a second chance to be in the spotlight so far! Each poster has been unique, it has kept us company while waiting for the kettle to boil, and each one of them has triggered interesting discussions and reflections around ongoing research projects conducted in our School.
Do you think your poster deserves a second chance to be in the spotlight? Please approach any of the PGR reps in person or contact us here: pgrrhlth@ed.ac.uk!
---


Share