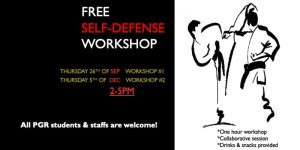 Last year I was attacked by two criminals on the bus. In that moment, my brain was blank, and everything was too quick for me.
Not surprisingly, I got injured. My arm was broken and I have been shocked by everything that happened that night. I stopped studying at that time and my research plans were postponed for months. I spent half a year recovering from the injury, which did not only negatively affect my research progress, but it also influenced my personal life. It was a traumatic, stressful and very dark period of my life. It could have been worse, but I had so much support from my supervisors and my colleagues.
In particular, one of my colleagues, Liesbeth, a part-time PhD student, has been very supportive and she firstly proposed the idea of doing something like this. This is a very unfortunate story and I believe that I'm not the only one who will meet an unexpected accident in their life, without prediction.
So, how can we prevent ourselves from accidents and attacks?
That was the question. Liesbeth and I decided to apply for funding to organise a self-defense workshop to help our PGR students learn some useful strategies that can be applied to life. That is the reason why we wanted to do this. We believe that students, especially female students, should learn essential knowledge about protecting themselves and raising awareness of personal safety. This is the prerequisite for a safe living environment.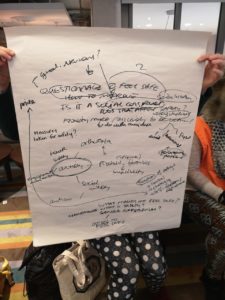 September's workshop was very useful and funny. We learned many self-defense strategies and practised these skills in pairs to consolidate our body memory. After the workshop, we gathered to discuss the importance of feeling safe. The coach believed that our self-esteem and feeling of safety could be built up by learning self-defense skills according to his teaching experience. Most of us agreed with this viewpoint and we all believe that personal safety is the most important thing for us. What was interesting was that no male students attended to participate in the workshop, even though it was open to everyone in the department. We guessed it might be because male students feel more confident in their self-defense ability than female students. We don't know yet if that is the truth but, one of the Masters students said, "it is very necessary to do a pre-posttest to look at the differences of feeling safe for the female and male students before and after the self-defense workshop". Wow, what a psychological conversation.
All in all, I believe everyone in the workshop enjoyed themselves learning, practicing and communicating about self-defense skills. I hope the strategies we learned can help us cope with dangerous situations, but, who knows? I've prayed in silence that we don't meet any dangerous situations in the future.
The next self-defense workshop is on the 5th of December and there are still spaces available. You may book your place here.
---

Share