Not sure if this blog is for you? Let's do a quick test! Think about your PhD (let's assume you don't always do that), and see how you feel about these questions:
Are you looking for a sense of connection, of comradery – a feeling that "we're all in this together"?
Are you looking for an opportunity to share resources, methods, and techniques, and discuss ideas?
Are you overwhelmed by all the information, emails, and Teams groups?
Do you ever feel like you are not on the right track?
Well, if you found yourself nodding along while reading one or all of the above questions, then…
You need a peer support group! 
But, first, let us introduce ourselves. We are a group of students at different stages of our PhDs who, last year, came together to form a peer support group. We call our group the "Perinatal Support Group." At first, this was a reference to some of our research topics, but as the group grew, we now have members with other research interests, too. Despite this growth, we kept the name to represent what often feels like a birthing process for our PhDs. It's a long pregnancy, isn't it?
Over time, we have found that the old adage -"it takes a village…" – is true for PhDs, too. When we found ours, we discovered a place where we could solve all the problems above – and made some wonderful friends.
But this process should not end with us and our story. Want to start your own group? Here's how!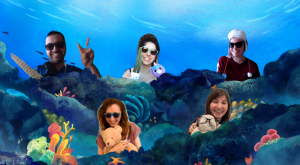 Finding, Creating, and Maintaining a Peer Support Group
Step 1: Identify your People
To find the best group, it helps to look for commonalities, without "boxing [yourself] in" – it's great to also draw on differences.  In our case, we found each other because we all had a common supervisor even though our research foci are quite different: spanning from perinatal to adolescent developmental stages; and psychological development promotion to mental health intervention, including children, parents, caregivers and communities.
Maybe other options already exist! Ask around to see what groups are out there (just to name a few the "Grounded Theory Group", the "Eating Disorders and Behaviours Research Group", etc). Even just identifying a few people with common interests can be a place to start – it might just snowball from there. For instance, you could see if there are others who have similar research topics, have similar methodologies, and/or are at a similar stage on their PhD paths.
Step 2: Give it a Chance
Start out small. Meet a few people at a time. Don't be too invested. If people don't want to join, that's OK. No hard feelings! Talk about expectations, but bear in mind that groups are dynamic, and they require flexibility.
Step 3: Let it Evolve
Back to our case: we started out with sharing interests and having more informal conversations. Then, we decided to each take a turn presenting an aspect of our work we'd like feedback or guidance on in each meeting. This has led to supporting each other on specific needs as they come up. For instance, our meetings have ranged from piloting conference presentations, sharing grant proposals or internship positions, commenting on drafts, networking on research recruitment, screening on systematic reviews, giving a heads up about papers that might be relevant to our peers, and even writing this very post!
Importantly, you are the ones deciding how to structure your group, so be sure to share reciprocally, find support, give each person a chance to have a deep dive into their research, and, last but not least, connect with each other – not only at an intellectual level, but also emotionally.

Tips for Engaging Successfully 
Be proactive! Talk to different people and find out what groups are already out there, or who else might be interested in a group.
Don't worry if you don't share the same research topic – it can be a great opportunity to learn about other areas of research!
Be open to new ideas. Keep your group dynamic by thinking up new activities that are helpful in moving everyone's research forward.
Get some regular meetings in your calendar (every other week for one hour works for us), but do not worry too much if you have to cancel or postpone at any point.
Be flexible. Do not stress about the structure of meetings. Agree on some shared aims, and then watch as your group grows organically!
Create a shared space. You might want to set up an MS Teams group – or something similar – where you can check in with each other, share documents, and ask questions.
Keep it comfortable. Consider the size of your group (ours has 5 members). Find a sweet spot where your group is large enough for evolving ideas yet small enough that everyone gets a turn and feels responsible for group functioning.
Share your experiences and don't be afraid to ask questions – someone else is probably wondering the same thing!
Get personal! A peer support group is a fantastic opportunity to make new friends and talk about subjects outside of your immediate work.
Starting our peer support group brought a whole new dimension to our studies. Not only were we able to get constructive feedback on pieces of work, but we did it in a supportive and fun environment. It is great to feel like we are all in this long "PhD pregnancy" together!
Our advice? Join or create a peer support group and see what a difference it can make to your academic experience!
(In alphabetic order)




Share