Dimona's Top 5 Scottish Things to Try (as an international student)
Dimona's Top 5 Scottish Things to Try (as an international student)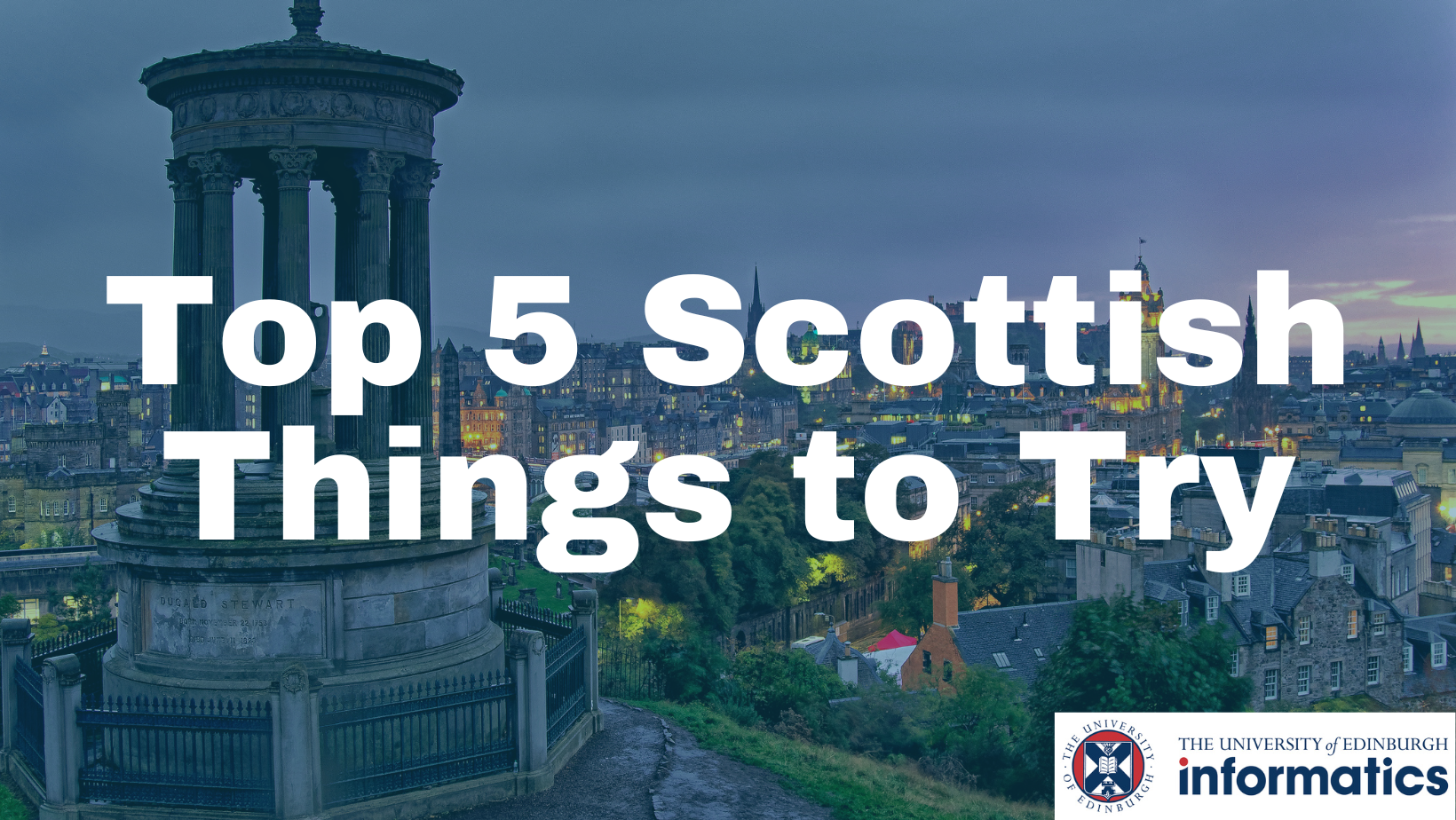 Reading Time:
2
minutes
You've just moved to Edinburgh from abroad. You are wondering how to get to know Scottish culture better. Here are some of my favourite things that I have tried out as an international student myself in the last few years! – Dimona
1. Attend a Ceilidh
This is my biggest recommendation! One of the most fun Scottish activities to get involved with is attending a ceilidh. A ceilidh is a traditional Gaelic social gathering, which includes folk music and dancing. The way it works is there is usually a live ceilidh band with a dance caller who talks you through all the dance moves. So even if it's your first time, they've got you covered!
There are usually several ceilidhs happening each week all over the city, but my personal favourite to go to has been the Wednesdays free-entry ceilidhs at the bar Stramash. Put on some comfortable shoes, take some friends and give it a go!
2. Eat haggis, neeps and tatties
One of the dishes that Scotland is most well-known for is haggis. Haggis is a traditional Scottish dish made out of sheep's offal. It is usually served with mashed turnips, known as neeps, and mashed potatoes, known as tatties, as pictured above.
Haggis is certainly a unique dish and it can be a hit or miss, but it's definitely worth trying at least once. My biggest advice is to go to a place known for its good quality haggis for the first time you try it out! Restaurants advertised as Scottish such as Howies Restaurant or Amber Restaurant are a safe bet. Nowadays, certain places offer vegetarian versions as well!
3. Try a deep-fried Mars bar
Another very popular dish in Scotland are deep-fried Mars bars. The name says it all – it's a battered Mars chocolate bars deep fried in oil. It was certainly an experience when I tried it out at Cafe Piccante. Here are some places you can try it yourself!
Places in Edinburgh to try a deep-fried Mars bar
4. Celebrate Burns night
Burns Night is a celebration of the life and writing of the Scottish poet Robert Burns. So called Burns suppers are held on or around his birthday on the 25th January every year. The centrepiece of any Burns supper is haggis, or the 'great chieftain o' the puddin-race!' (great chieftain of the sausage race), as Burns described it in his 'Address to a Haggis' poem. A truly fantastic evening of Scottish culture to look forward to!
Robert Burns and Burns Night celebrations
5. Drink Irn Bru
Last but not least, Irn-Bru is a Scottish fizzy soft drink with a unique flavour and a bright orange colour. No one I've spoken to has been able to say Irn-Bru tastes of though, so the only way you could find out is by giving it a go yourself. Personally, I've grown to love it the last few years. You can easily find it in almost all supermarkets or restaurants, so why not grab a can when you're here?
Conclusion
I hope you enjoy trying out the things above. While this list is nowhere near exhaustive, hopefully these 5 things are enough to get you started once you come here! If you're interested, I recommend reading below to find out more about Scottish culture and cuisine.
Blog post originally written by Dimona Videnlieva, Informatics Communications Intern 2023.
Share