Muminah's Advice on Elective Courses
Muminah's Advice on Elective Courses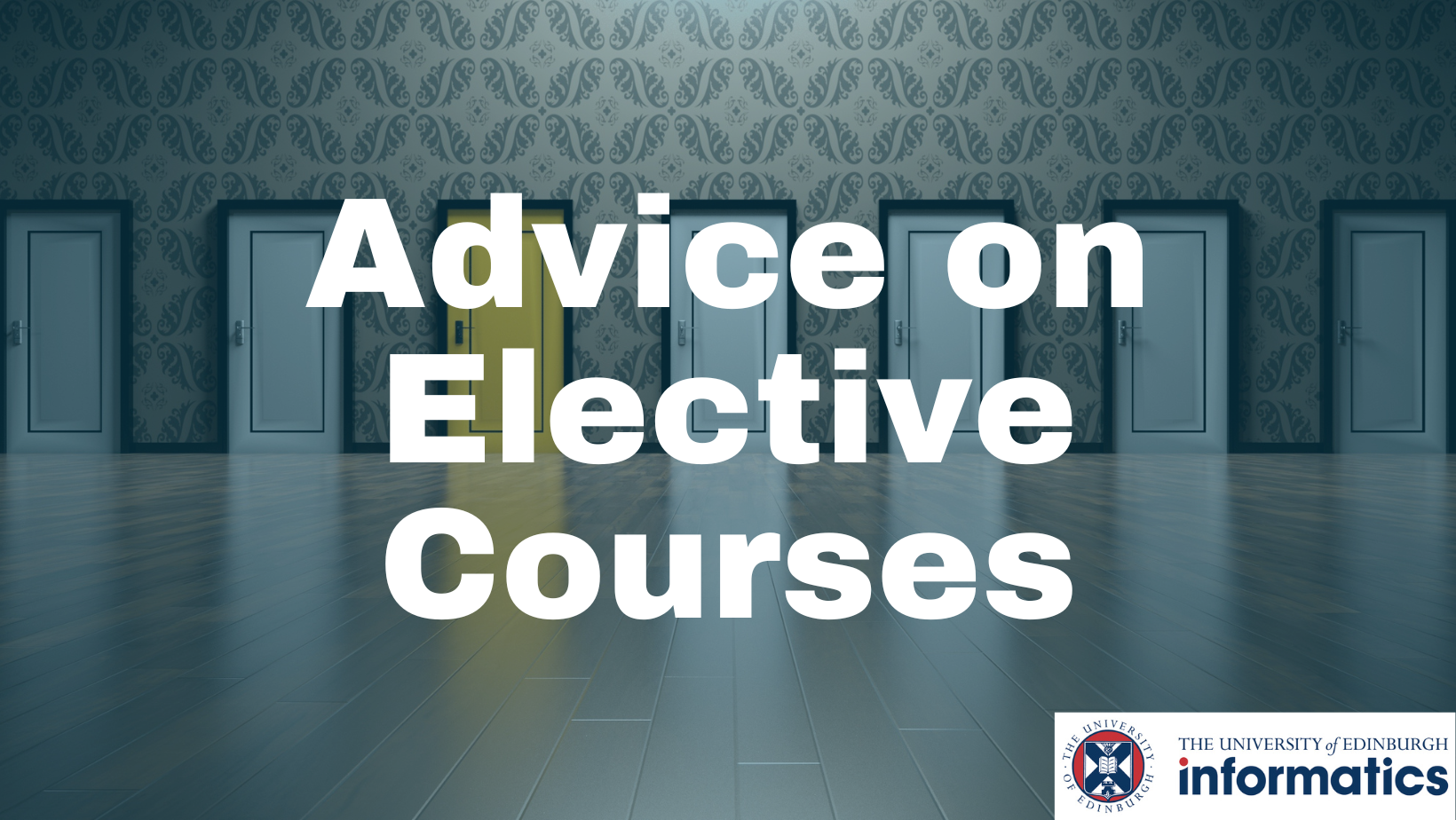 Reading Time:
3
minutes
Muminah Koleoso, Informatics Student, shares how she chose her optional (elective) courses in her 1st year.
NOTE: The School of Informatics has provided a short guide to help you choose your electives, linked below.
Course Selection Advice 2023/24
Background
Hi! My name is Muminah and I am a student in the School of Informatics. I had been planning what I would take as my optional course in Year 1 for quite a while – ever since I started researching different Universities and courses in School.
Back then, I was quite set on taking a language. As I pondered over the choices further, I considered options such as psychology, philosophy, and linguistics since I was interested in learning more about those subjects. In general I thought that my first two years of University would be my last chance to study in a "broad" sense before needing to properly specialise and focus fully on my chosen degree path.
I ended up taking into account the fact that I really didn't like the essay/writing-based nature of social subjects, so I did a bit of a U-turn and went back to my initial idea of taking a language. I considered taking introductory courses in either Chinese, Japanese or Korean, but I chose Chinese and Japense in the end because it fitted perfectly into my timetable.
Initial concerns
In first year, I was worried about the fact that Mandarin is supposed to be quite difficult to learn for English-speakers because the languages are so different. But this turned out not to be an issue as the course was well-paced, so I didn't have a hard time picking up stuff as we went along.
Another concern I had was that taking an optional course that wasn't relevant to my degree could potentially limit the types of courses I could go on to take in years 3 and 4. However, it turned out that I wasn't limited as a lot of year 3 and 4 courses didn't have prerequisites and I met the requirements for the ones that did.
From taking a beginner's course in both Chinese and Japanese, I not only got introduced to the basic vocab and grammar of the languages but also got to learn about some aspects of the culture too which I really enjoyed. For example, in Introductory Chinese I got to try some traditional Chinese calligraphy.
Taking these optional courses, also gave me an opportunity to network with students from other degree programmes who were also interested in learning a new language. I enjoyed interacting with other students and learning about their different experiences of the University.
New experiences
The most positive aspect of optional courses was the chance to develop my interest in different languages and cultures that I hadn't really been exposed to before. This is because in my High School they only offered European languages like French, German, Spanish, Italian and Latin as part of the curriculum. Therefore, I hadn't even really considered the idea of studying Chinese or Japanese prior to University because it didn't seem like an opportunity I could really access.
Being able to pick up new languages is a skill that has helped me whilst studying Computer Science as I have needed to learn new coding languages quite quickly. The processes are similar enough that I could transfer my developed skill of learning spoken languages to coding ones.
As a result of taking the Introductory Chinese course, I decided to apply to study abroad for a year via the University's Go Abroad scheme and was offered a place at Hong Kong University. I'm also considering studying a postgraduate language/linguistics degree, potentially in China, Japan or another location abroad to further develop my knowledge of other languages and cultures.
Things to consider
When making the decision of what you would like to take as an optional course, I would suggest considering 2 main things:
What do you like? What are you good at?
What would fit best into your timetable?
Considering which subjects you did well in prior to University could help because that way you will be familiar with the content and have a good idea of what to expect. Considering something that you're interested in but have little to no experience of is also good as this would be a great opportunity to explore something new.
In terms of the second point, I don't just mean thinking about how the classes fit into your timetable but also the workload of the course e.g., considering if the course has a lot of coursework and how this might affect the amount of time you have for studying your 'core' courses.
Blog post originally written by Muminah Koleoso, Informatics Student 2021.
Edited by Dimona Videnlieva, Informatics Communications Intern 2023.
Share