You can control which tools your groups in Learn have access to as a group. For example, you may want your tutorial groups to have a shared Collaborate room, and be able to email each other within Learn and share files. If you are creating the groups within Learn itself, you can choose this tool availability at group creation. However, what if you want to change group tool availability when the groups have already been created? This short blog posts guides you through how to do this efficiently.
Go to the Course Management panel and select Users and Groups>Groups.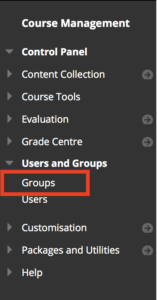 Select the groups to which you wish to apply the change and then select View Options>Show Tool Availability

You will see the group tools listed along the top. Select the green arrow to change to a red cross if you wish to disable this feature. Select the red cross to change to a green tick if you wish to enable this feature.

That's it. No further action required.
(If you would like to understand more what group tool access looks like for a student then please check out our other blog post on Student View: Group Tools).
Share