I went down to the Lake District for a few days camping and hill-walking; the weather was splendid for two whole days. After that, we decided to come home a day early as the weather was clearly going to get nasty. (Isn't weather forecasting wonderful?) I climbed Harter Fell one day and Dow Crag on the other, and had a good view of the Isle of Man from both.
It is not uncommon to see the Isle of Man from the Lake District, but this time I thought I could see more land to the right of it. Was it Ireland, or does the Isle of Man have a flat bit at the Northern end that I was seeing? To find out, I repeated the exercise that I did with the view of the Cairngorms from Dunbar.  I took the photographs from Brown Pike, just to the north of the Walna Scar road.  It was a bit more difficult to match the labels to the panorama this time as the foreground does not have any convenient features such as the wind turbines on the Fife coast, or the lighthouse on the Isle of May. Nevertheless, I think I have managed to get the labels close to correct.

The image is a bit small to see within the blog post. If you right-click on it and choose "Open Image in New Tab" your browser will probably allow you a magnified view.
Snaefell and its surrounding mountains on the Isle are easy to see at a range of 80 to 100 km. To their right, there is lower land with low, pale-coloured cliffs. This is also the Isle of Man: Point of Ayre, the island's northernmost point is marked near the right-hand end of the panorama. Even within the section of the panorama shown below, the island becomes harder to see the closer to Point of Ayre you look.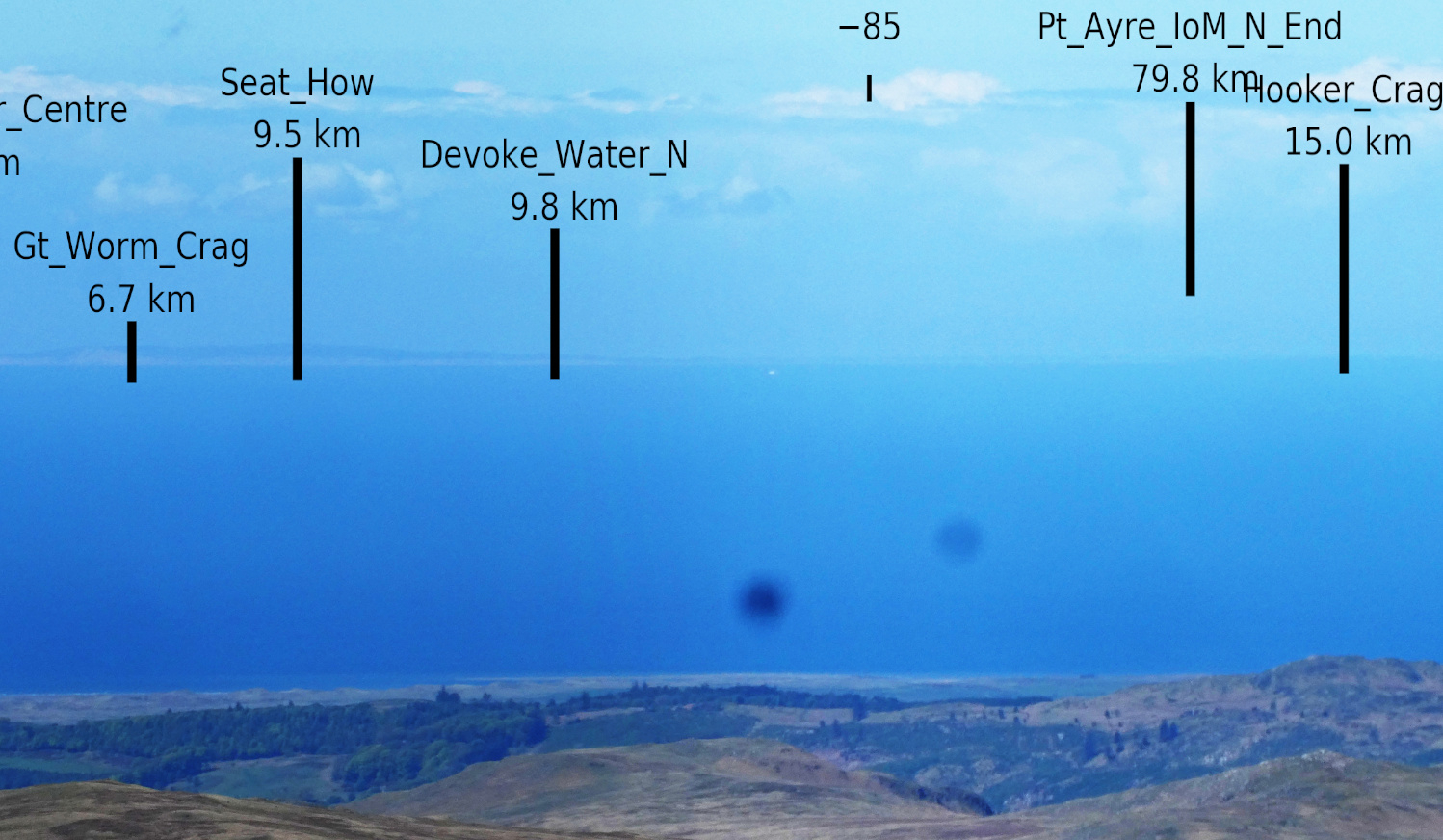 Sorry about the dots, by the way. Some water accidentally got into my camera and had not fully dried out at the time I took the photos for the panorama.