I'm on the Helmsdale field course again, with the students going into the third year of the geophysics degrees. Unlike two years ago I'm not here as a driver; we have switched to using a professional coach driver. Actually, I have sneaked onto the trip because someone dropped out after all the accommodation had been reserved.
The weather looked horribly dull and grey when we set off, but the clouds cleared away as we crossed the pass of Drumochter. By the time we got to the two field sites on the south coast of the Moray Firth, we had blazing sunshine.

True, there was a thick bank of sea fog in the firth itself; you can see it in this view of the Burghead harbour outcrop. But it was too far out to make the conditions anything less than perfect.
The second location we visit is Clashach cove. This was much as on previous trips, but the tide was much lower, so I was able to walk out across the beach and get a shot of the cove from a different angle.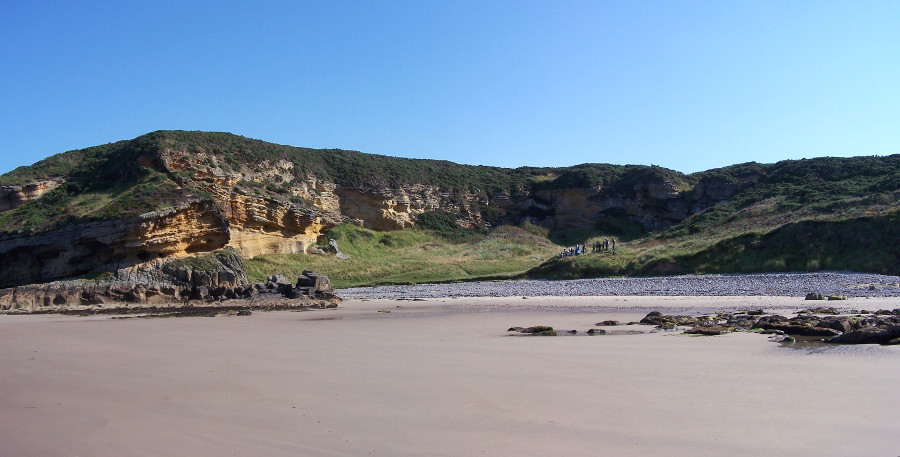 You can just see the class busily sketching the famous fault and the huge cross-bedding. While they were doing that I took advantage of the low tide to explore the sea caves at the other side of the cove.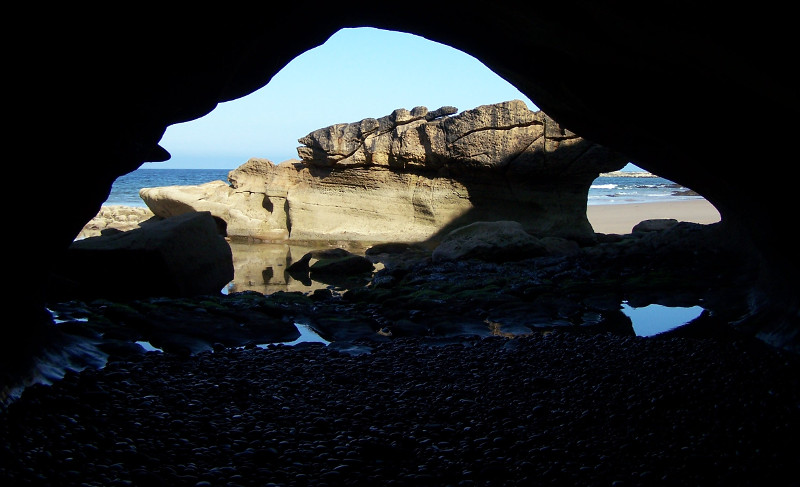 The cove is a lovely spot — it is a pity that the long drive means that we never get to spend as much time there as everyone would like.
We are now at Helmsdale itself, on the northeast side of the Moray Firth. Tomorrow: Devonian and Jurassic rocks.