I spent yesterday afternoon at the University of Edinburgh's graduation ceremony. I am in two minds about attending graduations. They are quite long, and you have to listen to a speech which you have heard several times before. But I think it is important to say goodbye to each year's crop of geophysics graduates as they go out into the world. It is always nice to meet up with them as a group for the last time, and to say hello to their long-suffering parents. This year, as a bonus, a got to watch a couple of the 2010 graduates who were graduating again with their Ph.Ds. I considered putting a few pictures of the graduands into this blog, but decided I would spare them the embarrassment.
This year's crop of B.Sc graduates was the smallest I have seen, partly because we had a wobble in recruitment four years ago, and partly because we now have an additional, optional, year added to the degree, leading to an undergraduate masters degree. Four students have chosen to stay on for this extra year and I am looking forward to working with them when the new academic year kicks off in September, and to seeing them graduate in a year's time.
The ceremony was a little different from previous years in that it was in the Usher Hall as the usual venue is in the throes of a protracted renovation. The degrees were conferred by a deputy vice-chancellor rather than the principal, so the speech was a bit different. It was punishingly hot on the stage; the academic procession did very well to have nobody faint.
It was a bit of a relief to escape out into the country in the evening for a guided stroll at St. Abbs Head, to look at the enormous seabird colony. There are something on the order of 40000 of these guillemots: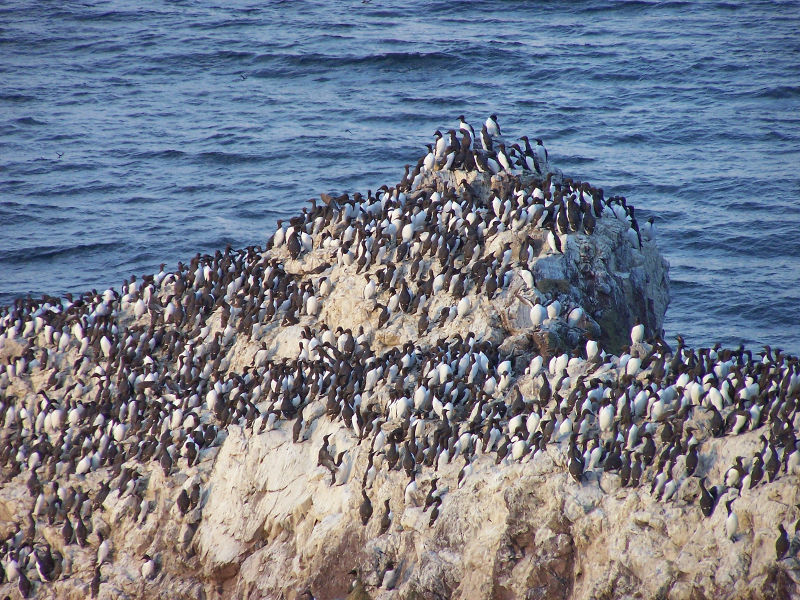 The chicks do not leave the nest as fledgelings as that implies an ability to fly. They are known as jumplings: once they reach the right age they take a one-way plunge from their spot on the cliff into the sea. Rather like graduates leaving University and going out into the big wide world, I suppose. Most of the jumplings have already jumped by this time of year, but there are a few left; you can see one in this little group: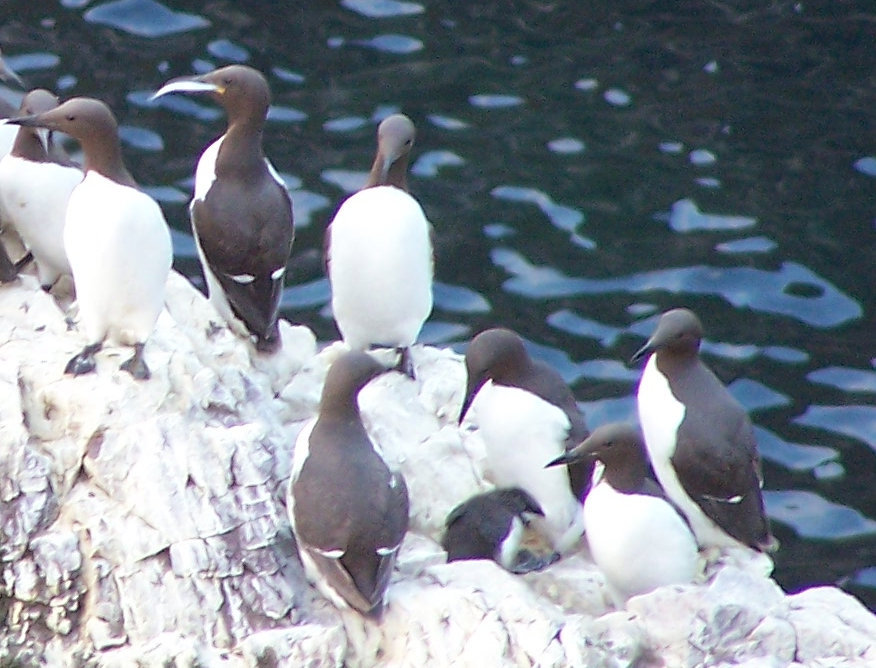 We were very excited to see one of the jumplings take its great leap into the unknown and land safely in the sea.
There are a variety of other species apart from the guillemots: there are razorbills, kittiwakes, gulls and a nest of young kestrels. I am feeling particularly smug that I managed to spot these puffins.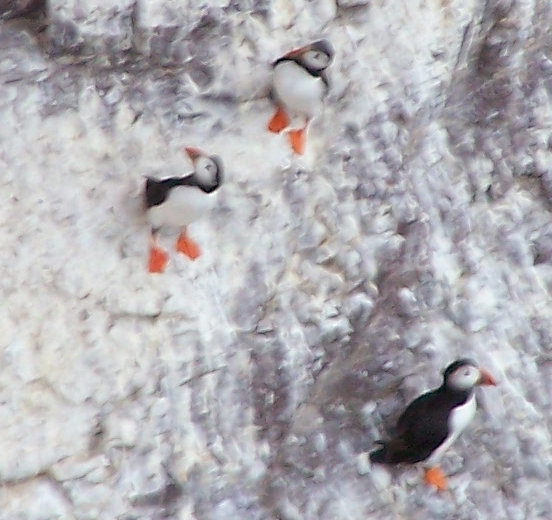 Until last night the puffin count at St. Abbs for this year was a big fat zero. Now it is four! (The fourth one was standing too far away from its friends to appear in the picture.)