Finding meaning in the Alt text
Finding meaning in the Alt text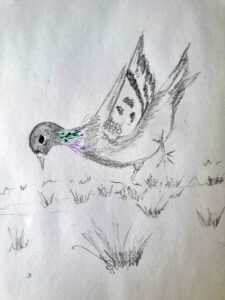 I posted my first sketch in the Sketch-A-Day app after weeks of marvelling at the talent on display every day and losing the nerve to get started. Finally, I decided to contribute to the day's subject: Pigeon.
My pigeon has had a wobbly landing and is balancing on one leg, symbolic of my own wobbly start to creating art. I am aiming for a sketch a week (because that's how slow I am at this

) to incorporate some learning into it if possible.
This is also my first week on the "Online Teaching: Creating Courses for Adult Learners" course by The Open University, so I thought I would add this funky bird to the public domain while practising adding alt text. That's killing multiple birds (not pigeons) with one stone today… sorry about this

.
Looking specifically at the small things we can do to make the content we publish accessible, most websites and platforms have alt text fields built-in, but it's still easy to skip if you don't already have this factored into your process. Maybe it should be a "required" field (as it is in EdWeb, our website content management system).
WordPress has an informative guide you can access when uploading content; you will find it linked below the "Alternative Text" field. It provides clear examples of formats and their use.
We know making content accessible and inclusive is not just useful for users of assistive technology, it makes sense for all and should not be an afterthought.
I look forward to covering this subject further in the course.
Mar 19, 2021