And the winner is…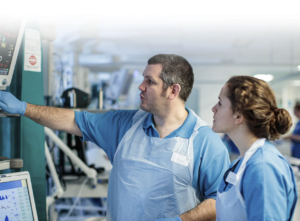 We heard some fantastic news last week – Graham Nimmo, Programme Director of the MSc Critical Care, has been awarded the Principal's Medal for Exceptional Contribution 2020, together with David Griffith.
I have worked closely with Graham since March on the (very!) rapid build, launch and three runs of the COVID-19 Critical Care: Understanding and Application MOOC, which, after an intensive two-week development period, first went live in April to provide key resources and support to healthcare professionals dealing with the urgent health crisis.
The award is in honour and recognition of outstanding contribution to the University and, this year, focused on the response to the pandemic. Graham commented,
As well as feeling both delighted and humbled by this accolade, David and I are absolutely clear that we will accept this award on behalf of everyone involved in this work including our core Programme and MOOC teams, and everyone else who has contributed and/or been part of the extended MOOC team.
With over 46,000 enrolments in almost 200 countries, lots of 5-star reviews, and consistently positive feedback from learners about the high quality and value of the resources, this course has had, and continues to have, a huge impact all over the world. The current run is open until March 2021 as a resource that learners can dip into to refresh their knowledge and use the materials they need.
I'm proud to have been part of the wonderful team who worked together like a well-oiled machine from the get-go to pull it together in record time.
Great resource, great team, great news!
Share