EdX Cyber Monday deal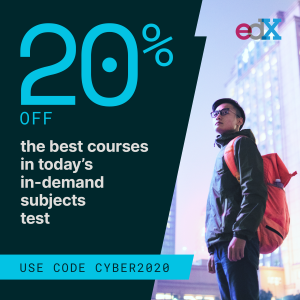 The University of Edinburgh delivers short, online courses on the EdX platform, as well as on FutureLearn and Coursera.
The EdX Cyber Monday campaign provides learners with a 20% discount off programs and verified certificates. It begins on November 27 and will run for 4 days, through to the end of November 30 (UK time). This is one of the biggest EdX marketing campaigns of the year.
Use code CYBER2020 to save 20% off your next EdX course
Nov 27, 2020