Not going to #ALTC 2016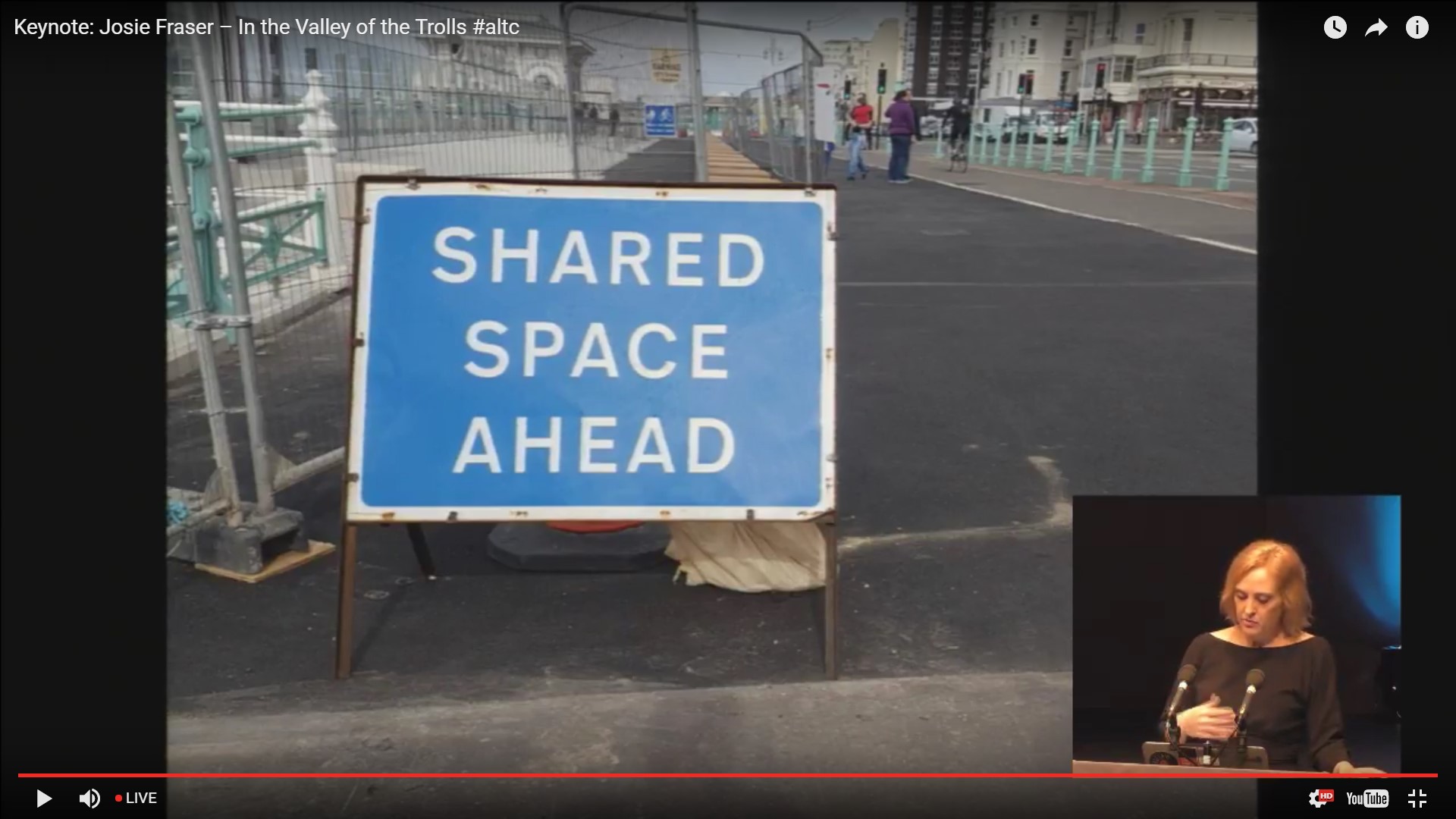 I was very excited about attending ALT C this year, I'd registered, booked accommodation and travel, but a last minute family emergency meant I was unable to go. I was disappointed but knew that some of the sessions would be live streamed – so as I'd already blocked out my diary I went online to see what was available from my desk. Fortunately, I found that ALTC caters well for those #virtuallyattending – the keynote sessions are live streamed, as are all sessions from the Main Theatre, the programme is available online and Twitter allows some insight into the rest of the conference activity.
The Live Streamed Keynotes
As I sat in my office waiting for the first keynote and wondering how my experience will compare to watching it live in the auditorium?
As soon as I started to see from the pictures popping up on Twitter I realised that I was getting a front row seat!
I really enjoyed watching the five keynote from ALTC 16, all of which touch on many areas of interest and current concern for learning technologists (All of these sessions are now available on YouTube):
Keynote: Josie Fraser – In the Valley of the Trolls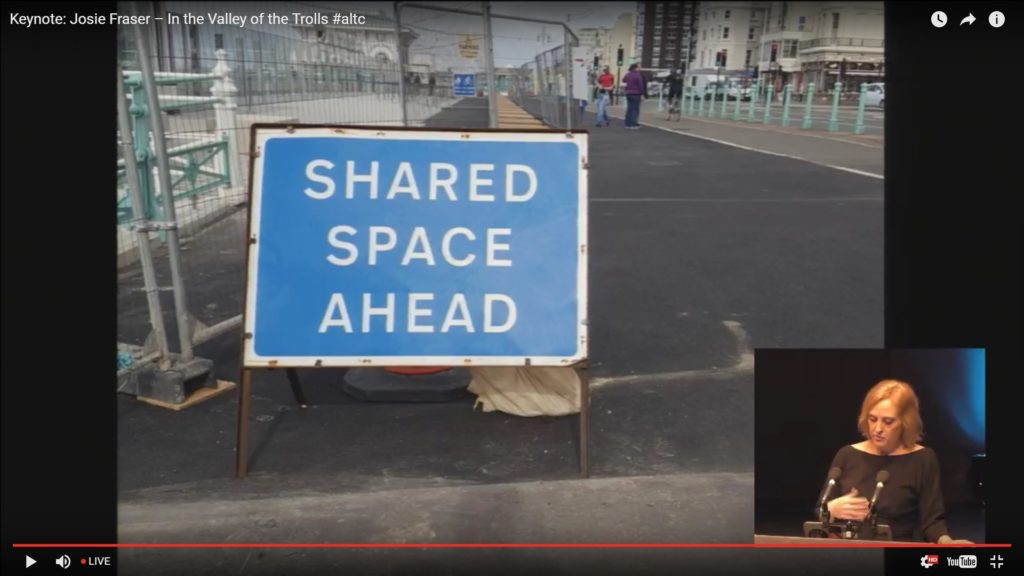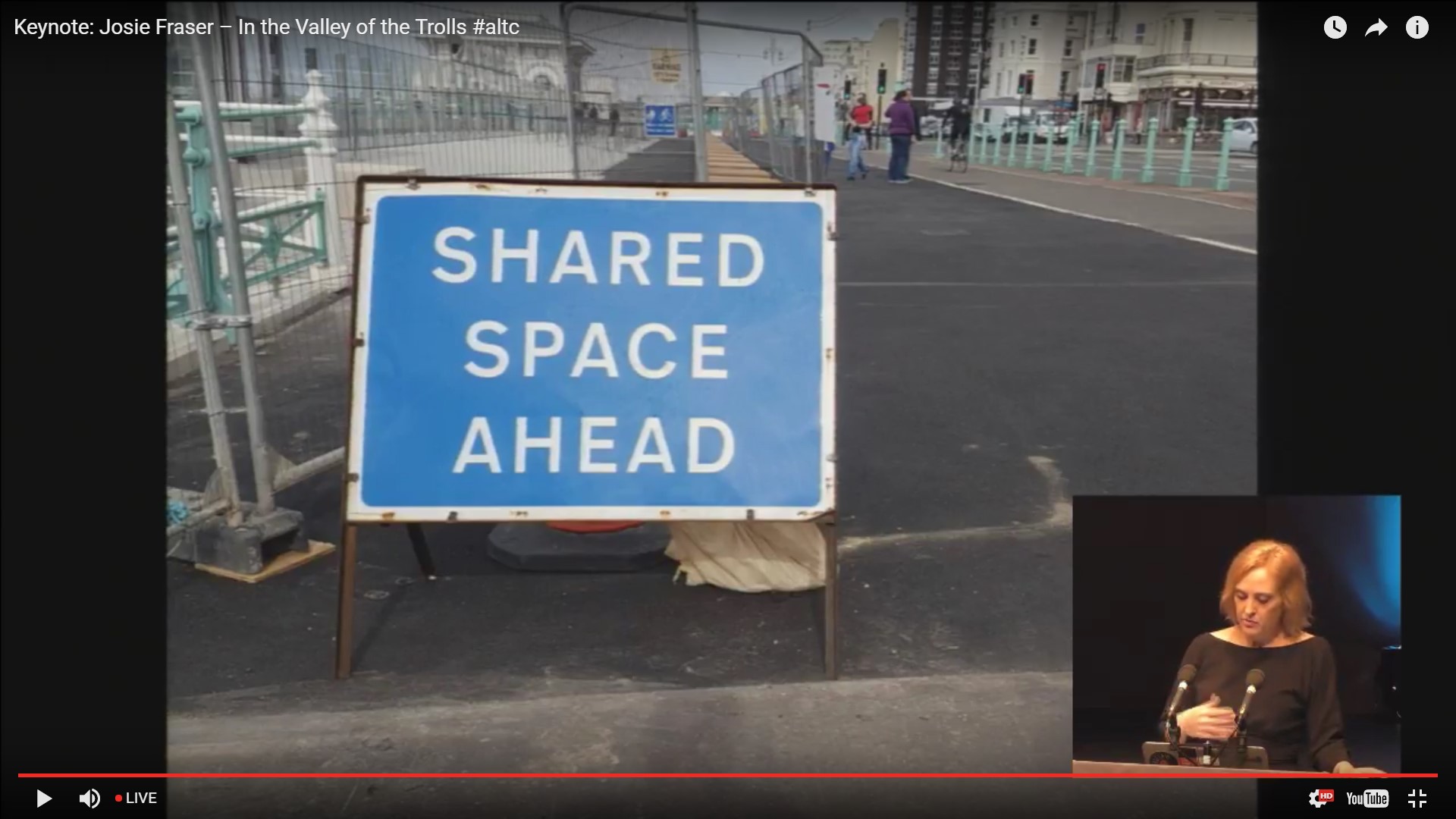 The importance of recognising what Trolling is and what it is not?
Commitment to open education is an ethical gesture.
Being yourself online may be a privilege.
Keynote: Ian Livingstone – Code Create Collaborate
Importance of nurturing creativity.
Computer Science is the new Latin
Gaming is a force for good.
Keynote: Lia Commissar – Education and Neuroscience: Issues and Opportunities
What has neuroscience got to do with education?
Are there insights from neuroscience for education?
Debunking myths, questioning and growing an evidence base.
Keynote: Jane Secker – Copyright and e-learning: understanding our privileges and freedoms
Copyright is not scary!
The world needs young people who can problem solve and invent things.
Keynote: Donna Lanclos and David White – Being Human is Your Problem
You can't 'solve' teaching and learning.
Openness, privilege and risk.
You are the institution.
It turned out that not just the keynotes, but all sessions from the Main Theatre were live streamed throughout the conference.
Virtually Connecting
There were also three sessions organised by an organisation called "Virtually Connecting" who arranged three Google Hangouts to connect virtual participants with those at the conference. I watched the live stream of the first session they offered, and then joined one on the second day with Fiona Harvey, Lorna Campbell and Teresa MacKinnon. After the session I asked a bit more about how 'virtually connecting' worked – I'd originally assumed these were organised by ALT, but it turns out that that 'virtually connecting' are a team of volunteers who participate at a variety of academic conferences to broaden access to virtual participants.  I'm going to keep an eye on their Twitter account to see where else they turn up.
Twitter
Attending a conference is more than just the sessions you watch, there is a social element and the networking opportunities. I was able to connected with people on Twitter by following the #ALTC hashtag, this gave me an insight into the perspectives of others, and allowed me to connect with new people.
Final thoughts
It was great that so much of the conference is openly available, I just hadn't been aware of this – and wondered how many other people are aware of it?  Next year I'll make an effort to promote these opportunities more widely, through groups I'm involved in at the University of Edinburgh such as elearning@ed and through my support of the CMALT applicants group.
Even if you know you are not attending, it's well worth blocking out some time during the conference to attend virtually – I'd never have been able to participate without this time.
I found that I particularly enjoyed the sessions that I watched with my colleague, as we could hear each other's reactions to the talks and discuss them. Next year it might be fun to get together as a group and watch some of the keynote sessions together?
Next year's conference, ALTC 2017 Beyond islands of innovation – how Learning Technology became the new norm(al) will take place from the 5th to 7th September 2017  at the University of Liverpool.
Whether I'm able to attend physically or virtually – I'm already looking forward to it.
Share