Durham Blackboard User Conference 2016: Collaborate Ultra presentation
Durham Blackboard User Conference 2016: Collaborate Ultra presentation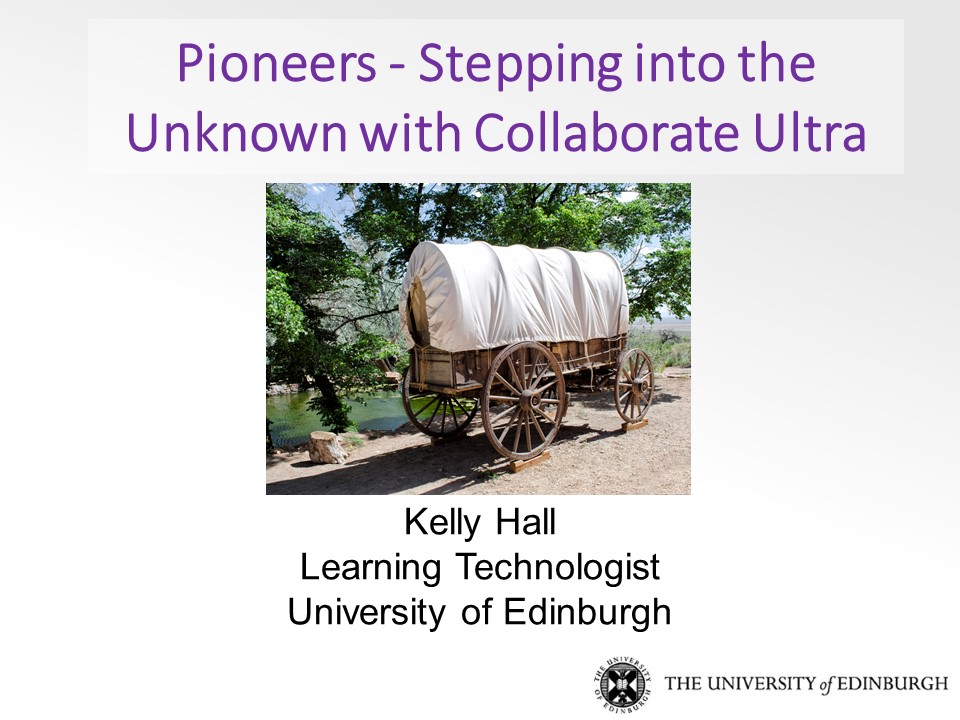 On the 7th of January 2016, I had the privilege to present at the Durham Blackboard User Group Conference about our use of Collaborate 12.6 along with discussing our pilots of Collaborate Ultra at the University.
Before attending, I had heard many wonderful things about this conference and was looking forward to seeing what my colleagues across the sector were talking about. Everyone was so welcoming and inviting at the conference. There was a really relaxed atmosphere. I will say that before I got to Durham I was extremely nervous about presenting, but once I had met some other attendees and saw a few presentations I started to relax as I realized no one would heckle me off the stage!
My presentation was titled "Pioneers – Stepping into the Unknown with Collaborate Ultra" appropriately I had a picture of a covered wagon to represent my American pioneer roots.
I won't summarize the whole talk as the slides give an overview of what I was talking about (which I have attached as a PDF below). From the comments I received attendees found it useful to learn how staff and students on the Collaborate Ultra Pilot were finding the upgraded tool and what their feedback was. Overall people in the pilot are happy with the new tool, especially the fact that it is browser based, but they do miss the functionality that is available within Collaborate 12.6. (not all functionality has been replicated in Collaborate Ultra) as Ultra is in agile deployment we just have to wait and see what will be added next.
Thank you to everyone for their kind tweets about my presentation.
#durbbu Really useful and informative presentation by @kellymhall3 on piloting of Ultra. Still waiting on break out rooms before deployment

— Sharon Flynn (@sharonlflynn) January 7, 2016
#durbbu has the best venue for the friendliest conference listening to kelly hall pic.twitter.com/aRH4HljGCY

— Matthew West (@MattwestUK) January 7, 2016
Also, Durham is a beautiful city and I would highly recommend this conference. Thank you to Durham University's Learning Technologies team for putting on such a wonderful conference.
Something very pleasing about walking to dinner and arriving at this entrance #durbbu pic.twitter.com/aXNC7C4HUC

— Matt Cornock (@mattcornock) January 7, 2016
Further Resources:
Pioneers – Stepping into the Unknown with Collaborate Ultra (PDF of Presentation)
Share