Featured image – Martin and his dog, Benji  (Credit: Katerina Andronicou)
Our Creative and Cultural Careers blog series continues with a fantastic contribution from University of Edinburgh alumnus, Martin Vesselinov, who graduated with an MA Economics in 2017. Martin is a Freelance Director of Photography and his career journey is an excellent example of how your career choice doesn't have to be closely related to your degree. Read on to be inspired…
Introducing Martin
Although I do not very much enjoy talking about myself, I hope that sharing my career journey will help others follow their passion. Overall, I hope it will show an example where one's personal drive can arguably be more important than following a certain "usual", "default" or "expected" career trajectory.
I'll start with a summary of my background. I grew up in Bulgaria. There, I was lucky enough to also learn English, which opened my world to much more culture, art, and science, as well as the opportunity to come and study at the University of Edinburgh, free of charge at that point for me as an EU citizen. After spending a gap year interning at GfK Market Research Institute in Sofia, Bulgaria, I moved to Edinburgh to do an undergrad in Economics. I had been interested in social science, and I desired a better understanding of the complexities of socioeconomic life. However, at that point, I had already developed a strong interest in visual arts, especially photography and film.
Looking back – how I navigated my own creative journey
Naturally, many of the new friends I was making in Edinburgh had similar interests, and some of them were already building careers in the arts. These positive examples, in combination with me being successful taking on part-time photography jobs while in university, motivated me to do more research on the sector. I started talking to more people working in Photography/Film/TV. I was reading articles online and I was listening to interviews and podcasts. I was essentially trying to break down how the industry works, what skills I needed in order to be successful, and who I needed to reach out to in order to gain more practical experience, as well as professional work. I did a few small projects for the university, filmed events, and helped friends with their passion projects. This was all happening while I was still at university doing my Economics degree, and working part-time as a nightclub and events photographer. I figured out that I needed a better and larger portfolio. Thus, I spent some time and some of my savings on passion projects that would showcase my skills as a filmmaker. And, it paid off! I started getting work from local creative agencies; I was already doing commercial work for real clients. Although still small scale projects, this was huge for me, since I had managed to do this without any formal qualifications. It was all due to my own motivation to work hard on gaining the skills, knowledge, and network needed to be successful.
Around that time, I graduated. I managed to get a First and was struck with a choice. Was I to get "a normal" job or continue with my creative journey? Of course, I had to try. This was in 2017. I am writing this in 2023. So, fast forward six years of juggling event photography and small commercial jobs, to larger commercial projects, to TV commercials and TV shows.  Currently, I shoot primetime series for large British broadcasters and commercial projects for very well established brands.
So, I guess it's worked out. I have not by any means reached my ultimate professional goals, and there is much more for me to explore in the world of Film and TV, but I can proudly call myself a Film and TV professional now and I have got the credits to back that statement.
Here's a collage of screengrabs of some of my varied work from the past few years: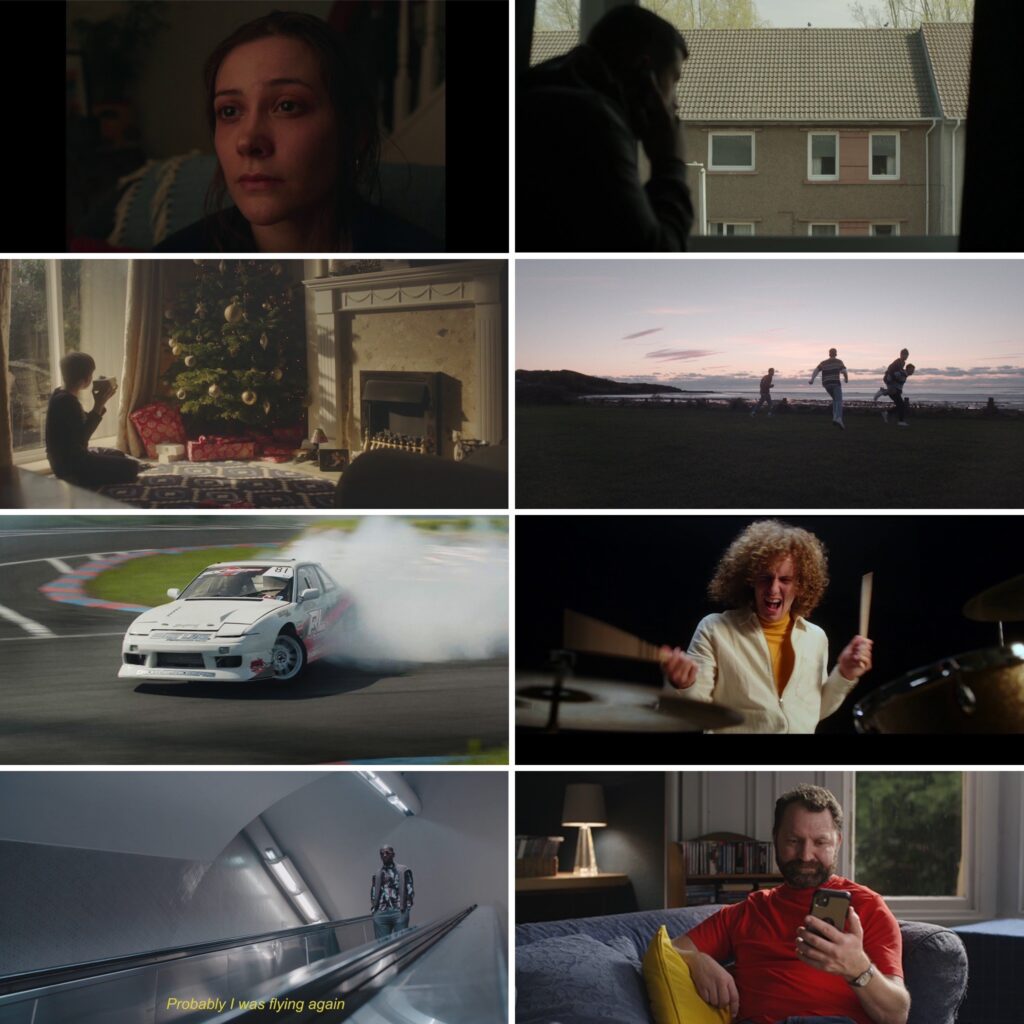 Parting advice…
The whole point of me writing this is not to show others how amazing my personal career journey is, or to boast about any personal qualities. Actually, I don't think there's anything amazing in this, and I am not more special than anyone else. In fact, I am sharing this to show that anyone can do it. As long as one really desires a career in a given field, especially in the creative industries, all it takes is determination and hard work. Most people who do not find success, just give up too early or are not ready for the commitment it takes, or maybe just do not want it enough. Also, the research and academic work one is exposed to during their time in university, regardless of their field of studies, can prove itself very helpful working in the arts. Knowledge and understanding in different fields of science helps a person to be more objective in their views and provides ground for meaningful work.
Thanks Martin.
It's great to read how Martin achieved success through a combination of being determined and undertaking his own careers research. Feeling inspired? You too can start building your own career journey by reading further tips on our Film and TV webpage.
We're delighted to be sharing more #EdCreativeCareers blogs throughout March – keep your eyes peeled on Inform.ed  for more inspiring career journeys. 
Share