(Featured image – Gintare during the Photography competition exhibition event in November 2022)
Are you looking for an internship this summer?
The Careers Service works in collaboration with a range of University of Edinburgh Departments to offer the Employ.ed on Campus structured summer internship programme. Employ.ed on Campus internships offer second, third and penultimate year undergraduate students the chance to gain paid work experience and take part in activities designed to offer structure and support!
Applications for Employ.ed on Campus 2023 are open… we recently caught up with Gintare, a 2022 Employ.ed on Campus intern and fourth year Sociology and Psychology student, to hear about her experiences and reflections on her internship.
Gintare, why did you decide to apply for an Employ.ed on Campus internship?
Since summer 2022, I have been a Creative Projects Intern at Edinburgh Futures Institute (EFI) – it all started with the Employ.ed on Campus programme. As I was approaching the end of my third year of undergraduate studies, I realised I really wanted to get some meaningful work experience in Edinburgh. Being a student from abroad, I felt that I wanted to engage with the city and with the university a bit more closely and to get to know them deeper in a way that might not be possible during the academic year. I was also looking for a position where I could bring in my passion and experience of curating creative initiatives like exhibitions and events. It was at this stage of thinking that I came across the Employ.ed programme and the associated internship position, which seemed like an ideal option for the summer. So I quickly decided to apply, and was very lucky to get chosen.
Can you tell us about your internship experience?
In my role, I worked closely with my manager Jennifer Williams, who besides being the Creative Projects Manager at EFI is a very talented poet. So all the professional skills and experience aside, developing a supportive and inspiring relationship with Jennifer has on its own been an incredibly enriching outcome of the internship. Together we worked on projects which focused on fostering the sense of community within the university, building its ties with organisations and artists beyond university, as well as showcasing student work and enhancing their experience of being in the university.
Throughout the summer, we worked on preparing one of the University's buildings on South College Street for the arrival of the first cohort of EFI postgraduate students. We brought in student artwork, plants and other decorations to make the space more pleasant, as well as creating a display of the history of the building to contextualise it (it used to be a church!). In line with the hybrid working nature of EFI, we created a virtual site for the space too – you can see it here.
Gintare, it's great to hear that you're still working part-time for the internship employer – tell us a bit about what you're currently working on.
We have also been developing a project called Recycling a Hospital, whose aim is to facilitate the transition of the Old Royal Infirmary building into its new life as an education space where EFI will be based. We intend to use old materials from the building to create a piece of artwork for display in the refurbished building. For that, we are building a collaboration with the nurses who used to work in the hospital, the Grassmarket Community project and local stone artists. We have also organised two photography competitions for students all across the university on the topics of climate justice and the relationship between humans and artificial intelligence. Finally, I have been excited to assist Jennifer on her wonderful project called Utopia Lab, which connects people from the most diverse disciplines using creativity, mindfulness and collaboration.
Each project is unique, so my days at work – especially in summer – rarely looked the same. My daily tasks can involve anything: from researching local artists to collaborating with and arranging meetings with them, to measuring walls in a university's building in preparation for exhibition, or brainstorming and crystallising project ideas, building a WordPress site for a project, and, of course, writing lots of emails.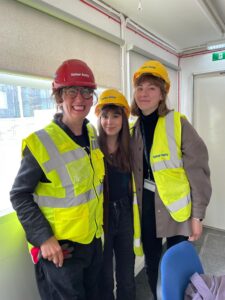 (Image caption: day two of the internship, visiting the construction site of the former Old Royal Infirmary. From left to right: Internship Manager – Jennifer, Festivals Intern – Susanna and Gintare.)
Can you reflect on what have you gained through this experience?
Throughout these tasks, I have developed (and, to be precise, am still developing!) a number of skills useful for both professional and personal life. I got a better understanding of project management, gained the courage to reach out to people to ask for help with a project, and improved my communication, teamwork and photography skills. I also met lots of incredibly bright and inspiring people from all over the university and saw how much hard work is happening beyond that which is visible to a student – all of this made me relate to the university in a very different way, and to feel more at home here.
And, finally, a big reason why this experience has been so enriching was the Employ.ed programme. Throughout the summer, it provided a safe and nurturing environment to transition from the university life to the more professional – and to many of us, the more intimidating world of work! As part of the programme, we received incredibly useful training which developed our professional skills, such as communication, teamwork, networking and others. We were also encouraged to monitor our personal growth via a tailored Edinburgh Award. And, very importantly, it created an amazing community of student interns, which provided a sense of belonging and reassurance in the process of personal and professional growth.
What you would say to a student who is considering applying for an Employ.ed on Campus internship?
I would say definitely go for it; I can't recommend this programme enough! As I mentioned above, the safe and nurturing environment that the programme provides is an incredibly useful stepping stone in a journey from academic to professional life. Regardless of whether the position you choose will be something you'd like to do in your future career or not, this programme will build the professional skills that will be useful in any position. And it will also expand your understanding of what career paths are available out there through the many interactions with fellow interns and people you'll meet along the way. If you decide to apply, make sure to use the resources that the Careers Service provides, including advice on CVs, cover letters and interview tips: they were very helpful to me. If you are nervous, letting someone else read your cover letter or later on arranging a mock interview with a friend may also be handy practice.
Lastly, if you get the internship, make sure to make contact and build meaningful relationships with other interns, set yourself goals that are achievable and meaningful to you, make use of all the professional training and seek feedback whenever you can. And, most importantly, enjoy your time – explore Edinburgh in the summer, visit the Fringe festival, don't forget to take some breaks (both from work and from the festival), and try lying down in the Meadows on a sunny evening after work. I think you'll like it.
Thanks Gintare.
If Gintare's internship experience has inspired you to apply for an Employ.ed on Campus internship, search #EdSummerInterns on MyCareerHub to view all Employ.ed on Campus internships.   
Don't miss out… applications close on Friday, 17th March 2023.  
Gintare highlighted Careers Service resources to help make effective applications – this link gives an overview of Employ.ed on Campus, and includes links to resources to support you with your application and interview.
Share