Hello! Thank you for visiting 13-15 South College street during Doors Open Days.
This building currently is home to Edinburgh Futures Institute (EFI) and Data Driven Innovation (DDI) initiative. However, prior to becoming a place of study and work, for nearly 200 years it was a site of worship and, before that, a bowling green.
During the self-led tour, you will learn about the building's history, and the activities that currently happen here – in particular, the work of the Edinburgh Futures Institute and the Data Driven Innovation initiative. Throughout the building, you will discover 21 labelled stops that together will tell the diverse story of the building. Try to find all the stops while wandering around the building!
Throughout the day we will also host a series of lightning talks in Newhaven Lecture Theatre on the 3rd floor, during which you can learn more about EFI and DDI, as well as about the history of Relief Churches in Edinburgh.
All of the historical material you will discover on your visit was collected by people who work here – Jo Newman, who has been working in the building for more than 10 years, and Gintare Kulyte – an intern who on her first visit to the site got curious about how and why do church buildings become repurposed for secular uses. Jo and Gintare were connected by their fascination with history, and over the past year they managed to piece together a story that contextualises this building.
However, this story is still evolving, and we continue to look for traces of its history. If you happen to have a memory of the building – especially if you or your relatives have been students at the University of Edinburgh during the 1960s – please share it with us! There is a memory box and some cards on the second floor where you can share them. Alternatively, you can get in touch with Gintare at gkulyte@ed.ac.uk.
To make the navigation around the building easier, we made a map of the spaces: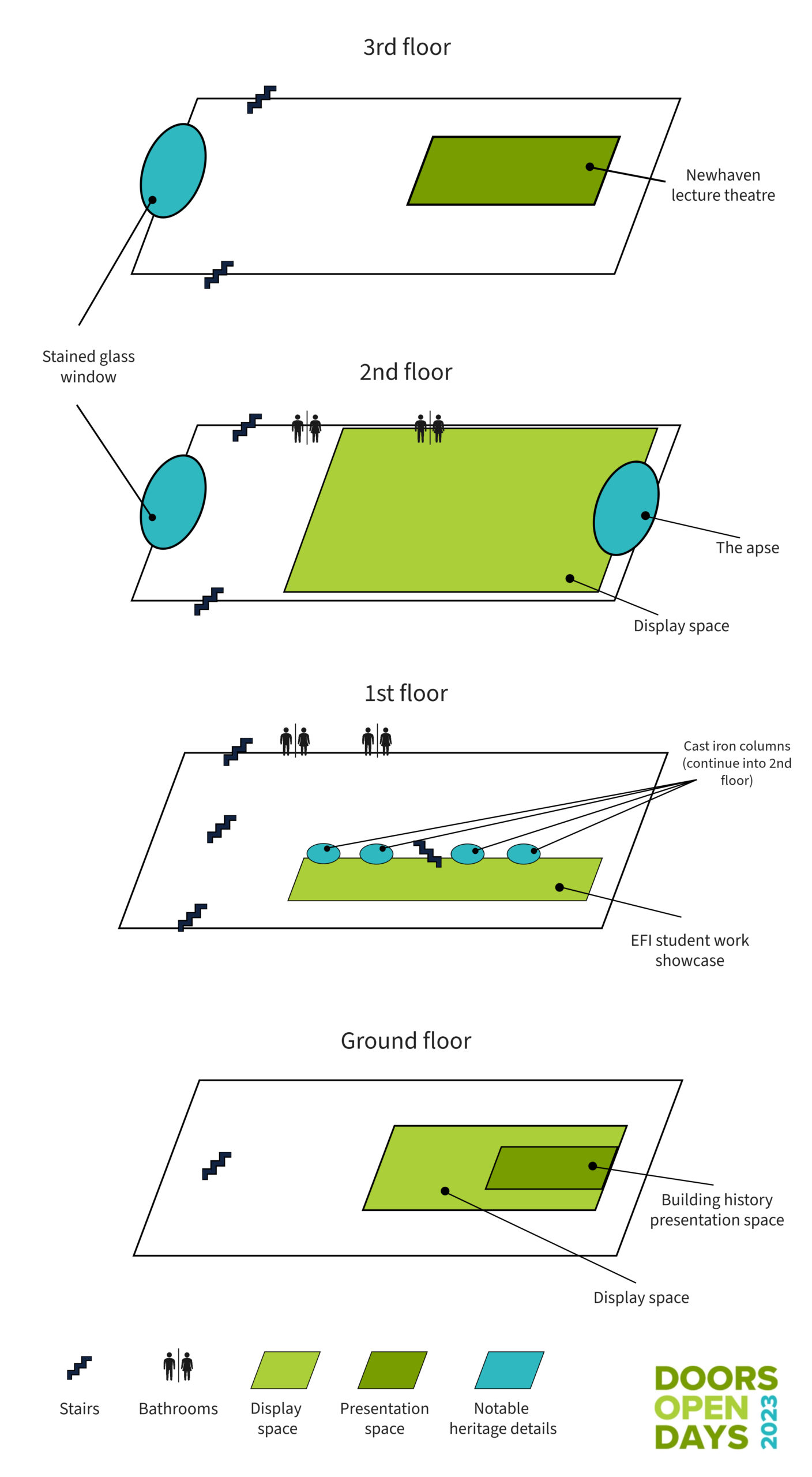 We hope you'll enjoy your visit, and if you'd like to continue your exploration of fascinating buildings, visit DoD site.