South College Street:
Past, Present, Future
Welcome all visitors to 13-15 South College Street!
We hope you will enjoy exploring these pages that connect to artworks and images on the walls of this historic building.
Dear 2022/23 Edinburgh Futures Institute Students: Welcome, especially, to you and to your new academic home at 13-15 South College Street. You'll be based here until we move into the new Edinburgh Futures Institute building on Lauriston Place in 2023/24. To make it feel a bit more home-like, we installed a selection of artworks and historical material which will contextualise your experience within the University, the city of Edinburgh and Scotland more broadly. Throughout the building you will discover different artworks and historical photographs. All of them have labels with QR codes which you can scan in order to read a bit more about each of them. The labels come in two types:
There are six labels that look like this:
These denote artworks. The majority of them are created by University of Edinburgh students – people from Edinburgh College of Art and undergraduate students who took the Currents Course organized by Edinburgh Futures Institute. We hope that these will spark your interest in the work of EFI and will inspire you to take a creative approach to your studies. Others, like the large print of a photograph from the Isle of Skye, are here to spark inspiration to explore Scotland outside Edinburgh. Finally, some, like the cartoons from Worry Lines are intended to be mildly uplifting when (or, indeed, if!) times get a bit tough.
You will also discover 10 labels that look like this: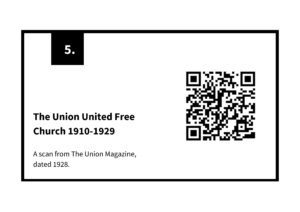 These denote historical photographs from different stages of the building's history. They are all numbered chronologically. You may have noticed that this building does not look like an ordinary building built for academic purposes. This University space occupies the shell of a former church, which is now category B listed building. We encourage you to take a walk throughout the building and notice the details that still mark this stage of the building's history – for instance, the beautiful pillars, the stained glass window and the original stone walls.
Sadly, the historical material we could find in the archives was quite scarce. Yet what we managed to find allowed us to piece together a coherent story of the building. We hope that it will help you to orient yourself within the timeline of the building's life. Maybe it will also spark your curiosity to further explore the history of this and other buildings in Edinburgh – and this city has loads of fascinating ones!