(Featured image – credit: Pinewood Creative Media Skills Dye and Breakdown Course by Louisa Sorrentino)
We hope you've been enjoying our focus on #EdCreativeCareers. Today, we continue with a fantastic read from Callum Miller, who graduated from Edinburgh College of Art (ECA) in 2019, with a BA (Hons) Performance Costume. Callum now works as a Costumier for Film and TV with an impressive list of credits including The Buccaneers Season 1, Magic Mike's Last Dance, Good Omens 2, Annika Season 1, Shetland Season 6, Vigil and Shadow and Bone.
Callum shares his reflections on his time at ECA and gives a great insight into his current role. He also gives lots of hints and tips about how to get into the exciting world of Costume…
Getting started…
Throughout my time at the University of Edinburgh, I studied the Performance Costume Bachelor's Degree at ECA. The course was four years long, packed full of industry training, creative and challenging projects and some truly rewarding experiences.
I had always had an interest in Costume Design since a young age; exploring character through clothes is something that excites me every day in life – whether it's a Duke in the 1800s or the crazy neighbour next door. Clothes and how people wear them are key to storytelling.
Turning dreams into seams after university
Since graduating at ECA in Performance Costume, I relished the chance to work in Budapest on Netflix's Fantasy Drama Shadow and Bone. This opportunity was one I will never forget with it being one of my first roles out of university. Being in a foreign country and working in a prestigious costume workroom was truly daunting! The skills I learned at ECA from the technicians, tutors and industry professionals equipped me with the confidence to land on my feet and I began to grow my experiences within costume. I will always be thankful for my training and experience at ECA. The Performance Costume course is a truly amazing, challenging and colourful journey – I will never forget my time there. I recall before joining university, I didn't even know how to use a sewing machine…
From returning to the UK after four months, I attended a number of short courses, one being the National Film and Television School (NFTS): Working in Costume for Film & TV, which was incredibly rewarding in the knowledge and contacts I made and still speak to now on a daily basis. I also gained a place on the ScreenSkills Trainee Finder Programme which helped kickstart my career with great training courses and placements. I started to gain numerous roles as a Costume Trainee in Scotland and England, working in a variety of different areas. These included working in an office, shopping, dyeing and ageing, fitting several background artists, working on set and making lots of cups of tea! From here, I gained around two years of experience truly learning the workings of a film and TV production and grew my network and skillset.
Almost four years on from leaving ECA I now usually work as a Costume Standby, which entails looking after the continuity of the actor's costume on set – and even looking after the actor, too! Keeping them warm on set is one of many roles of a costumier, especially in Scotland.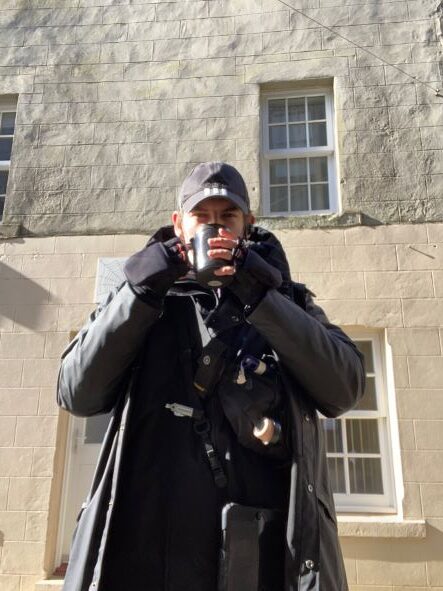 Embracing variety…
The great thing about working in film and TV is that no two days are the same. One day I might be scrubbing 100 pairs of muddy boots from a war scene and the next I can be dressing someone for a dinner party.
Getting into the world of Costume: hints and tips
For getting into the world of costume, I feel that any sort of life experience truly helps; you work with so many different people and characters every day. A great experience for me was working in hospitality during my studies – the skills of managing my time and leading a team, as well as working long hours are very transferable.
I would also suggest joining any sort of film unions or groups online – some include NFTS, Film Bang, Screen Scotland, BECTU and ScreenSkills. These are all great sources of information and offer networking opportunities for entry-level professionals!
Thanks Callum.
We're delighted to have showcased Callum's career journey today… look out for our next #EdCreativeCareers guest blog coming soon.
Share