This study examines the impact of 20mph speed limits on safety and public health
Rates of traffic accidents and injuries before and after the change will be measured to look at whether road safety has been enhanced. Any change in transport use will also be scrutinised by examining the take-up of cycling and walking. Residents will also be asked their opinions of the change. It is the largest project of its kind in the UK and will run until 2020.
The research team, led by the University of Edinburgh and SCPHRP, hopes the project will inform other cities planning to introduce lower speed limits. It is the largest of its kind in the UK and will run until 2020. SCPHRP's Ruth Jepson said: "We are excited about this major project, which we hope will provide very important insights into the public health effects of such initiatives".
The study is funded by the National Institute for Health Research and involves partnership with other UK universities, NHS Health Scotland, and the charity Sustrans.
Find out more about the project
Meet the team
Meet the team (biographies and photos)
YouTube videos
Interactive toolkit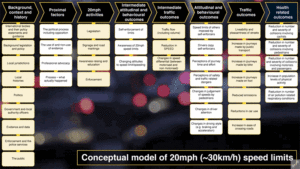 View our 20mph interactive conceptual model
The evaluation of large-scale speed limit policies in two major UK cities
Downloadable document (85 pages)
The evaluation of large-scale speed limit policies in two major UK cities [.pdf, 9.2 MB]
Online slideshow (85 pages)
View our online slideshow version
Academic articles
20mph academic articles (Journals, Reports, Posters)
Share