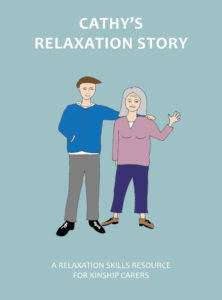 SCPHRPs Jane Hartley, John McAteer and Sam Bain have recently designed a support resource for kinship carers. Kinship carers are family members (often grandparents) who take care of children when the birth-parents are no longer able to care for them due to circumstances such as ill-health, addiction, abuse or bereavement. It is a current Scottish Government priority that this under-served population are provided with more support. It is important that we are clear that this support resource should be offered in addition to, not instead of, financial, childcare and respite support.
The kinship carers we worked with reported that they were experiencing extremely high levels of stress due to their often traumatic circumstances. We co-designed a set of safe and effective relaxation skills with them. Our premise was that by improving the wellbeing of the kinship carers, their capacity to care for the children they look after would improve, thereby enhancing the wellbeing of both. The kinship carers reported that the relaxation skills had a positive stress-reduction effect on them and a positive impact on their relationship with the children.
The resource is in the form of a free comic and an accompanying audio CD, in hard and online versions. The comic tells the story of a kinship carer called Cathy and her grandson Jordan. Cathy feels extremely stressed out. She learns relaxation skills at her local kinship support group after which she practices regularly and then notices that her relationship with her grandson improves. We hope that the comic and CD format will allow this relaxation resource to be widely accessed across the country.
You can access the comic here and if you would like to know more about the project, please contact Jane Hartley or Sam Bain
The work is funded by The Robertson Trust.
The comic was printed by Comic Printing UK
Share