Resolved works:
Project 1 – 'surrender to the crumble' audio
Project 2 – meditations instructions
Project 3 – 'surrender to the crumble' artwork derived from meditation 1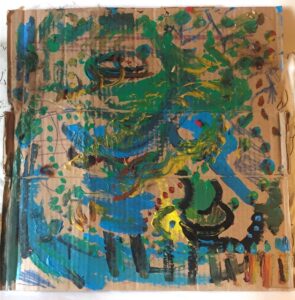 Reflection
I originally thought to make the meditations about my specific time and place, in Edinburgh in April 2021, to somehow time-capsule this period of my life to return to later. However, sound asked to be captured differently. The track 'surrender to the crumble' involved a blending of voice notes recorded in my hometown in Portugal 'in the past' and in Edinburgh during lockdown, in 'the future'. By layering and playing with different sound effects, and basing the story around a recording of me singing a song I made up about a year ago, I created a soundscape that maps an imaginary bus journey across time and space. The listener is meant to listen to the track and map their own emotional and artistic reaction.
I created a mapping of my own emotional response to the audio, which resulted in the painting included above. In my painting, I aimed to create a physical mapping of the sensation of listening to the 'surrender to the crumble' audio; the echo of sharp sounds led to quick brush strokes, which got smaller the further away the sound became. I created a base while listening to the audio, and finished it after it was done by adding bits of dust and clumps of hair to represent the crumble we are surrendering to:
After creating this song, I wrote a series of instructions that should be listened to before beginning the meditation. While writing these, I was listening to a playlist of ethereal, wordless soundscapes built around layered loops sound to listen to while writing. The songs became part of my day as I just let them play while I was doing yoga, eating, falling asleep, or reading. I wanted the second meditation to accompany the listener simply living alongside this music, and asking them to map the activities they had done, feelings they had, and how the sounds had infiltrated their experience.