Following the ideas outlined in this post, I have decided to begin experimenting with keeping a "Studio Diary" as a form research / field notes, with a view to developing my knowledge of the working dynamics of "the studio".
I intend to use this Studio Diary as a tool for both recording and reflecting on what goes on inside the studio, and how this links to contemporary art theory more broadly. The parameters of "the studio" will be taken to include any "site" within which "work" takes place – which seems quite vague but essentially allows me to broaden my research field outside of the walls of the "white cube" studio I currently inhabit, and include the domestic space, along with anywhere else I might make "work" over the research period.
This research will be an extension of last semester's WORKSITE project, though it will (at least initially) focus on my own experiences rather than that of others. I will post the diary directly to this (University) blog, rather than onto the WORKSITE blog, as I am still undecided as to how I will present my research findings toward the end of the project (though I will inevitably share my findings on WORKSITE in some form). I may also decide to share other related content to WORKSITE in the meantime.
The format of each diary entry will consist of images of work-in-progress, notebook pages, and expanded notes, along with links to any reference materials discussed. Other content might be added where relevant.
The first entry, from 03/07/22, appears below (although I have written the incorrect date in my notebook).
Studio 03/07/22 (09:45 – 12:15)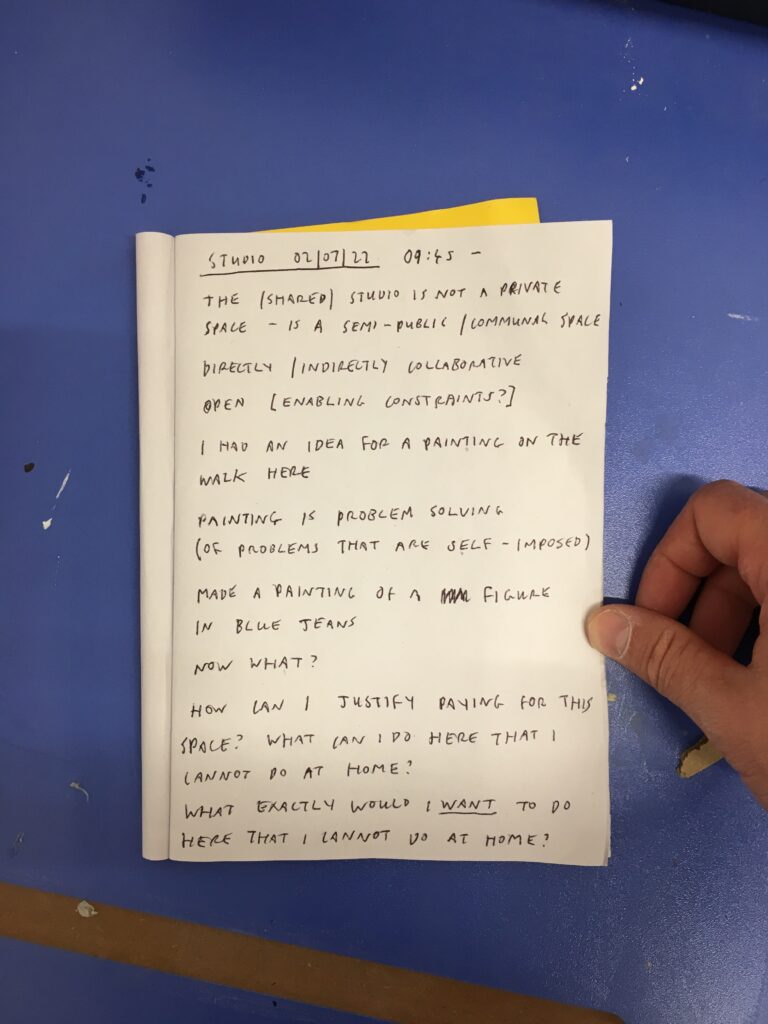 The (shared) studio is not a private space – it is a semi-public / communal space
The (shared) studio is a directly / indirectly collaborative space
There is nobody else here today
Is "openness" an "enabling constraint"?
I had an idea for a painting on the walk here – is the commute (or any "thinking space" an extension of the studio?
Painting is problem-solving (of problems that are self-imposed)
I made a painting of a figure in blue jeans. Now what?
How can I justify paying for this space? What can I do here that I cannot do at home? What exactly would I want to do here that I cannot do at home?