"That's the thing about books. They let you travel without moving your feet." 
– Jhumpa Lahiri, The Namesake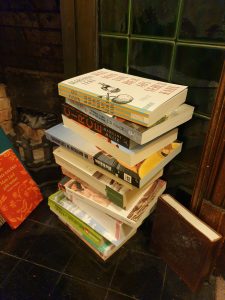 The pandemic has changed our lives in many ways and sometimes it feels like it is hard to escape the monotony, work stress and/or boredom that we are still faced with. Even though I miss many things (and even more so people!) there is one thing that has helped me through the last year like nothing else: books. On the occasion of this year's World Book Day, a UK charity event which promotes reading for children in full-time education, I have decided to share some book recommendations for when you feel like 'traveling without moving your feet'.
Throughout the last year I went through different book phases: at times, I wanted nothing more than to get lost in a story, on other days I felt like challenging my perception of the world. I had days when I desperately wanted to be entertained and other days when I needed to feel just about anything.
For this blog post, I chose to focus on the books that helped me escape for a while, even though not all of them are going to make you feel happy. I have consciously chosen a mixture of books, because I know that tastes are different and moods change. In most cases I would say that the books have chosen me, rather than the other way around. Some titles or story lines just caught my eye, or a friend recommended a book to me, or I felt drawn to a specific book cover. I hope that some of these book recommendations speak to you and help you escape, even if just for a little while.  
Normal People: Sally Rooney
In our first week of lockdown (almost a year ago!), my flatmates and I made a large pile of all our books in the living room. I remember how I thought that I needed something that would distract me from all the madness in the world, even though it was difficult to concentrate on anything. Once I started 'Normal People', I had to finish it in a day. It is hard to explain what the story is about, without making it sound trivial (which it isn't). For me, it is a story about two people, complex emotions, the way we are influenced by our living circumstances and how we suffer and thrive at home and away from home. It is about heartbreak and growth, loneliness and connection, shame and freedom. If you want to get lost in a story, I recommend reading this book. It was also recently made into a TV show and they have done an excellent job capturing all the different facets of the story line.  
Purple Hibiscus: Chimamanda Ngozi Adichie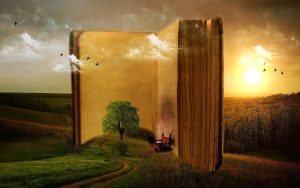 Chimamanda Ngozi Adichie's writing is like nothing from this world. Her way of telling stories is so powerful that you cannot help but feel with and for every one of her characters. 'Purple Hibiscus' is a story about families, traditions and oppression, pain and hope. The story revolves around Kambili and her family, but it is also a story about a country (Nigeria), the consequences of colonialism, growing up and learning to see. This book is so multi-facetted that it is difficult to place within any genre. When I started reading this book, I did not know where the story was heading, it just felt like it was flowing. I would recommend this book to anyone who enjoys being challenged by the complexity of characters and things unsaid.  
Circe: Madeline Miller
'Circe' is the story of a Greek goddess whose life is intertwined with the stories of many characters known from other Greek myths. I enjoyed reading this book because it does not follow the usual story development. Even though it is difficult to identify with the main character, you cannot help but see life from her perspective. The story illustrates how power can lead to cruelty and how one act of kindness sometimes changes your life forever. A large part of the story line deals with loneliness and isolation as well, so you will definitely be able to relate to that during this time of social restrictions.   
I know why the caged bird sings: Maya Angelou
Maya Angelou's classic is so beautifully written that you will want to continue reading it until you are on the last page (and even then, I just wanted to go on reading). I felt so many emotions while reading this book, the biggest one outrage for the things that she had to experience. Even though originally published in 1969, the book is still relevant and important today. This autobiography is one of the best books I have ever read, and I can only recommend it to anyone who appreciates poetry, artful storytelling or simply a great book.  
The Martian: Andy Weir
Andy Weir's 'The Martian' was one of the most entertaining books I have read in the last year. If I had to describe it in one sentence, I would say it is about science as a superhero power. Maybe you have watched the movie before (which is also good), but the book really surprised me. I regularly laughed out loud while reading it and I would have never thought that engineering could sound so exciting. The book evolves around an astronaut who is (accidentally) left on Mars and has to find ways to survive until he can get rescued. Read this book if you enjoy educational, humorous and suspenseful story telling.  
Queenie: Candice Carty-Williams
When I read 'Queenie' I gained a new perspective on living in-between different worlds and narratives. It took me a little bit to get into the story, but I quickly realized that the book is a lot more complex than a typical book about relationships and self-discovery. Told from the perspective of a young British woman of Jamaican descent, this story addresses heartbreak, trauma, racism, friendship– and family–dynamics, as well as the search for your own voice. Reading this story made me look at power relationships in a completely different way. I recommend this book if you would like to challenge your own perception of modern relationships, especially in an interracial context.
Hector and the Search for Happiness: 
François 
Lelord
François Lelord is a French psychiatrist and author who has written a series of books from the perspective of Hector, a young psychiatrist himself, who is looking for different ways to understand concepts such as 'love', 'friendship' and 'time'. 'Hector and the Search for Happiness' is Lelord's first book of this series and it approaches the concept of happiness from an almost childlike perspective. I read this book in a day or two and enjoyed it because, especially as a mental health researcher, you often get lost in scientific explanations and conceptualizations, rather than the experience of things. Read this book if you need a break from your work, but when you are still in the mood to philosophize about life.  
This is going to hurt: 
Adam Kay
This book was recommended to me by so many people, I had to read it at some point. All I can say is that it is incredibly funny, enlightening, and heartbreaking. Adam Kay is a comedian and former doctor who advocates for better working conditions within the health sector. This book is based on his diaries while he was still working for the NHS and it describes his experiences with patients, hospital politics and the dreadful conditions of medical training. The book might now be more relevant than ever, considering the current health crisis. In a nutshell, 'This is going to hurt' is witty, hilarious and moving.    
As it looks like this pandemic is going on for a bit longer, I would love to hear your recommendations for books that helped you through the last year or that you simply enjoyed reading. Just comment if you have any suggestions for good/memorable/enlightening/entertaining books! If you are still looking for inspiration have a look at https://www.goodreads.com and maybe your next book finds you! 

Share