There is no doubt that people like to live and work in civilized, comfortable and pleasant surroundings like bright and airy rooms, colourful walls, a few pots of plants by the windows. But very few people know that growing plants with our own hands can also have various benefits on our mental health and well-being.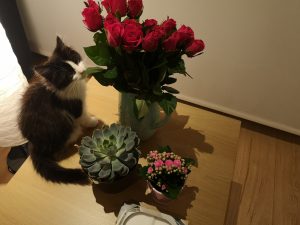 There are two main types of planting – house planting and community gardening. House planting refers to indoor planting and outdoor house gardening in your private place(s). The benefits of indoor planting are well-documented: it improves our sense of well-being, sense of accomplishment and positive mood. When purchasing and taking care of plants, a positive interaction with nature takes place as you feel the shapes and textures, perceive the subtle variances in colours and smells of the plants under the sun or at night.  
Feelings of isolation have been increased by the pandemic to a large extent, because we spend considerably less time in the outdoors and are isolated from nature. This is particularly the case of those who live amid the urban surroundings with rare green space or far away from grassland or park. For those separated from the society and nature, growing plants at home can help with their mental well-being and reduce the feeling of isolation. Even passively sitting in a room with pots of plants or simply viewing the plants inside or out of the windows could reduce our stress and anxiety.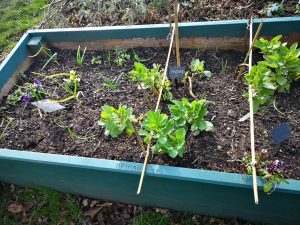 Besides, many studies found that house gardening encourages people to do more moderate physical exercise, which potentially increases physical resilience, reduces the risk of obesity, and alleviates insomnia as well as depression. By the same token, indoor planting brings benefits like those from house gardening, except that the latter requires more physical exercise.  
We may wonder how exactly indoor or outdoor planting makes us feel better. Here is a simple illustration of its mechanism of rendering benefits on mental health: a) according to Attention Restoration Theory (ART), we can concentrate better after being exposed to nature. That is because our effortless attention will be restored from the effort attention which is related to mental fatigue. When we are looking at our plants, our mind will be refreshed, and we will feel soothed and happy; b) looking after your plants can build up the attachment between you and your own plants; and as plants grow up, you feel comforted, encouraged, and even a sense of surprise at the blooming of new life from nought to something shining before your eyes.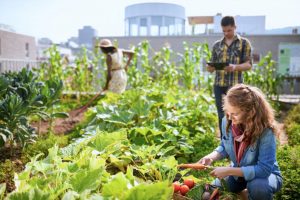 Compared with house planting, community gardening is also a good alternative for people to be exposed to nature and grow plants. Community garden refers to a public garden designed for residents to gather to the same place for planting, constructing and handcrafting. Community gardening requires groups of individuals to cooperate, where people meet new faces and learn relevant skills (e.g., agriculture knowledge, characteristics of different types of flowers; skills of flower collection, etc.). Research demonstrated that community gardening engagement increases social coherence, provides secure food to residents, reduces risk of diabetes and obesity, improves mental health, increases sense of worth, and it might even cultivate our sense of mindfulness. Once you have tasted the fruits and vegetables that you grew in the garden, you may find a sense of accomplishment –– such experience deserves having a try!
All in all, creating your own oasis can be a wonderful and positive way to refresh your life and benefit your health in various ways. For people who are living in an urban area and do not have enough chances to connect with nature, having plants at home may be a good choice for them. For those who want to enrich leisure life and gain more social support, community gardening may help to achieve these goals. No matter which kind of planting method you prefer, planting is indeed an interesting, low-cost, eco-friendly, and healthy approach to help people maintain health and cope with negative moods. 
If you are considering growing some plants indoors or finding a nearby community garden to join, here are some tips for you: 
You can buy plant

s

 from the supermarket

 

s

uch as

 

succulent plants and rose

s which are easy for you to look after

. If you begin with seeds 

but 

lack

 

of planting skills

, you may disappoint yourself 

if they fail to grow

.

 

D

on't forget your 

friends,

 water your plants regularly

.

 

Do 

not give up easily. One of my unpublished studies found the longer time taking care of plants, and the greater number of plants at home are significantly associated with 

higher level of 

mental well-being. 

Therefore, 

keeping

 this behaviour is more important than starting it.

 

Some plants and flowers

, including Lilies,

 can be toxic to pets 

so be sure to check the label or do a google search if you have pets around.

Observing and touching 

them 

are the positive way

s

 to interact with your plants, 

through which

 

you will more easily get 

mental benefit

s from creating your own oasis.

References: 
Aydogan, A., & Cerone, R. (2020). Review of the effects of plants on indoor environments. Indoor and Built Environment, 1420326X19900213.  
Basu, A., Duvall, J., & Kaplan, R. (2019). Attention restoration theory: Exploring the role of soft fascination and mental bandwidth. Environment and Behavior, 51(9-10), 1055-1081. 
Egli, V., Oliver, M., & Tautolo, E. S. (2016). The development of a model of community garden benefits to wellbeing. Preventive medicine reports, 3, 348-352. 
Ohly, H., White, M. P., Wheeler, B. W., Bethel, A., Ukoumunne, O. C., Nikolaou, V., & Garside, R. (2016). Attention Restoration Theory: A systematic review of the attention restoration potential of exposure to natural environments. Journal of Toxicology and Environmental Health, Part B, 19(7), 305-343. 
Park, S. H., & Mattson, R. H. (2009). Ornamental indoor plants in hospital rooms enhanced health outcomes of patients recovering from surgery. The journal of alternative and complementary medicine, 15(9), 975-980. 
Raanaas, R. K., Patil, G. G., & Hartig, T. (2010). Effects of an indoor foliage plant intervention on patient well-being during a residential rehabilitation program. HortScience, 45(3), 387-392. 
Sempik, J. (2010). Green care and mental health: gardening and farming as health and social care. Mental Health and Social Inclusion. 
Thompson, R. (2018). Gardening for health: a regular dose of gardening. Clinical Medicine, 18(3), 201. 
Tse, M. M. Y. (2010). Therapeutic effects of an indoor gardening programme for older people living in nursing homes. Journal of clinical nursing, 19(7‐8), 949-958. 
Useful links: 
Reis, S. N., Reis, M. V. D., & 

Nascimento

, Â. M. P. D. (2020). 

Pandemic, social isolation and the importance of people-plant interaction. Ornamental Horticulture, 26(3), 399-412.

 

https://www.gardenista.com/garden-design-101/house-plants-growing-care-guide/

 
Share