Anecdotally, we all know that animals make us happy.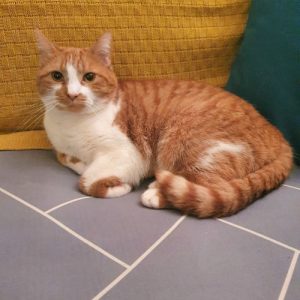 Spending a few minutes playing with a puppy or watching a video of some cute animals on YouTube is sure to put a smile on your face. But did you know that research has shown several benefits of spending time with animals? For example, the frequency of a cat's purr corresponds to the exact frequencies that promote bone and tissue regrowth (1). Cat owners are also at decreased risk of strokes and cardiovascular disease (2). Other studies have shown that spending time interacting with dogs can be relaxing, as it lowers your heart rate, blood pressure (3), and cortisol levels (4).
University students are known for being a population that experiences higher than normal levels of stress and mental health difficulties. Unfortunately, many university students either do not seek out, or lack access to, adequate resources to help them deal with these issues. Therefore, my research is aimed at investigating how animals can be effective at reducing stress and improving mental health symptomology in students. Access to personal or a family or friend's companion animal, volunteering at an animal shelter, or on-campus animal interaction events have the potential to be a significant mental health resource to some students who otherwise lack them. Some universities offer short sessions a few times a year (usually around exam time) giving students an opportunity to interact with animals for a short period of time based on the idea that interactions with animals are therapeutic. These sessions are officially called animal-assisted interventions (AAI). As stated by the International Association of Human-Animal Interaction Organizations (IAHAIO), AAI is "a goal oriented and structured intervention that intentionally includes or incorporates animals in health, education and human services (e.g., social work) for the purpose of therapeutic gains in humans" (5).
My thesis focuses on two studies: I investigated the types of AAI sessions offered to university students around the world, and their efficacy on reducing stress and improving mental well-being via a systematic review. Secondly, I conducted a survey study of current university students regarding the impact of pets on their mental health and their views of university-based AAI for students (I was supposed to run a randomized controlled trial with volunteer therapy dogs and hair cortisol collection, but COVID-19 forced me changed my plans. Maybe one day I'll get to run my study).
My interest in this research area lies in alternative/complementary therapies. AAI is not going to replace current 'gold standard' therapies, such as cognitive-behaviour therapy. But, perhaps if you are on a long waiting list to see a doctor or a therapist, your current therapeutic regimen isn't working well, or you just want to get better faster, AAI can be used as an additional tool to help you. Unfortunately, many research studies regarding AAI and mental health have poor methodology (e.g. lack of a control group for comparison, participant and researcher expectancy effects, a lack of standardized measures and intervention procedures, and few long term studies (6)) and the area has yet to be accepted as a complementary therapy. Results from my systematic review demonstrate that as the studies were extremely heterogenous, the best methodology for reduction in stress and mental health symptomology remains unknown. Furthermore, the exact mechanisms behind AAI are still unknown and should be a research priority.
I hope that my thesis contributes to the growing body of research and that one day the scientific community will recognize the healing power of animals.
Feel free to contact me regarding my research at J.Bradfield@sms.ed.ac.uk
---

References
von Muggenthaler, E. (2001). The felid purr: A healing mechanism? The Journal of the Acoustical Society of America, 110(5), 2666. doi:10.1121/1.4777098
Qureshi, A. I., Memon, M. Z., Vazquez, G., & Suri, M. F. (2009). Cat ownership and the risk of fatal cardiovascular diseases. Results from the second National Health and Nutrition Examination Study Mortality Follow-up Study. Journal of vascular and interventional neurology, 2(1), 132–135.
Wilson, C. (1987). Physiological responses of college students to a pet. Journal of Nervous and Mental Disease, 175, 606-612.
Odendaal, J. S. J. (2000). Animal-assisted therapy- magic or medicine?. Journal of Psychosomatic Research, 49(4), 275-280. doi: 10.1016/S0022-3999(00)00183-5
International Association of Human-Animal Interaction Organizations. (2018). The IAHAIO definitions for animal assisted intervention and guidelines for wellness of animals involved in AAI. Retrieved from http://iahaio.org/wp/wp-content/uploads/2018/04/iahaio_wp_updated-2018-final.pdf
Serpell, J., McCune, S., Gee, N., & Griffin, J. A. (2017). Current challenges to research on animal-assisted interventions. Applied Developmental Science, 21(3), 223-233. doi:10.1080/10888691.2016.1262775
Share