It is Friday morning, before the "lockdown Monday" and I start planning my food shopping list for next week. 
I am planning to get some fruit, vegetables, chicken and beef. I go to the supermarket in the evening and the shelves where I was supposed to find those items, were empty, completely empty. My first thought was: What am I going to eat? 
Before knowing the reason for this abrupt scarcity – panic shoppers – I feel a sense of panic. It is my interest to eat healthily and nourish my body. At the end of the day, I am a nutritionist and I fight for the right of all to be well-nourished to have a healthy and active life. But how can we ensure this, if we don't have access to nutritious and safe food?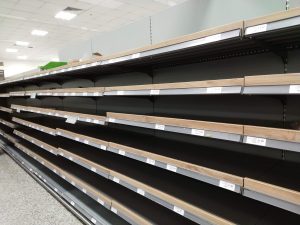 I keep walking around the supermarket trying to spot any sign of fresh food, and I get to obtain the last box of mushrooms. I continue through the aisles and I discover that those offering ultra-processed food are still full. A wide variety of biscuits, cakes, soups, pizzas, all sorts of bakery, ready-to-eat meals (calorie-dense and with a high content of salt, fats and sugar) are still there, ready to make us feel full with a touch of comfort for our pressing worries. However, this just adds to my feeling of panic. Am I going to have a diet based on food that is detrimental to my health?
Then a moment of realization, where theory and all those scientific readings, become a reality. The food environment shapes (forces) our food consumption behavior, and our health and nutritional status. My PhD is related with food security and the human right to adequate food, and especially how the food environment represents a threat to food and nutrition security, not only for those without enough economic or physical resources, but also for those who live in environments where choices are reduced. 
That Friday allowed me to live and understand the impact of the food environment. The offer that the market provides shapes the demand of our consumption. So, saying that there is food, is not enough to claim that people have enough to eat. The nutritional quality matters, and it matters a lot. Good nutrition strengthens our immune system, and in this current situation, this is strongly valuable. 
My partner and I agreed that we needed to change our selection of food, because food is a basic need, and we needed to cover it. Our cart changed its usual colorful (yet full of transparent plastic packaging) pattern, to a predominance of boxes, with printed information about all the goodness, flavor and benefits the product after being dramatically transformed, can still provide us. Needs force us to pick whatever is in the market, leaving aside nutritional literacy and concern about health, a need needs to be satisfied, and we are to choose whatever there is, that fits our economy. 
I lived this situation just once during the lockdown. It was due to the panic shopping people started indulging in when the situation became more stressful, and the prospective of a lockdown was visible. We were told that the supermarkets were getting the products in the morning, and they recommended us to go earlier to be able to find what we were looking for. This lasted an evening; the impacts and learning will last forever. 
This situation helped me to be more passionate about my work, and to adhere to the cause of my research, a fight to ensure all people have at all times enough and nutritious food to cover their needs to have a healthy, active and happy life.
---

Share