It is quick and easy to copy content and activities from one course in Learn to another. The most common reason for copying courses is to get your new courses ready from one academic year to another. This process is often described as "migration" or "rollover".
Go into the course you want to copy from – normally the previous academic year's course.
Go to Course Management >Packages and Utilities >Course Copy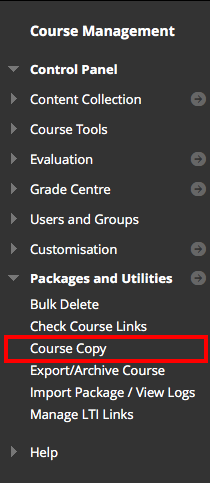 Enter the Destination Course ID. Please note: Destination Course ID follows a specific format: <Course Code><AcademicYear><Course Availability><Semester>.
Either copy and paste the Course ID (you can find this under the Course Management section>Customisation>Properties), or select Browse… to show a list of courses in which you are an instructor. Take care to select the correct instance of the course you want to copy to.

Select only the content and activities you wish to copy. Please note: Assessments should be created new each year. Selecting the option "Grade Centre Columns and Settings" can lead to unwanted columns in the grade centre that can only be removed by manual deletion. If you wish to make your course available to the world, select 'Course Guest Access'.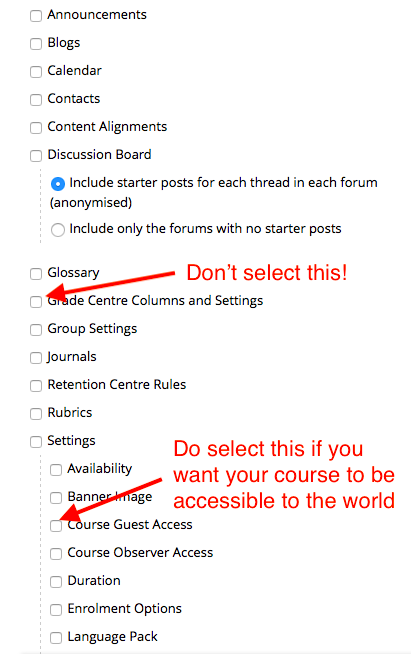 There are three options under File Attachments. We recommend you select 'Copy links and copies of the content'. This will make copies of links and linked files. Files within the Course Content Collection that are not linked to any content will be excluded from the copy.

Do not select "Include enrolments in copy" as you do not wish to copy student users forward into new course.

Select Submit to start the process of course copying.
Please note: Informatics deploys a Learn template. Where content items are being copied across to a course instance with the same menu structure, no further action is required. However, where content is copied and there is no matching folder structure in the destination course, some housekeeping is required. To move a content item to a new location, select the action button next to the item title and choose 'move'. Select the destination folder.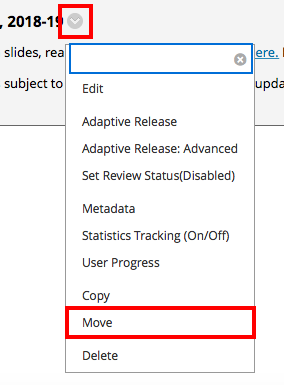 Share