Hunor Deak in Spain: Geology field trip to Spain in 2018
Hunor Deak in Spain: Geology field trip to Spain in 2018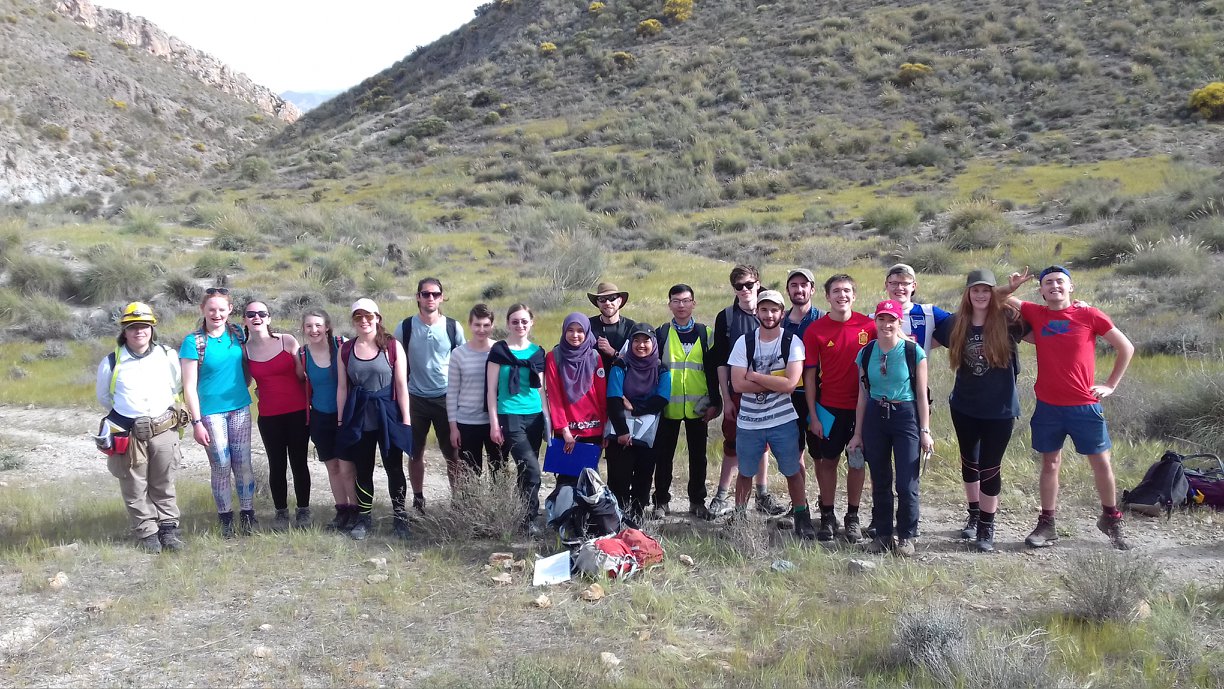 I attended a week long geology field excursion as part of the course: Field Skills for Geology (EASC10105). I visited various location in southern Spain. I studied sedimentary structures, looked evidence of volcanism in the region, mapped fault sequences and learnt about European tectonics.
The aims of the field trip were to build on the sedimentary logging skills acquired in the lab and to construct a block diagram about the geological history of southern Spain.
Here, I would like to thank Rachel and Stuart for running such a great field trip!
Here is a quick explanation of the geology of the Carboneras region:
The Carboneras Fault Zone (CFZ), is a major NE–SW trending tectonic lineament in SE Spain. Active from upper-Miocene to Recent times, it separates the volcanic Cabo de Gata terrain to the SE (accumulated over 18–6 Ma BP) from the tract of uplifted Alpine metamorphic basement blocks and post-orogenic basins that comprise the Betic Cordilleras lying to the NW. New geological mapping and age determinations have been used to constrain the geometry and geological history of the fault zone.
The CFZ consists of left-lateral strike-slip faults bearing fault gouge formed in the uppermost 5 km of the crust. The faults cut metamorphic basement and folded post-orogenic sediments and volcanic rocks, and acted as a conduit for calc-alkaline volcanic rocks rising to the surface. NW of the CFZ, a series of unconformities and deformation episodes affect successive sedimentary formations of upper Miocene age. The CFZ is interpreted as part of a transform fault system separating NE–SW stretched and NW–SE shortened crust deformed above a south-westward retreating subducted slab, from a less deformed terrain lying to the south-east. Total offset on the CFZ may be up to 40 km but is at least 15 km.
(From: https://www.sciencedirect.com/science/article/pii/S0191814112001873 )
In the field trip I learnt a lot about European geology. I worked with am amazing group of people.
I really like Stuart. He taught me in first year and in third year. He is a good example to follow, he was very helpful in all lectures and practicals. The practicals he ran were informative and they were a great way to prepare for the Lake District field trip.
I took part in two field trips under him, one to Spain and one to Stonehaven. In both field trips I have enjoyed myself, as Stuart was a great instructor. The best thing about him was how much effort he put into each field trip. He even had a little whiteboard with him where he explained the geological processes which deposited the outcrops.
Stuart is specialized in CCS, he has lots of knowledge in the area. He was really good at explaining the key concepts to me.
Rachel is a brilliant academic, who was my teacher at several university courses. She was great at explaining key concepts, talking us through her research papers and tutoring us in the labs.
She is very dedicated to geology, sedimentology and paleobiology. I enjoyed studying all of her courses.
She was very helpful when I needed help.