Lecture Five: Why Do We Believe? A Human Imagination and the Emergence of Belief Systems
Lecture Five: Why Do We Believe? A Human Imagination and the Emergence of Belief Systems
Professor Fuentes delivered his fifth lecture earlier this evening. The video of Fuentes' lecture is embedded below for those who were unable to attend in person, or for those who'd like to watch it again. An audio only version can also be found at the end of this post. In order to further facilitate discussion Dr Sarah Lane Ritchie and Dr Aku Visala will offer their initial reflections. Ritchie is currently a Research Fellow in Science and Theology at the University of St Andrews and Visala is currently an Adjunct Professor in Philosophy of Religion and Research Fellow of the Finnish Academy at the University of Helsinki, Finland. We'd like to reiterate that we warmly welcome anyone wishing to engage with Fuentes' lectures to contribute their comments and questions below.
Professor Fuentes' rescheduled fifth lecture was held at New College earlier this evening and he attempted to pack a lot of material into a short amount of time. In this lecture he began to take a closer look at the "human imagination and the emergence of belief systems" where the religious capacity of the human niche was a main focus. As he pointed out early on (with the evolutionary time-span in mind), "Religion, as we know it, is very, very recent, and we are not." However, deeply held faith and devotion to religious belief are centrally significant for billions of humans today "and the capacity to be religious is found in all of humanity," so Fuentes went on to assert that there must be some evolutionary relevance. After having engaged briefly with the anthropologist Roy Rappaport, the sociologist Robert Bellah, and the sociologist Merlin Donald Fuentes went on to state, "I propose that there are multiple lines of evidence suggesting that the capacity to be religious, emerged in concert with the capacity for belief over our evolutionary history and that religions, as we now recognize them, only very recently became a fixture of human identity." In this sense religious beliefs are much older than "formal religious systems, structures and institutions."
At the outset Fuentes also briefly clarified what he was not aiming to do in this lecture (or indeed in this series as a whole). As he stated, "it is not about questioning broadly construed truth claims of any specific religious tradition, or trying to identify some Urreligion that gave birth to all, or even a subset, of the contemporary ones." He is, and has been, interested in unpacking "why we believe and the ways in which we do" and specifically in this lecture with the question "why are we humans religious and why are religions themselves so central to the human experience?"
Fuentes then moved on to make two central terminological clarifications for this lecture. He clarified how he was using the term "religious" (which he borrowed from Clifford Geertz) as distinct from, but related to, the term "religion" (which he borrowed from Émile Durkheim). In the case of "religious" Fuentes explained that he takes this term "to mean the use of one's capacity for belief in the context of becoming with particular perceptual, experiential and agential practices, involving the transcendent, that act to establish powerful, persuasive, and long-lasting moods and motivations that may be but are not necessarily tied to specific formal doctrines, practices, texts, or institutions." In the case of "religion" he explained that that he takes this term to mean "the formal coalition of religious beliefs and practices (rituals) and the material symbols and structured institutions that unite them into a single community via specific theological doctrine and ritual." Fuentes mentioned that this distinction might not be satisfactory to all (especially for those coming from different disciplines who are inclined to ask slightly different questions), but he went on to show how this was a "necessary methodological practice for an effective evolutionary analysis." He went on to speak in some depth about the relative youth of what we understand as the formal world religions today (stemming back to approximately 8,000 years ago), but pointed out that the human religious capacity goes back much further than that.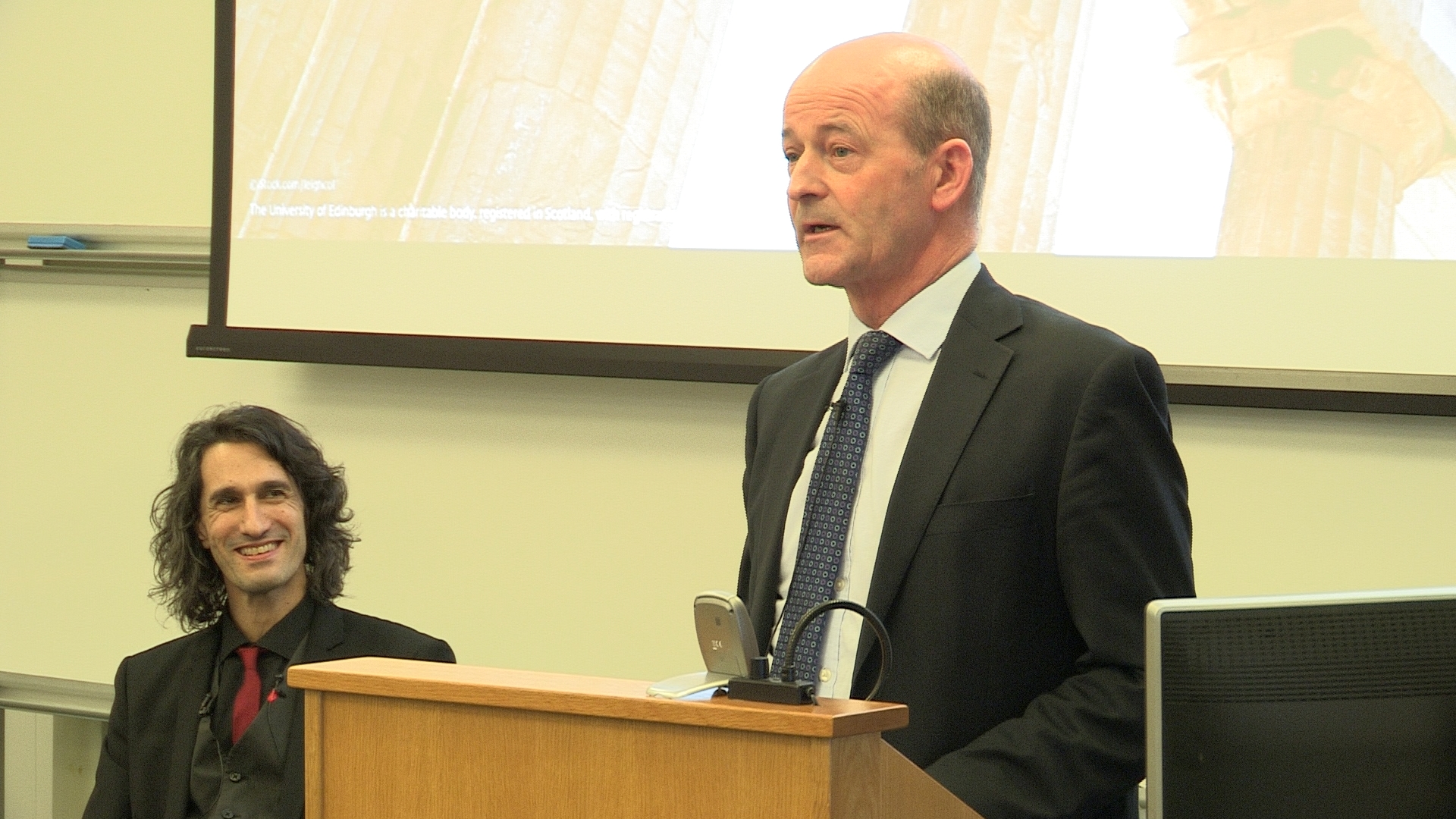 In order to begin unpacking this religious capacity Fuentes spent some time discussing the "history of the evidence for meaning-making" and belief. He brought up many examples from the caves at Altamir, Lascaux, and Leang Timpuseng to the cathedral in Toledo, the Blue Mosque in Istanbul and the ruins at Borobudur and Prambanan in Java. As he stated, "the caves and temples and monumental architecture offer concrete material evidence for human belief systems." Given that all these examples are still relatively recent in our human history Fuentes stated that some might think that our capacity for belief systems also emerged relatively recently. Fuentes, however, rejected this assumption. As he stated, "as an evolutionary scientist I know that it is not possible that at some point 50,000 or 30,000 or 10,000 or even 2,000 years ago a single shift, be it evolutionary or revelatory, changed everything, and the world was made anew." The available data, he went on to state, refutes this. In stating this, however, Fuentes was not saying "that major shifts and changes and innovations did not occur at these points, but it is to say that those changes are necessarily rooted in patterns and processes of the bodies, behaviors and minds that came before them." As he clarified,  "belief systems did not appear wholly de novo."
At this point in his lecture Fuentes mentioned that "evolutionary questions about belief and belief systems have to involve data," which consists of various material remains. He then went on to ask, "is there material evidence for anything like symbolic representation or structured systems of meaning making (religious or otherwise) in the deep past?" His answer was both yes and no. He went on to explain the processes of engaging with symbolic material evidence and some of its challenges. As he stated, "a symbol can only be accurately perceived and interpreted within a particular set of culturally accepted meanings, those under which it was created. Therefore, without access to the cultural context of the meaning-makers we cannot accurately know the meaning of the symbol." However, he then spoke about another approach that avoids this difficulty. He spoke of his and Marc Kissel's appropriation of the philosopher Charles Sanders Peirce and his trichotomy of signs that does not rely on symbol (as a side note, Peirce is the only one of the three "classical pragmatists" who did not give a Gifford Lecture, both James and Dewey gave their lectures here at Edinburgh). Peirce's trichotomy that Fuentes and Kissel draw on is not the "symbol, icon and index," but his less well known "qualsign, sinsign and legisign" and for the purposes of this lecture it was the last term that Fuentes focused on, "which is a sign vehicle based on convention." As he went on to explain further:
That is, if there are multiple examples of the same type of human created material item that conveys or contains and/or evokes similar or identical sensations, then we can say that it reflects a convention amongst the group or groups making them in that they intentionally are replicating the making of a material item with the same or similar characteristics, and thus likely, with the same intended impact. That the legisign did mean something to those who made it is evident via the repeated creation of items which evoke specific sensory responses, across space and time.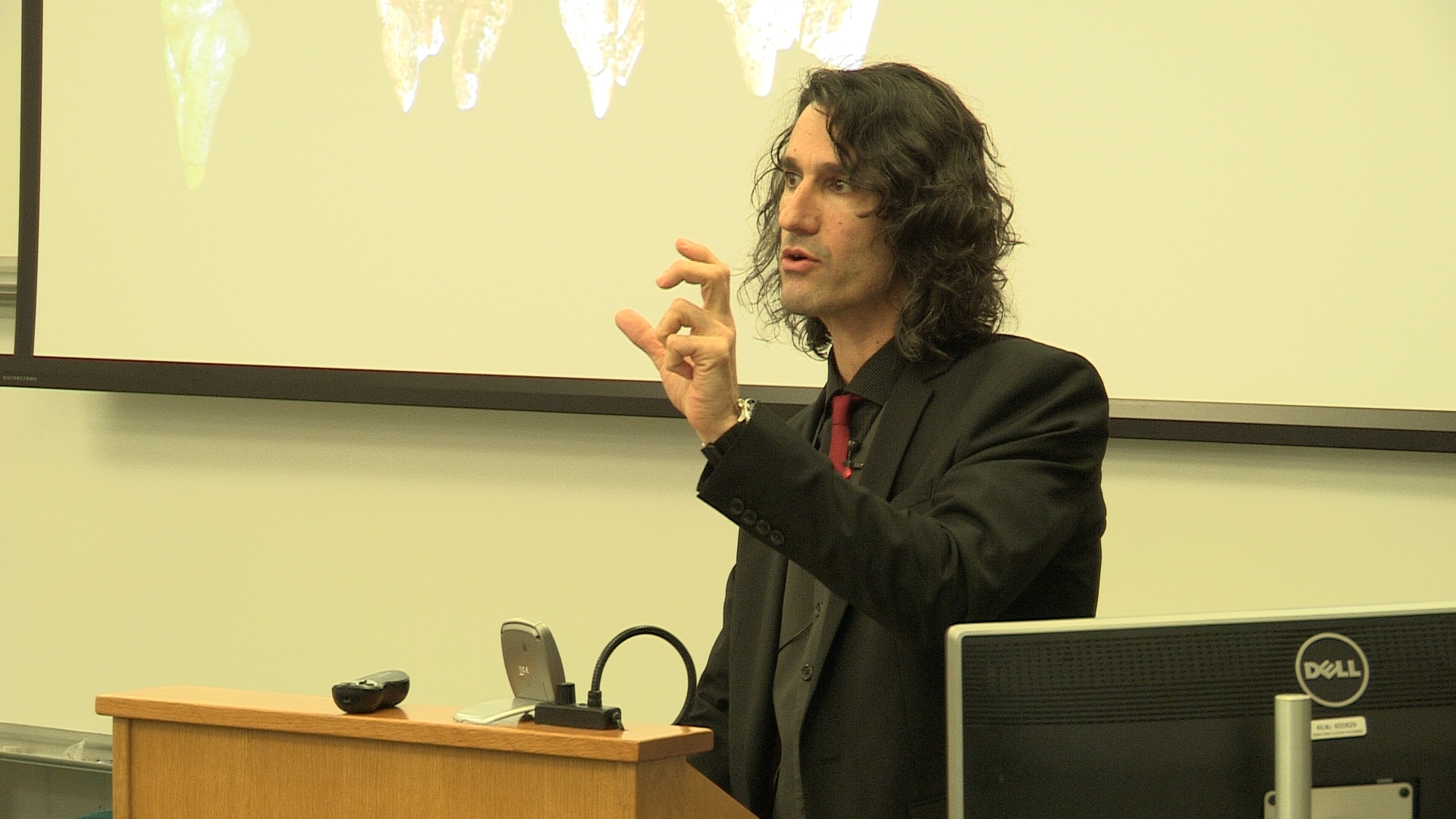 By using this approach Fuentes argued that the "presence of legisigns offers evidence of meaning making, whether symbolic or not," and this legisign evidence further indicates and enables the possibility for various patterns of belief. He then went on to speak about the various evidence of legisigns in the material data that go back much further than our evidence for formal religious systems, structures, and institutions. Fuentes then moved on to more specifically ask how this development with its emerging patterns of belief relate to the religious and to religion.
He again made the point, after having illustrated it in detail, that "human religious belief systems did not simply appear out of thins air," but that "they evolved." At this point, about halfway through his lecture he devoted his time to more fully articulating "the 'evolution' of religion."
In conversation with the anthropologist Roy Rappaport Fuentes made the point that the nature of religion and of religious belief cannot "truly be reduced to a suite of simply functional or adaptive terms." In conversation with theologians Wesley Wildman and Wentzel van Huyssteen he pointed out that our understanding of religion, if it is to be adequate, must incorporate an understanding of its relationship to evolutionary processes and to the embodied human self. Fuentes, however, stated that "most current proposals for the evolution of religion" are unsatisfactory and he went on to engage with a number of these approaches (e.g. "Big God" arguments and various ritual-related arguments) and described a number of reasons why he ultimately found them to be inadequate.
In beginning to describe his own position concerning the evolution of religion Fuentes quoted Wentzel van Huyssteen summarizing his (Fuentes') position:
Agustin Fuentes and I, in spite of our radically different disciplines, approaches and methodologies, completely agree that a necessary prelude to having religion is indeed the emergence of a human imagination and the embodiment of a quest for meaning as part and parcel of the distinctive human niche that has facilitated our flourishing as a species (van Huyssteen 2018).
Fuentes pointed out that he offers his own position on the evolution of religion "as a complement to the eloquent analyses of many scholars on this topic" and offers it as an "expansion on the evolutionary framework for religious belief." He went on to describe his proposal in detail starting from approximately 1.5 million years ago with the creation and use of tools all the way up to approximately 8,000 years ago "when we see material evidence for the emergence of formal coalitions of religious beliefs and practices and the material symbols and structured institutions that unite them into a single community via specific theological doctrine and ritual." In short he stated that he was convinced that "the capacity to be religious evolved and religions emerged as a facet, a pattern, and a key process of the human niche."
Towards the end of his lecture Fuentes was quick to point out that "this does not offer an answer as to why any given religion has the particular faith practices and beliefs that make up its theology." Nor does it rule out "the possibility that some form of transcendent revelation plays a role in the 'why' answer about the particular beliefs of religions." As a scientist, he stated, he can only challenge assertions that contradict material facts. It is here that Fuentes refreshingly points toward the possibility of fruitful interdisciplinary discourse and inquiry.
Fuentes ended his lecture by stating that "meaning-making with the more-than the material, the transcendent, and thus an openness to revelation and discovery, however it is experienced, is a core part of the human niche and central to aspects of our evolutionary success," however, "it also introduces horrible possibilities." And with this he alluded to his forthcoming and final lecture where he would further develop these themes and connect them to the conclusions of the previous five.