Lecture Six: Does Belief Matter? Belief, Hope, and Responsibility
Lecture Six: Does Belief Matter? Belief, Hope, and Responsibility
Professor Fuentes delivered his sixth and final lecture earlier this evening. The video of Fuentes' lecture is embedded below for those who were unable to attend in person, or for those who'd like to watch it again. An audio only version can also be found at the end of this post. In order to further facilitate discussion Dr Julia Feder and Dr Tom Uytterhoeven will offer their initial reflections. Feder is currently an Assistant Professor of Theology at Creighton University in Omaha, Nebraska (USA). Uytterhoeven is currently a voluntary researcher and member of the Research Unit of Systematic Theology and the Study of Religions at the Faculty of Theology and Religious Studies, KU Leuven. We'd like to reiterate that we warmly welcome anyone wishing to engage with Fuentes' lectures to contribute their comments and questions below.
Fuentes opened his final lecture by reminding us of some of the key themes that developed in the previous five, with a focus on belief and the human niche. As he reminded us from the very outset he stated, "Belief is the most prominent, promising, and dangerous capacity of humanity." In this particular lecture Fuentes asks, "Can belief matter for the benefit of humans, and others, in the 21st century?" The answer, he acknowledged, is obviously yes, but it is at the same time a complex answer. As he stated, "We know belief is central to human evolution and has played a key role in our success as a species. But that very success has brought us to a point in time with potentially catastrophic repercussions for humanity, other species, and the globe." However, he went on to state that "nearly twenty years of research into this topic has made me a cautious optimist that the human niche, with its central role for belief, continues to hold great promise for the future." He spent the remainder of his lecture further telling us why.
Fuentes spent the first major section re-articulating his understanding of "belief." He spoke of our capacity for belief and its relationship to our "capacity for 'shared reality,' a mutuality of cognition, experience and perception." He reminded us that in his first lecture he drew on Terry Eagleton and Kierkegaard as they described "believing as an act of being wholly and completely in love with a concept, an experience, a knowledge." Believing inherently consists in a type of committing, which can be intentionally directed at possibilities or unknown and unseen perceptions of reality that go beyond a simple observation of the present material reality. He reminded us again that the ability to believe is "part of the human system in an equivalent manner as fingers are part of our upper limbs" and he took time to articulate this further in order guard against taking this to be a reductionist assertion. As he went on to state, "the fact that belief is not always materially quantifiable or dependent on cued representation does not make it any less real, or useful, for us. But even more so than our hands and fingers, belief has been and can be used for immense, and meaningful, shaping of the world and ourselves." Belief, as Fuentes has articulated many times throughout these lectures, is a central aspect of our human niche and it is "critical to the very process of becoming human."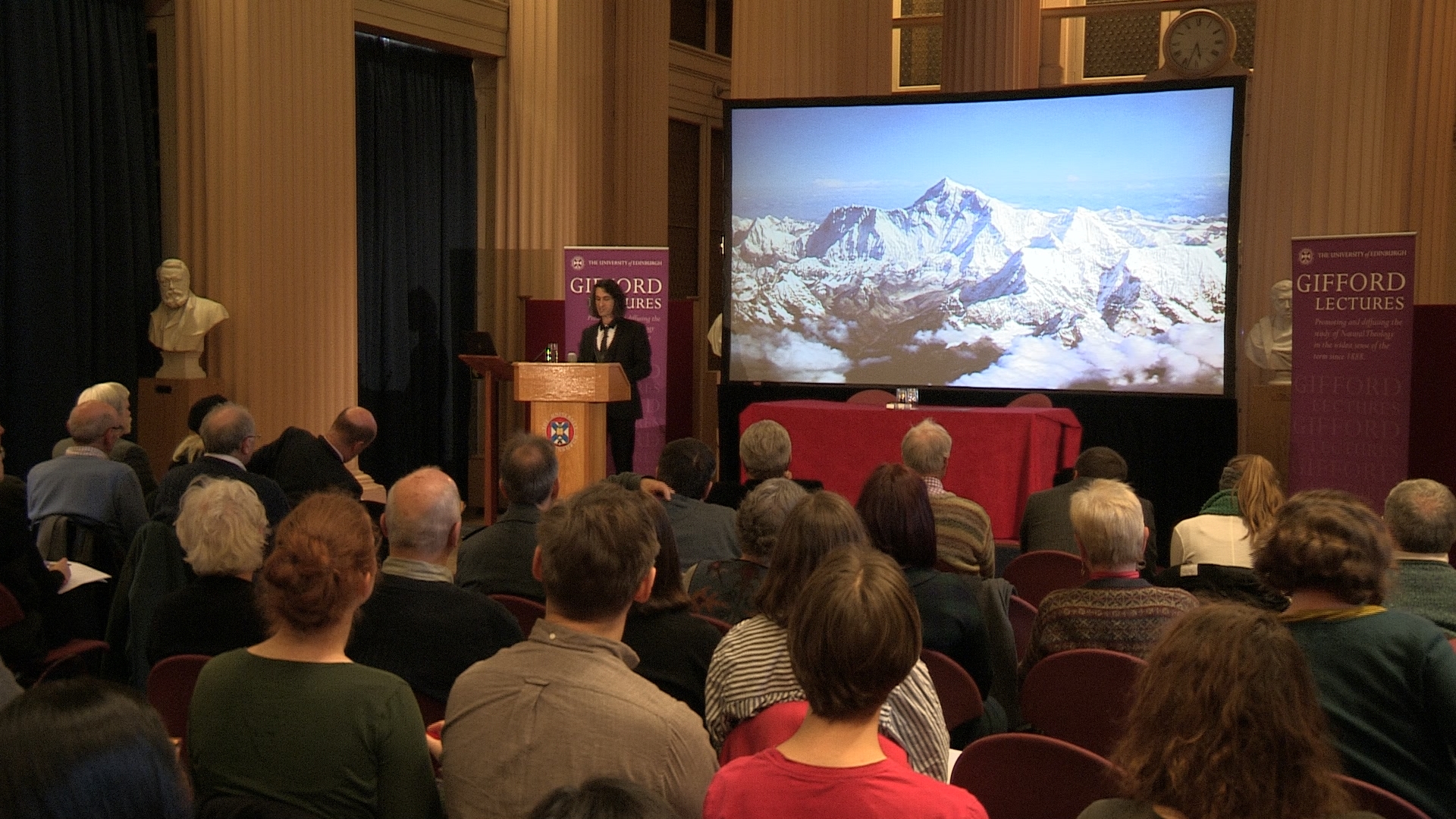 In the next major section of his lecture Fuentes returned to further articulating the significance of the development of the human niche (a historical narrative that takes us from our present back to approximately 2.5-3 million years ago). He spoke of the origins of our own genus Homo and the "increasingly complex patterns and processes of behavioral and neurobiological plasticity and capacity generated by, and generating of, the feedback processes of toolmaking, foraging, caretaking, the control of fire, the creation of meaning-laden materials and the ecological expansion of humans across the planet," which "set up the necessary biosocial infrastructure for a capacity for belief." He mentioned the  development that enabled ecologies and societies (across the last 3-400,000 years) that enabled "early belief systems to begin to emerge." He then spoke of the emergence of meaning-making (approximately 200,000 years ago), which enabled "the capacity for creating explanations of observable phenomena that were shared and connected to aspects of the material world but not confined to them," which enabled humans to "use imagination and belief to reshape themselves and the world around them." Getting ever closer to our contemporary period, he then spoke of the last 15,000 years when the various and diverse forms of domestication started to develop, which helped reconfigure "the possibilities and patterns of, and reasons for, belief." He ended this section on the human niche by reminding us of "the expansion and solidification of various types of storage, new residential patterns, and new lifeways" that "facilitated new concepts of property, ownership, and identity." Here too is where new realities of inequality were enabled. As he went on to state, "These recent processes in the human niche significantly influenced the ways contemporary humans believe, and opened the doors for increasingly structured and extensive belief systems.
Fuentes then turned the attention to articulating "how belief works" in the human niche. He listed five capacities for belief that developed in the human niche that are, furthermore, constitutive aspects of the human process of belief. As he listed them:
1) The developmental processes of the human body and brain evolved as a system that is always in concert with, and mutually co-constitutive of, the linguistic, socially mediated and constructed structures, institutions, and beliefs that make up key aspects of the human cultural niche. To paraphrase Tim Ingold, humans are constantly becoming.
2) Skills, the ways we use our bodies and minds, develop and are incorporated into the human organism through practice and training in a given environment. Skills are always simultaneously biological and cultural and are contingent on the capacities and constraints of the development of our bodies and minds and our relationships with one another and the cultural and material environments we are in. Belief is a prominent human skill.
3) Specifically, via neurobiology and the endocrine system, the human learns to orchestrate herself within a cultural context and a range of individual experiences. Cultural concepts and meanings, the elements of belief systems, become embodied neurobiologically, physiologically, cognitively, and experientially co-shaping our anatomy and behavior, which in turn interfaces with, and potentially reshapes, the very cultural processes shaping it.
4) The shape of, and boundaries to, the human niche (the system in which we become) are not always material or physiologically perceptible because of the processes and structures of human culture combined with our particular neurobiological capacity for extensive detached mental representations (imaginings). Belief and belief systems themselves can act as elements in the construction and modification of the structural parameters of the human niche, materially and perceptually.
5) Finally, the human enhanced capacity for detached representations and the complexity and diversity of our cultural milieus enables humans to experience, create, and even develop skills in transcendental perceptions/awareness and to make these a core component of basic human functioning. Developing and deploying the capacity to believe, including the possibility of transcendent experience, is a central aspect of becoming human.
He then highlighted how the specific beliefs of particular humans are contextually, holistically, and intersubjectively constituted. As he said, "For humans, what is and what should be, critical components of every human belief system, are, in large part, both contextualized and contingent on where and how we develop and are embedded in who we are and how we become." However, he then stated that an openness to revelation and discovery were centrally significant for the evolutionary success of our human niche, thereby, avoiding (as he has throughout these lectures) a hermetically reductionist contextualism.
Until this point in his lectures the majority of Fuentes emphasis has been on the "the positive and the hopeful." In this next section of his lecture he articulated three ways in which belief can be, and currently is, dangerous. If we recall the key question of this lecture, "Can belief matter for the benefit of humans, and others, in the 21st century?" it is here that Fuentes offers "three dire examples of how belief matters for the worse," thereby articulating the complexity of his answer.
The first dire belief is that "today most humans believe that the world should be exploited." Belief, for Fuentes, is a commitment and an intentional way of existing in the world. So even if many humans would not explicitly admit or say that they believe the earth ought to be exploited (surely some would explicitly affirm this) the behavior of the majority of humans show that they do indeed believe this. As Fuentes stated, "In the 21st century neo-liberal capitalist economic systems have become dominant, populations have increased at a record pace, and the concomitant explosion in the extraction of biotic and abiotic resources across the planet has reached a scale and impact such that the only way humans could possibly continue at this pace, is a belief, even if subconscious, that the earth can sustain us, regardless of what we do to it."
The second dire belief that Fuentes drew our attention to is that "we have believed ourselves into a related crater of structural inequity across social, economic, racial and gender divisions so deep that it appears ready to entomb us." As he went on to state, "We've developed immense hyper-complex societies and byzantine political and economic structures that generate massive inequality and disconnection between sections of societies creating all sorts of prejudices that keep groups of people apart."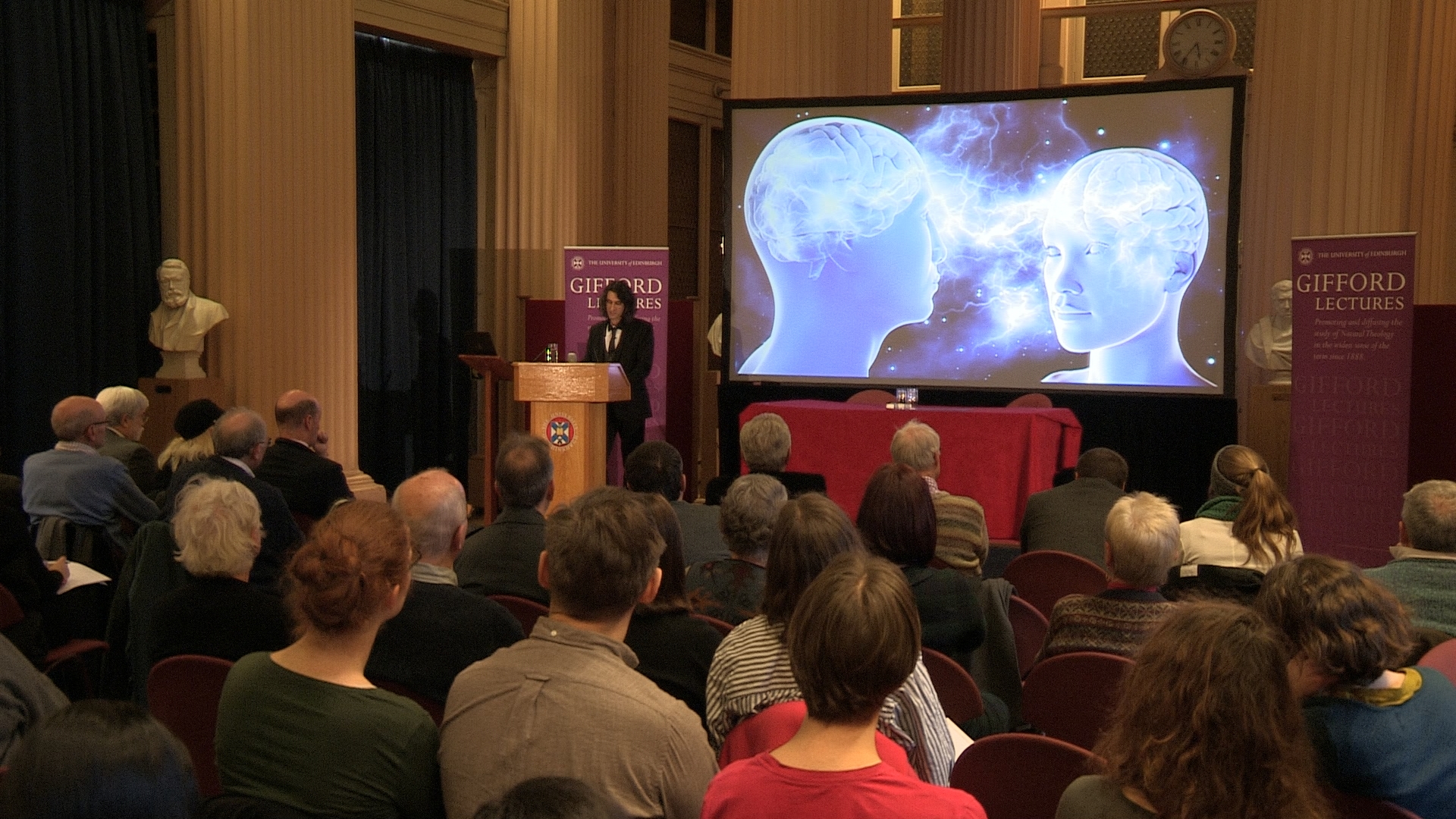 The third and final dire belief that Fuentes brought up was that of "scientism." In this he spoke of both religious and scientific fundamentalisms, but his focus was on the scientific version. As he said later on, "I think that any fundamentalism, religious, scientific, political or economic, is dangerous to humanity." This is because "it, by definition, curtails our ability to imagine, to experiment, to innovate and to entangle with others, the very things that have proven again and again in our history to offer us the greatest opportunities for success." As he frankly put it, "fundamentalism is an abuse of the human capacity to believe."
Fuentes moved on to the penultimate section of his lecture by focusing on how belief can matter for the better. As he stated, "In any possibility of effecting changes to how power, access, and justice are distributed in our societies belief must play a central role. It is the commitment to a suite of beliefs, and the actions that result from such commitments, that can redirect our trajectory towards more sustainable and just outcomes." Fuentes went on to articulate how scientific inquiry and the humanities (including religion) need to come together and collaborate in order to best tackle issues that matter for us all and for the world that we call home.
Fuentes ended his final Gifford lecture speaking about "our responsibilities as human beings" who are the "ultimate niche constructors and believers." Fuentes shared a personal story from his childhood in order to illustrate the power and possibilities of belief, especially as we experience awe and wonder at transcendent possibilities. He closed the series hoping that he was able to help us better understand "why we believe so that we can all better develop and direct our shared beliefs and actions to imagine, hope for, believe in, and create a better future."