Lecture Four: How Do We Believe? Developing Human Culture
Lecture Four: How Do We Believe? Developing Human Culture
Professor Fuentes delivered his fourth lecture earlier this evening focusing on how humans changed the world. The video of Fuentes' lecture is embedded below for those who were unable to attend in person, or for those who'd like to watch it again. An audio only version can also be found at the end of this post. In order to further facilitate discussion Adam Marshall and Jack Williams will offer their initial reflections. Marshall is currently a PhD candidate in Social Anthropology at the University of Edinburgh and Williams is currently a PhD student in Divinity also at the University of Edinburgh. We'd like to reiterate that we warmly welcome anyone wishing to engage with Fuentes' lectures to contribute their comments and questions below.
Fuentes opened up his fourth lecture with reference to the work of Rowan Williams and Ashley Montagu concerning the human ability to "think things anew and create material realities for these new 'thinkings.'" He pointed out that in previous lectures his primary focus has been on the various developments in our human lineage for our capacity to believe. In this lecture he began to focus on how it is that we believe.
The initial answer to this inquiry, Fuentes asserted, is human culture. Human culture is "how we generate, embody and produce belief." He was quick to defend this answer, arguing that answering with human culture "is not a superficial statement nor one so general that it is useless." This is because, as he claimed, most people do not have a sufficiently accurate understanding of the complexities and nuances that make human culture what it is. So, in order to set out an answer to how we humans believe Fuentes set out to articulate how culture and humans relate to one another, what culture is, where it comes from, how culture works, and then, finally, how human culture makes belief possible.
As he stated early on, "culture is not just the regional 'flavors' of humanity. Nor is culture the 'nurture' to a biological 'nature.'" Humans do not just have or make culture, they are culture. As he went on to explain, "Culture is both a product of human actions and something that shapes those actions; culture is the context, the framework, the milieu that helps give meaning to our experiences of the world and to embody them, physiologically, neurobiologically, emotionally, philosophically, and faithfully." He went on to further articulate this point about the relationship between humanity and culture saying, "there are not two halves to being human, two processes that interface mutually but can be disentangled and itemized for their additive contribution to our eventual whole. We are simultaneously biological cultural beings with complex schemata and social lives that shape and populate our perceptions and philosophies."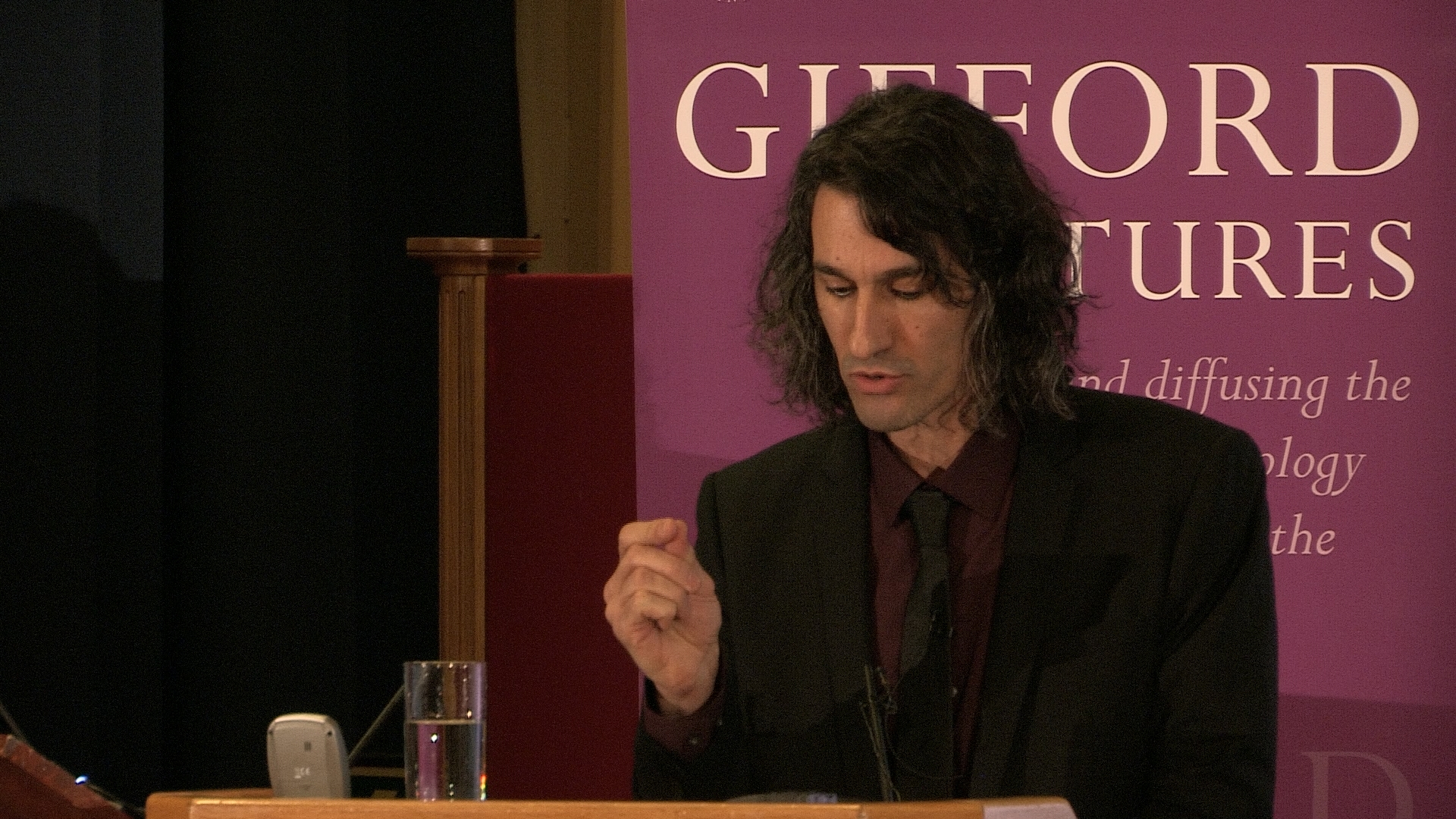 Understanding this dynamic relationship, as he stated, forms his main argument. Namely, "how we believe is explicitly an aspect and outcome of human culture. Thus, a fuller understanding of how we believe lies in the elaboration of how human cultural processes function."
Fuentes moved on to further discuss what culture is. He reviewed some common, older, attempts at definition given by E.B. Tyler, Franz Boas, and Alfred Kroeber and Clyde Kluckholn. Referencing the definition of the latter two he quoted:
Culture consists of patterns, explicit and implicit, of and for behavior acquired and transmitted by symbols, constituting the distinctive achievement of human groups, including their embodiments in artifacts; the essential core of culture consists of traditional (i.e., historically derived and selected) ideas and especially their attached values; culture systems may, on the one hand, be considered as products of action, on the other hand, as conditioning elements of further action.
He went on to ask, however, whether these definitions sufficiently described the uniquely human culture given what we know now in 2018 about the social traditions of other animals. He went to ask, if other species have culture, then does this mean that they also have belief? In order to begin answering this question Fuentes engaged with Andrew Whiten's "taxonomy of three key elements to consider when looking for and at culture." Namely:
Patterned distribution of traditions in space and time
Social learning as central in acquiring such traditions
The content of the social traditions (actions, materials used, ideas, etc.)
Fuentes stated that when comparing human culture to the potential culture of other species "humans vary more widely than other animals in the specifics of the third category and have heightened complexity relative to other animals in the first two." Referencing the philosopher Grant Ramsey's definition of culture as "information that is socially transmitted between individuals or groups such that it brings about changes in behavior and/or patterns of tradition" Fuentes went on to state that these attempts to define human culture do well to highlight continuities between humans and other species, but, however, they do not satisfactorily draw out the distinctiveness of the human niche. As he went on to state, "If we are truly interested in generating insight into how humans are in the world, and thus how we believe, then direct comparison to other species might not be the right direction to be headed." Simple observation of behavior, especially in the human case, is not enough since "what we humans do often has little directly observable, simply interpretable, or even conscious, connection to why we do things."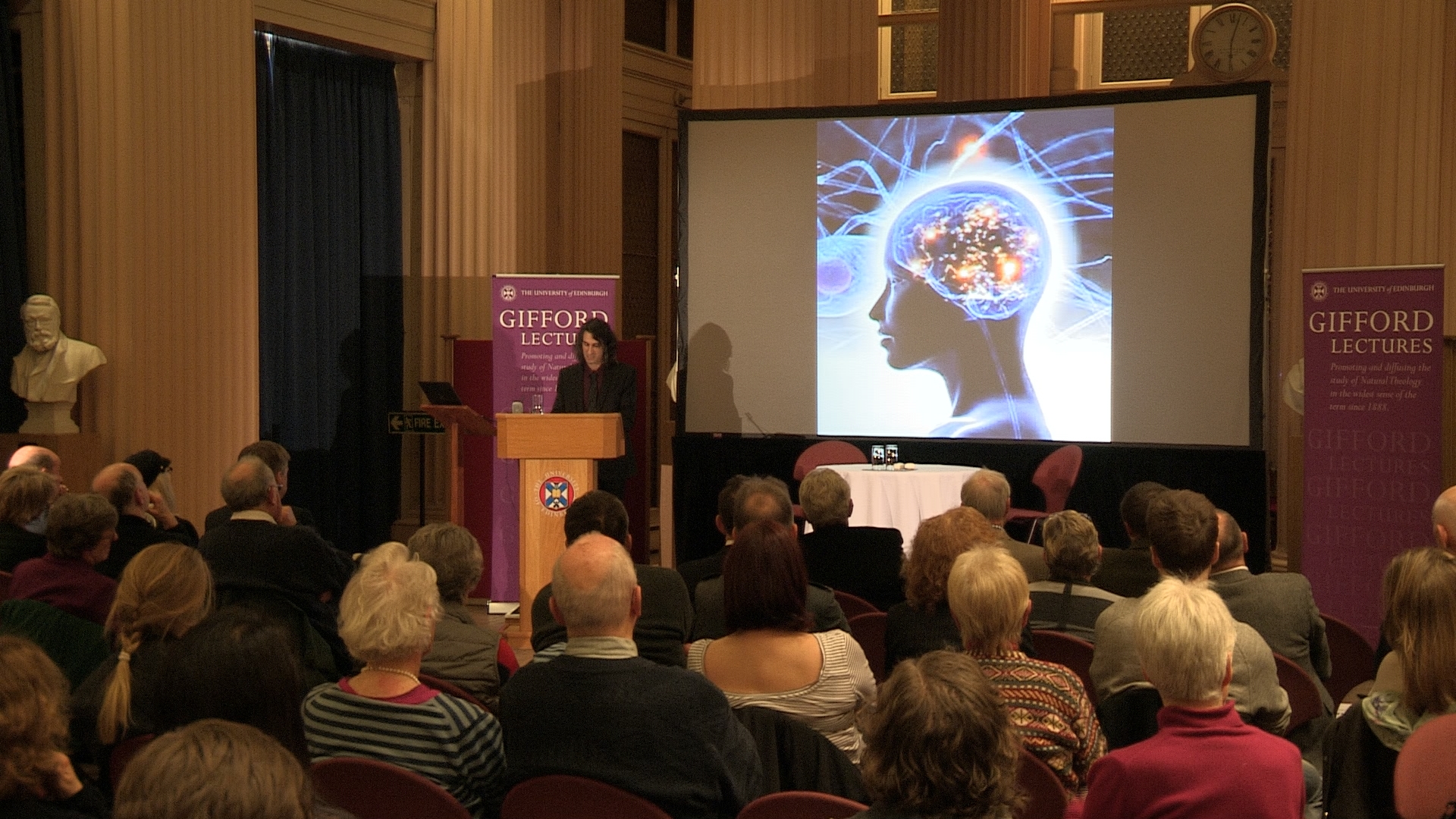 Fuentes then moved on in his lecture to speak about the origins and development of human culture. Culture itself was not statically transmitted, but itself developed over evolutionary time. He emphasized the continuously developing and dynamic nature of human culture (and, therefore, also of humans). As Fuentes stated in reference to previous Gifford lecturer Bruno Latour, "we have never been modern humans, we are humans evolving past, present and future" and in reference to the philosopher Tim Ingold that "we are constantly becoming human, and have been through our history and will continue to do so into our future." He then went on to acknowledge and briefly speak about the significance that human language played and plays in the development of human culture and the human niche in general. As he stated, "Human culture and human language are covalent, intertwined in reciprocal causation and mutually restricting. And both are necessary for humans' contemporary capacity for belief."
At this point in his lecture Fuentes shifted his focus to articulate not only what culture is, but specifically to how culture works. In short, culture works as part of our human nature in concert with and as human ways of being in the world with, for, and against one another, other species, and our environment in general. As Fuentes stated, "mutual interfaces across the last two million years between human selves, communities, and our niches formed a relationship in which human development has evolved as a system that is always in concert with, and mutually constitutive of, the linguistic, socially mediated and constructed structures, institutions, and beliefs that make up the human niche." This relationship is not one of strict determinism as if we were "hard-wired," but one of co-acquisition and co-enactment. This mutual process of becoming, as Fuentes told us, consists of three main aspects: "enskilment, neuroendocrine development, and the capacity to think "off line" and experience the true imaginary." He went on to elaborate on these three aspects for much of the remainder of this fourth lecture and pointed out how each of these developments is significantly constituted by the specifics of space and place.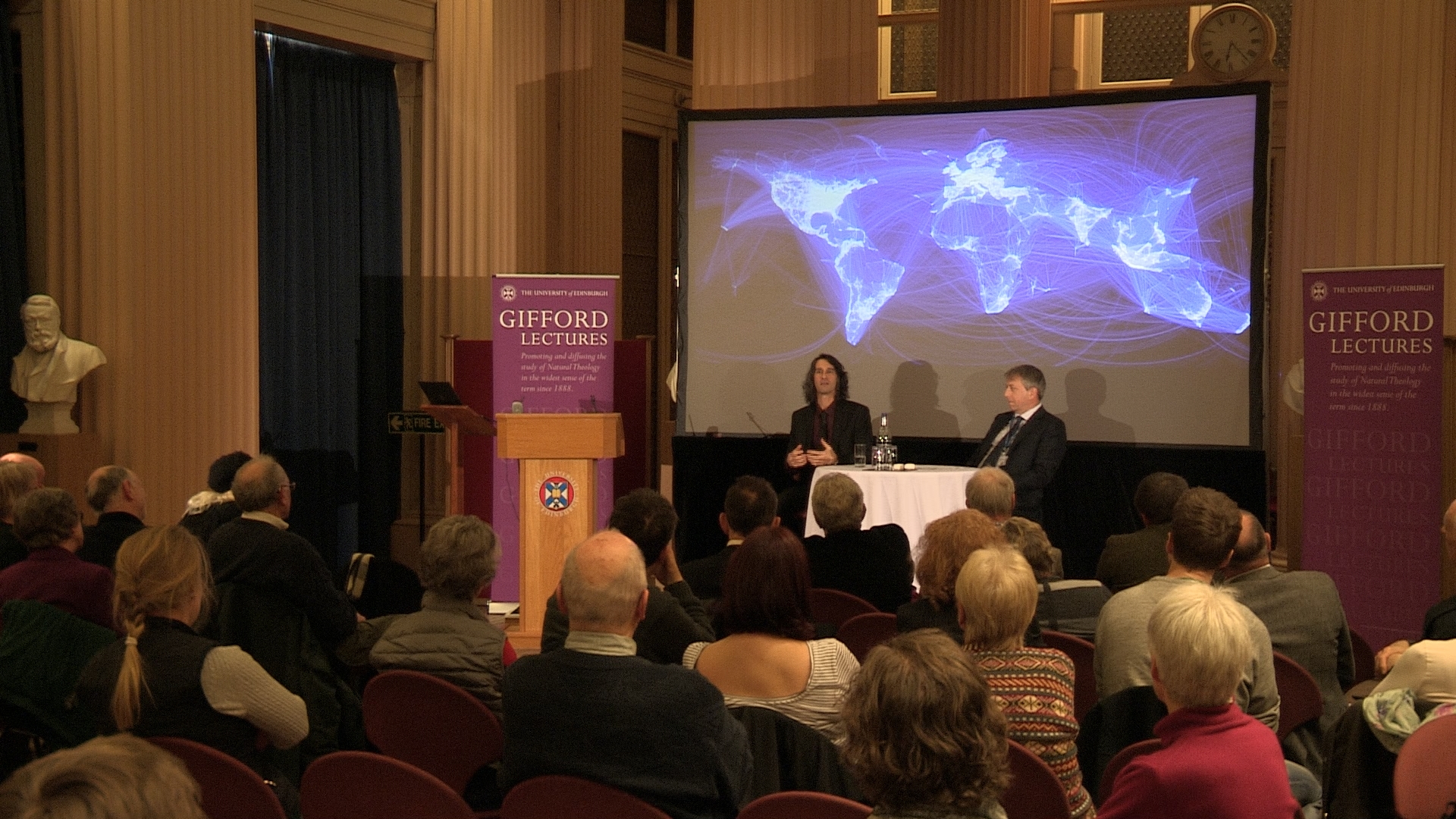 Fuentes ended his lecture with five main take-way points concerning the processes of human culture:
1) Neurobiological and endocrine systems develop as humans learn to orchestrate themselves within a cultural context. Through this process social concepts and meanings become anatomy, an anatomy that in turns interfaces with, and potentially reshapes, those very social concepts and meanings.
2) Skills, the specific patterns of how we use our bodies and minds, are grown, incorporated into the human organism through practice and training in a given environment. They are thus simultaneously biological and cultural and are contingent on the capacities and constraints of the development of our bodies and our relationships with one another and the cultural and material environments we are in.
3) Because of the particular histories of neurobiological development and expansion of the human brain's frontal lobes, and the processes and structures of human culture, humans developed the capacity for extensive detached mental representations (a particularly powerful capacity for imagining).
4) Thus, the shape of, and boundaries to, the human niche are not always material or bounded by cued representation.
5) This enhanced capacity for detached representations and the complexity and diversity of our social and ecological milieus enables humans to experience, create, and even develop skills in perceptions/awareness that are highly diverse and not contingent on material reality, and thus may include transcendent experiences as a central process of the human niche.
Lastly, after recapping the understanding of belief that he has promoted throughout these lectures Fuentes ended with two points about why belief is central to human existence. The first was the dictum that "cultural constructs are real for those who hold them." The second was that "what is and what should be . . . are, in large part, both contextualized and contingent on where and how we develop and are embedded in who we are and how we become." With these insights Fuentes ended his fourth lecture by pointing towards the sociality of belief, the capacity to be religious, and to the development of religion that he would tackle in further detail in the next lecture.