Lecture Three: How did We Change the World? Being with, and Believing in, Others Instigated the Anthropocene
Lecture Three: How did We Change the World? Being with, and Believing in, Others Instigated the Anthropocene
Professor Fuentes delivered his third lecture earlier this evening focusing on how humans changed the world. The video of Fuentes' lecture is embedded below for those who were unable to attend in person, or for those who'd like to watch it again. An audio only version can also be found at the end of this post. In order to further facilitate discussion William L Atkins will offer his initial reflections. Atkins is currently a PhD candidate at New College, University of Edinburgh. We'd like to reiterate that we warmly welcome anyone wishing to engage with Fuentes' lectures to contribute their comments and questions below.
Fuentes began his third lecture by articulating various ways that our human niche developed, with a specific emphasis on the more recent phase of our human history and its unique developments.  He stated early on that in this lecture he would provide "a view of the emergence of increasingly complex and multispecies human communities, illustrating how the development of domestication, storage and new modes of social structure enabled the rise of particular beliefs and practices of property and identity which in combination with expanding patterns of inequality, created radically novel landscapes for human existence." Throughout the lecture he went on to describe how these new "landscapes" set the stage for our contemporary human niche, where the capacity for belief plays a significant and central role.
He first focused on the role of domestication. He spoke of the various ways that plant and animal species were modified for human benefit. He spoke of the modification of wheat and rice, the development of tamer breeds of cows and goats, and of the development of settlements and villages around "resource rich-ecosystems." In stating this he claimed that contrary to "much popular and academic literature" domestication did not develop out of a context of resource scarcity and stress, but one of abundance where more and more sophisticated "resource management systems" developed.  He was quick to point out that domestication did not cause one-directional change, but instead stated that "these relationships between humans and other species began a mutual process of inter-reliance and left marks on landscapes and bodies." Fuentes drew our attention back to discussions in previous lectures where he pointed out the roles that stone tools and fire played in shaping the human niche. Similarly, these new and developing interrelations between humans and other species contributed to the construction of the human niche itself (and not merely to the alteration of the human environment). As he stated, "they became central components of our physical and perceptual realities morphing into integral parts of the human niche."
He then went on to further articulate the significance of these "domesticatory processes" by taking an extended look at two examples: the evolving human relationship with dogs and the developing human modification of rice. As he went on to state, "the plants and animals that we have incorporated into our niche affect how we live and how we see ourselves and the world around us." Given that these "greatly influence how we experience the world" he went on to point out that they "directly shape how and what we believe."
Fuentes then moved on to speak about other aspects that began to emerge with the various processes of domestication. He drew our attention to the various commitments that humans began to make: "the development and use of accumulation and preservation storage, singular investment in specific locations, and the emergence of large, permanent building projects."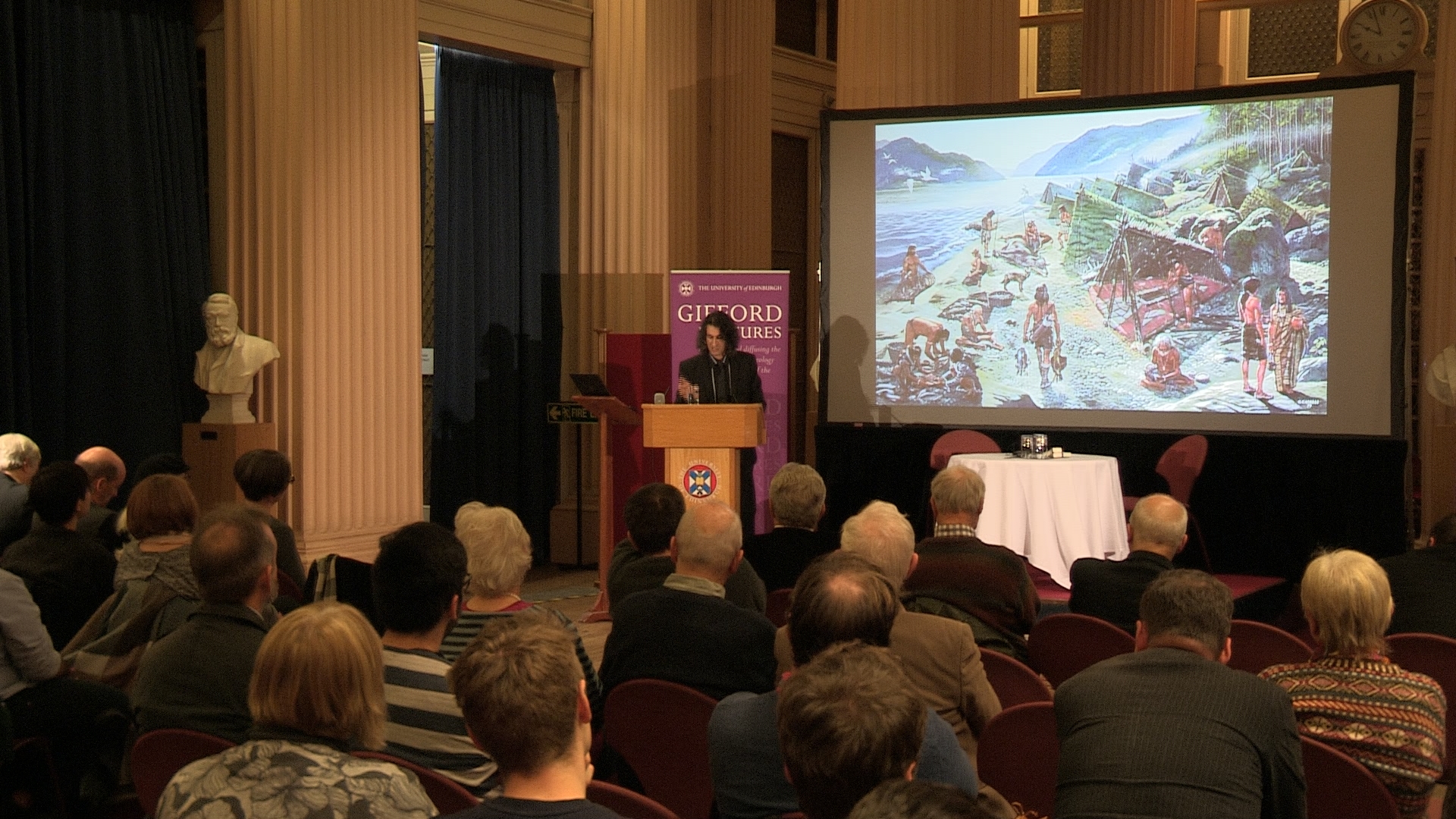 Storage, as he told us, played an important role in the development of the human niche. Storage of valuable items enabled "new types of economic relationships" that "expanded notions of ownership and the sense of 'property.'" New ways of committing oneself to property as more or less valuable developed. With these developments a new possibility of inequality also emerged. These new economic relationships and accompanying self-understandings linked with the possibility of owning property, as Fuentes told us, sets the stage for a critical aspect of contemporary belief.
Fuentes then went on to describe the significant development of various commitments to specific places (which he referred to as "sedentism"). Agriculture played a big role here. As he stated, "these intensities of investment in space, place, and other organisms locked humanity into a world where we are never alone, never without intensive obligations to other species as a central core of what enables us to live." He went on to point out how this phenomenon gave rise to "a strong tendency to incorporate those other species" into the perceptions and worldviews of human groups. Fuentes then moved to focus on the further development of specific places through "the building and maintaining of material structures." He emphasized the coordination and collaboration required to build these structures and, in the case of Gobelki Tepe (which is not the only example), he made the further point that in addition to coordination this necessitated "role differentiation and, very likely, some form of sincere belief that these actions had some greater meaning than the materials or the final product itself." The human creation of meaning expanding from smaller forms of art to larger scale structures. As he stated, "by the end of the Pleistocene and into the heart of the Holocene humans around the planet are indisputably constructing, maintaining and using places that materially, reflect some form of complex, coherent and coordinated belief systems."
At this point in his lecture Fuentes returned to focus on the emergence and expansion of inequality. "New patterns of social structure develop" as the domisticatory processes continue along with the human commitments to property, specific places, and to the constructions of more elaborate spaces. He spoke of the development of public storage and management of surplus, which differentiated "a small percentage of individuals as the managers of the storage." He then spoke about the emerging patterns of "gendered spheres and activities." As he went on to say, "it appears that across the last 8,000 years or so this general trend of increased gender differentiation in roles morphed into social expectations and norms which involved the inculcating of young males and females in different trajectories in order to train to fulfill these expectations," which shaped our beliefs about what it means to be male or female. He then moved on to speak about the transition of villages into cities and the accompanying development of the "specialization of craftspeople," which enabled "a pattern of unequal status, access and practice" that furthermore enabled the development of various economies and population structures and political organization. As he stated, "this changed what humans believe about value, exchange, equity, and each other." He pointed out that across the last 5-6,000 years these "patterns of political, economic and gendered differences, rooted in social structures based on configurations of enhance inequality, move from their incipient development into formalized realities for a majority of human populations." This in turn gave rise to the large-scale lethal violence of human warfare.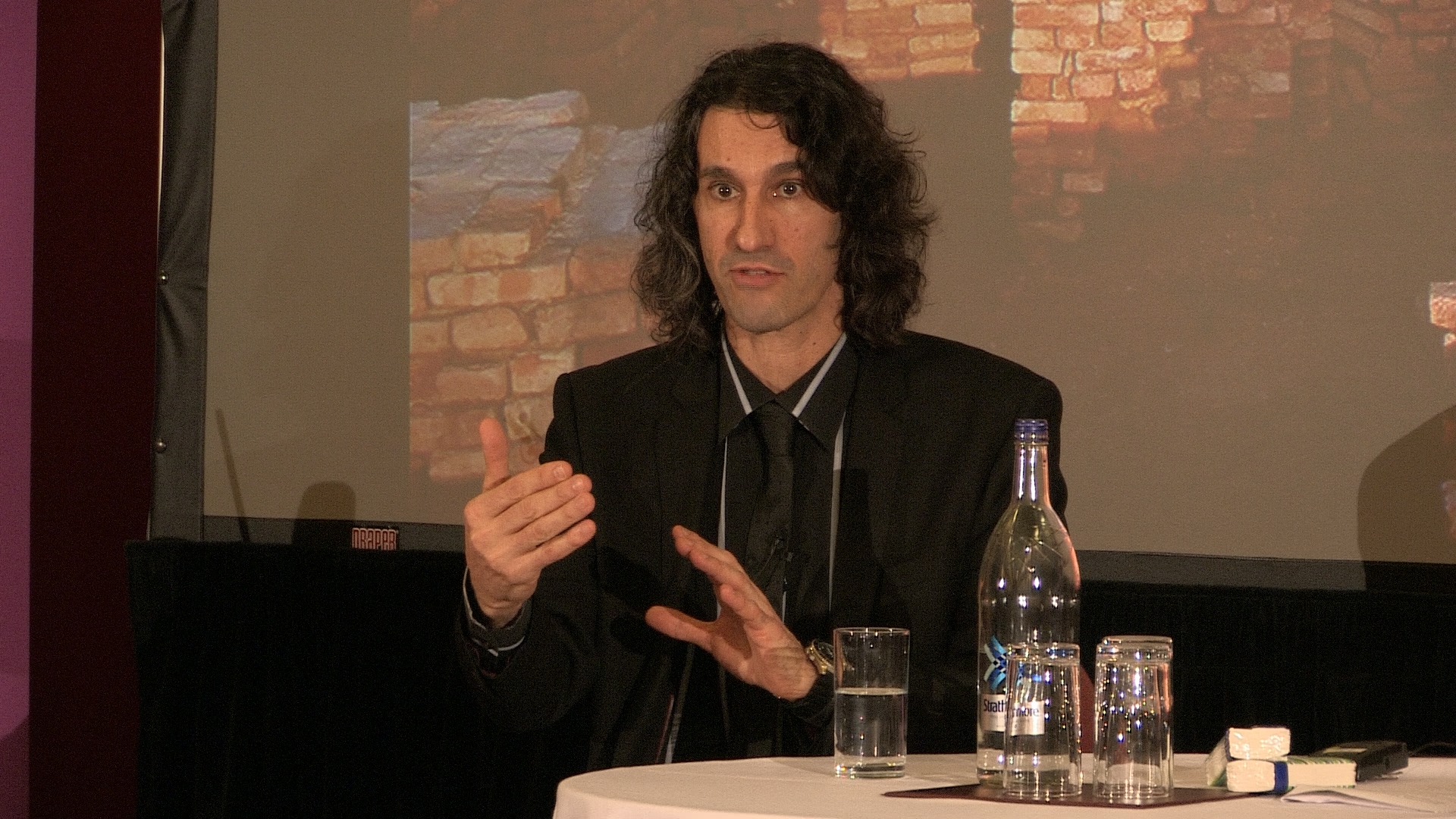 Fuentes pointed out that, while acts of lethal violence took place ever since the beginning of our lineage, "large scale lethal violence, or warfare, is an evolutionary recent phenomena." He asserted that about 12-14,000 years ago the material record began to shift and that by 4-7,000 years ago "warfare and mass killings become not a common, but a regular aspect of the human condition." He was quick to point out that competition over resources is not a sufficient explanation for this development, but that conflicts with ideology is also a significant ingredient.  As he went on to describe, "During the changes that emerged across the Holocene humans made the perceptual shift from individual-on-individual violence to perceiving a whole group or cluster of groups as 'the enemy': we creatively de-humanized others as we redefined ourselves," which had significant "implications for how and what humans believe.
Fuentes ended his third lecture by pointing toward the fourth where he would speak about "that most distinctive of human developments: human culture." It is through understanding human culture, Fuentes stated, that we are more fully able to understand how we believe and in doing so we put ourselves in a better position to answer why it is that we believe.