Gifford Lectures Vote of Thanks
Gifford Lectures Vote of Thanks
Last night following Professor Stout's final lecture Professor Larry Hurtado delivered a brief vote of thanks. Hurtado is Emeritus Professor of New Testament Language, Literature & Theology at the University of Edinburgh. His vote of thanks is posted below.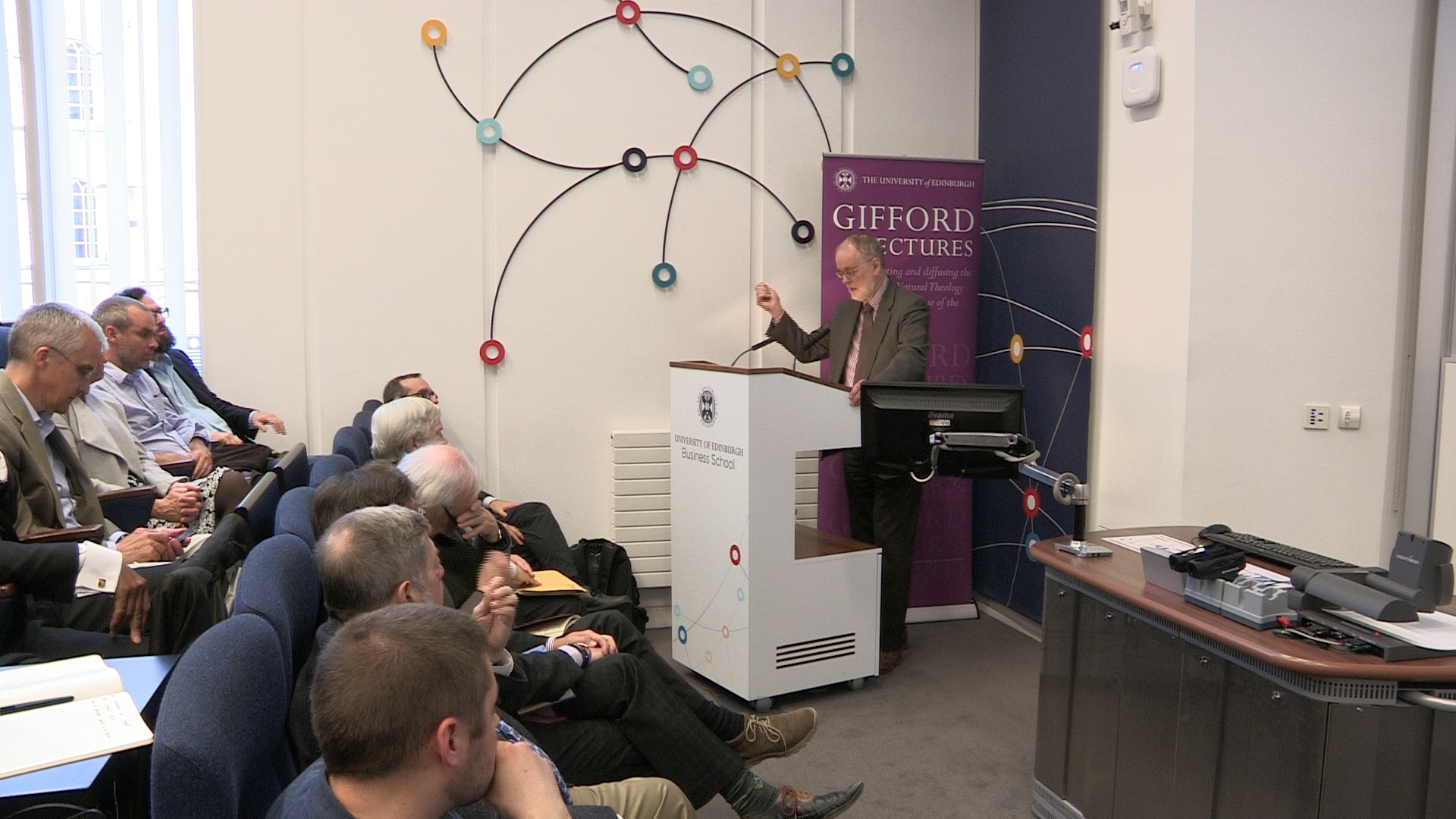 In these six Gifford lectures, Professor Stout has challenged cogently the grand narrative of a "great separation" in Western cultural history in which religion was relocated from a previously public influence to a more private and hobbyist sphere, which supposedly enabled Western culture to move in liberationist directions including the emergence of modern democracy, free inquiry, and more egalitarian values.  Professor Stout's effective challenge to this narrative has been conducted by an in-depth historical analysis of key figures who serve as case-studies of genuinely religious individuals across several centuries who each criticized then-dominant political values and practices precisely on the basis of their religious convictions.  To borrow a phrase, these lectures comprise their own "inconvenient truth" over against the romanticized narrative of secularization that has been so popularly and uncritically echoed.  I am not able to summarize the wealth of these lectures, and it would be tedious for me to attempt to do so.  Nothing could, or should, substitute for hearing them, or hearing them again (on the Gifford Lectures web site), and in due course, we hope, reading them in published form.  But I am honoured to be asked to offer a brief vote of thanks.
It is part of Stout's ingenious approach to start with individuals who preceded the "Enlightenment," the period of the supposed "great separation," and then proceed through subsequent centuries showing a succession of religiously-committed figures who were the most influential in various efforts toward justice and liberation.  Stout grants all those whom he discusses their human limitations, as in the case of the sixteenth-century Dominican, Bartolomé de las Casas, who (somewhat like the blind man healed by Jesus in the Gospel of Mark) came to his moral vision in stages.  But Stout rightly emphasizes that it was their basic religious convictions that helped all those highlighted in his lectures to direct their passionate efforts to oppose injustice and to promote a more generous social and political practice.  The timespan of the case-studies has been impressive, from Cicero to Martin Luther King (whose memorable "Letter from a Birmingham Jail" was an early influence); and for many of us I am sure (certainly for me) this was all very informative.  Professor Stout's lectures also correct the distortions and unfair relegations to obscurity of some figures.  Based on the Tuesday lecture, for example, Emerson may well again be placed in the syllabi of courses in moral and political philosophy!
Professor Stout has also demonstrated in himself the union of critical intellectual inquiry and a personal, even passionate, commitment to the stakes involved in our moral and political values and practices.  He has shown that personal involvement can fuel intellectual inquiry and does not inevitably distort the results.  His analyses are fully open to others with different commitments, or even to those who glibly may profess none.  But his lectures demand an equivalent learning and intellectual ability for anyone who would argue otherwise.
In a brief interview for these lectures, Professor Stout indicated his personal admiration for the American pragmatist tradition.  At least in part, roots of this tradition lie in the Scottish "Common Sense" philosophy ascribed to figures such as Thomas Reid and James Beattie, and conveyed to the US by John Witherspoon, born in Gifford parish (East Lothian), a graduate of this university in Arts and Divinity and an Evangelical parish minister, who became the sixth president of the College of New Jersey in 1768, the foundation of Princeton University.  In addition to major contributions to the College in curriculum and fund-raising, Witherspoon also taught Moral Philosophy, believing strongly that political life must be infused with moral values, and among his students were figures important in the formation of the USA, including James Madison, Aaron Burr, William Bradford and Hugh Henry Brackenridge.  Indicative of his own commitment to action as well as thought, he was a member of the Continental Congress and its chaplain, the sole clergyman to sign the Declaration of Independence, and he helped draft the Articles of Confederation.
In these Edinburgh lectures from a highly respected American scholar we perhaps hear some reverberation of that early Scottish influence on American political thinking, and also a fresh and cogent contribution for our time that comprises an impressive return on that early investment.
– Larry Hurtado