Lecture Six: Religion and the Politics of Explanation
Lecture Six: Religion and the Politics of Explanation
Professor Stout delivered the sixth and final of his Gifford Lectures last night. My summary  is below. The video of Stout's lecture is embedded below for those who were unable to attend in person, or for those who'd like to listen to it again. An audio only version can be  found at the end of this post. In order to further facilitate discussion George Walters-Sleyon will provide his initial reflections on Professor Stout's final lecture. George is PhD candidate in Practical Theology and Christian Ethics at New College, University of Edinburgh. We'd like to reiterate that we warmly welcome anyone wishing to engage with Stout's lectures to contribute their comments and questions below.
Professor Stout began the first section of his final lecture speaking about "ethical religion and coalitional politics." He referred to Martin Luther King Jr.'s Why We Can't Wait (1963) and to his "Letter from Birmingham Jail," which he wrote in solitary confinement also in 1963. His letter was written in response to eight "moderate" clergymen who had publicly expressed their disapproval of the civil rights protests going on.  Stout then quoted King's question to these clergymen that has been at the center of his own lectures: "Is organized religion too inextricably bound to the status quo to save our nation and the world?" In many ways, these lectures have been an endeavor to more fully understand what King wrote here in this letter. Stout went on to note Emerson's influence on King and King's appropriation of aspects from "the traditions of black preaching, natural law, and personalist theology, each of which distinguishes ethical from unethical religion in its own terms."
Stout went on to note that "King treats the separation of religion from politics as a heresy that moderate clergy use to excuse inaction in the face of oppression" and that both King and Rabbi Abraham Joshua Heschel believed the bifurcation of the sacred and the secular to be a cause of racism. Stout went on to mention that "King and Heschel used the term religion to form a political coalition of Christians and Jews" and in doing so they challenged the relegation of religion to the private realm. Stout ended the first section of his lecture by noting that Gandhi, too, was a "a multilingual coalition builder."
In the next section of his lecture stout focused on "ethical religion and critical explanation." He started by noting Malcolm X's retention of the distinction between good and bad religion while he "rejected King's Christianity and Gandhi's nonviolence." He then noted James Baldwin's use of the distinction and both Baldwin and King's attempts to explain unethical religion, which they have in common with Livy and Emerson. As Stout has shown throughout these lectures, these thinkers do not take religion to be inherently illusory or oppressive. Religion can be done well or it can be done badly. It can be good for society or harmful. Therefore, religion ought to be critically examined, not rashly abandoned.
He went on to talk about how Baldwin understood political freedom in spiritual terms and how both Baldwin and King linked social ills to a nation's spiritual health. He moved on to talk about how King sought to critically examine the social ill of racial domination by attempting to explain its existence. As Stout said, "Domination of one or another sort is said to obtain here or there in part because some people justify it religiously or their religion excuses them from actively opposing it." Stout then again went on to talk about the role of immanent criticism in addressing these issues. He spoke of the Socratic and Emersonian approaches to explaining how "religion can reinforce domination without necessarily intending to do so." He then went on to speak of three more in the style of Livy, Cicero, and Tacitus/Genesis. The first emphasizes the role that religious corruption plays in explaining examples of domination. The second utilizes paternalist arguments that promote proper suspicion whenever a particular group benefits unjustly at the expense of others. The third concerns unmasking the role that the "psychodynamics of servility" play in "the acceptance of oppression by the oppressed." Stout ended this section of his lecture by asking how King's approach to analyzing and evaluating religion compared to more familiar approaches such as Marx, Weber, and Nietzsche. Stout then recognized Cornel West's expertise in these issues and stated that he would spend the remainder of this lecture engaging with his work. Stout went on to say that "it is with gratitude for friendship and conversation over more than four decades that I hereby dedicate this series of lectures to him."
In this next section of his lecture Stout focused on "two types of Marxist secularism." He again highlighted the contrast between those like King and Baldwin who recognize a distinction between ethical and unethical religion from those secularists who follow
Lucretius in refusing to make that distinction. These secularists, according to Stout, "define religion as essentially bad; seek to limit religion's bad effects either by restricting it to private life or by extinguishing it; and build political coalitions unified by agreement on these points." With this understanding of secularism Stout then went on to discuss two of its Marxist forms in conversation with alternative approaches found in King, Baldwin, and West. He moved on to talk about how the various approaches deal with critiquing "vitiated religion."  As Stout explained, "The main difference is that Marxist secularism selects religion as such, rather than religion corrupted by vice, as its explanatory target—the object of its critical debunking." He went on to talk about the problematic attempts to rely on a supposed scientific objectivity. As he stated, "West argues that a non-arbitrary criterion of objectivity has proven as difficult for Marxists to secure as it has for everyone else" and the value of such methods to discern and diagnose moral ills is questionable.  Stout went on to question the claim that Marxist ideology critique consists in a "higher form of thought," and, with West, highlighted the need for multiple perspectives and standpoints to be engaged in democratic debate, as we are all finite and fallible. Stout ended this section of his lecture by noting the importance of attending to "other common markers of domination" (e.g. class, empire, gender, sexual orientation) in addition to racial oppression. As he said, "our critical explanations of tyrannical and oppressive religion need to keep all of these factors in view—and to determine, if possible, how they are related."
Stout then focused more closely on "genealogy, domination, and resistance." He spoke of West's engagement with Nietzsche, of the need to continue to engage with the truths found within Nietzsche's writings, and of King's continued legacy despite his disagreements with aspects of Nietzsche. He moved on to speak of the imperfection of exemplars and of ethical religion. As he said, "In our time, the herd's vigilant enforcement of conformity turns love into niceness and critique into cant. Ethical religion cannot honestly claim to have escaped these snares." He then noted the "pattern of disappointed democratic hopes" and the tendency of victories achieved in the name of justice to morph into new forms of injustice. As Stout conceded, "the suspicion that domination is ubiquitous, that it can defeat any foe simply by shifting shape, has empirical support." Stout, however, calls out an inconsistency among those today who believe that domination is both "ubiquitous and objectionable." One can be consistently Nietzschean if one believes that domination is not always objectionable (and one could hold out hope for an elite group of dominators). However, the belief that domination is both ubiquitous and objectionable (as some modern followers of Nietzsche do) renders resistance futile since any form of resistance  will just bring about another form of domination. This line of thinking undercuts the motivation to resist and to act in hope to transform situations for the better.
It is better to go the route that West does and deny the ubiquity of domination; where he utilizes the notions of faith and hope understood not "as arbitrary givens, but rather as rationally permissible practical attitudes." As Stout perceptively asks (alluding to a previous lecture dealing with cuo bono), if we are tempted to "imagine domination as a shape-shifting monster so powerful that resistance would be pointless," then "we do well to ask who benefits from that fantasy?"
Stout moved on to talk about the importance of wagering that certain forms of dominance are worth fighting against as well as the role that faith and hope play in that fight. He then went on to mention that "the work of justice is to correct our relationships insofar as we can, beginning with the friendships that make further corrections possible." This emphasis on relationships among friends of justice is an integral aspect and Stout spent time unpacking it further.
Stout then moved on to talk about the relationship between rational dissatisfaction and inherited ideals. He likens the genealogy that he has been doing in these lectures with the genealogy that West has done with pragmatism. Unlike some other genealogical approaches, "contingency and arbitrariness cannot be the whole truth about values without undercutting genealogy itself. If the history being recounted were itself merely another expression of contingency and arbitrariness, it would provide no reason for anyone to endorse it or care about what it says." As he went on to further explain, this rational dissatisfaction needs to be understood as a motive for change because otherwise a history of powers and ideals "has no means of explaining the rational acceptability of the evaluative standpoint it adopts." The worthy ideals that great past figures embodied through struggle and friendship had a dimension of rational dissatisfaction about them. Stout went on to say, "we need to acknowledge our debts to them while protecting ourselves from mystification and slavishness," acknowledging both their genuine virtues and vices. Stout ended this section of his lecture by highlighting the importance of venturing in faith and wagering in hope against tyrannical oppositions.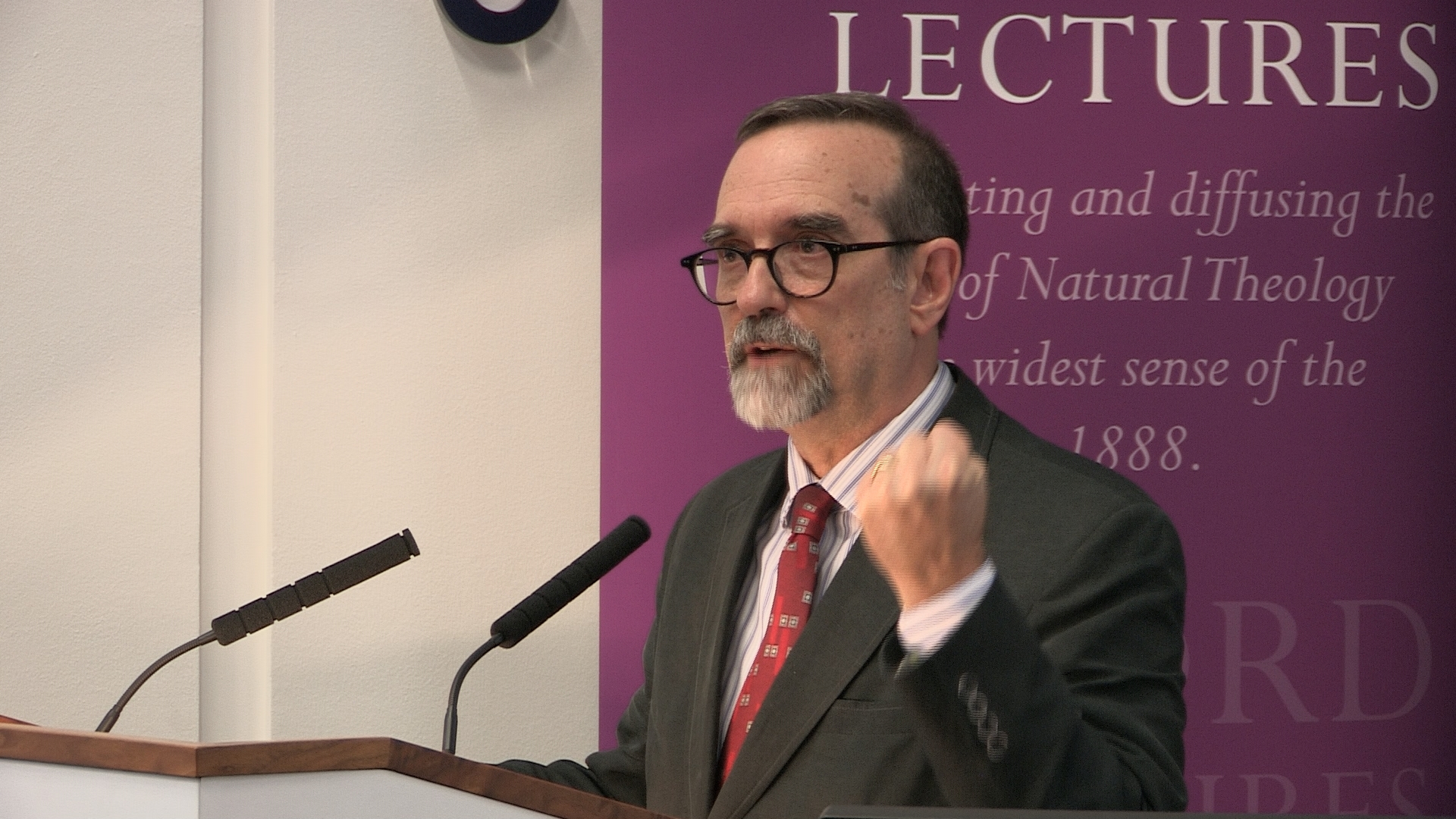 In the next section of his lecture Stout focused on "how not to name social ills." He spoke of the evaluative dimension of ethical religion and contrasted this with the value-free approach found in Max Weber. Weber's approach, according to Stout, is ultimately problematic because "His sociology has no way of distinguishing King's charisma from Trump's and no way of saying why a master's domination of a servile and mystified slave is illegitimate."
In the last section of the lecture Stout spoke about "catastrophic events and sacred value." Stout compared his critiques of academic sociology with West's critiques of scientific Marxism. After discussing Weber's "insight into religion's function as theodicy-provider" and the common strand of elitism found in both liberal secularists and Marxists, Stout went on to mention John Dewey's influence on both his thought and West's, even though they find his "pragmatist talk of problem solving too bland a way of integrating value judgments with critical explanation." For Stout and West, "problem" is too generic a term to talk about all the various kinds of social ills. As Stout said, "Not all ills are best described as problems. Some of them are catastrophic or horrendous." Our diction ought to reflect the depth of life in its goodness and in its corruption. As Stout said, "The diction of Las Casas, Savonarola, Winstanley, Milton, Heyrick, and Walker is sublime. Emerson described critical eloquence as a modulated 'habit of heat.'" Stout went on to speak about how the presence of the horrific points to the presence of that which is "worthy of reverent protection, celebration, and sacrifice," since the horrific exists as a recognized or intuited violation of the sacred in concrete circumstances. As Stout defined it, "something is sacred if it is worthy of reverence, awesome if it is worthy of awe, divine if it is worthy of worship. Reverence, awe, and worship are distinguishable religious modalities."
Stout went on to talk about how reverence for sacred value was significant for members of the egalitarian freedom movements even while various figures disagreed over the nature and existence of God. He went on to say that we may one day be able to leave behind religion-talk when discussing matters concerning reverence and piety, but that in the "meantime, the history of religion-talk will be good to know." Stout again touched on the various dimensions of exemplarity and emulation and the costs and benefits that come with standing for something. In presenting the final portions of his lecture Stout emulated Emerson's characteristic hand gesture. He stated, "The past is where the precedents are. The present is where we shall make of them what we will."
George Walters-Sleyon will now provide his initial reflection.