RSE Gifford Discussion Forum
RSE Gifford Discussion Forum
Last night Professor Jeffrey Stout was joined by Professor John Bowlin (Robert L. Stuart Professor of Philosophy and Christian Ethics, Princeton Theological Seminary), Professor G. Scott Davis (Lewis T. Booker Professor in Religion and Ethics, University of Richmond), and Professor Cornel West (Professor of the Practice of Public Philosophy, Harvard University) to further discuss his Gifford Lectures among themselves and with the audience. The event was chaired by Dr Alison Elliot, (Associate Director of the Centre for Theology and Public Issues at the University of Edinburgh). A link to the audio provided by the RSE can be found at the bottom of this post.  Professor Mona Siddiqui delivered a vote of thanks at the end of the evening, and it is posted below for those who were unable to attend and for those who would like to reflect on it again. Professor Siddiqui is Professor of Islamic and Inter-religious Studies and Assistant Principal Religion and Society at the University of Edinburgh. She is also herself a former Gifford Lecturer.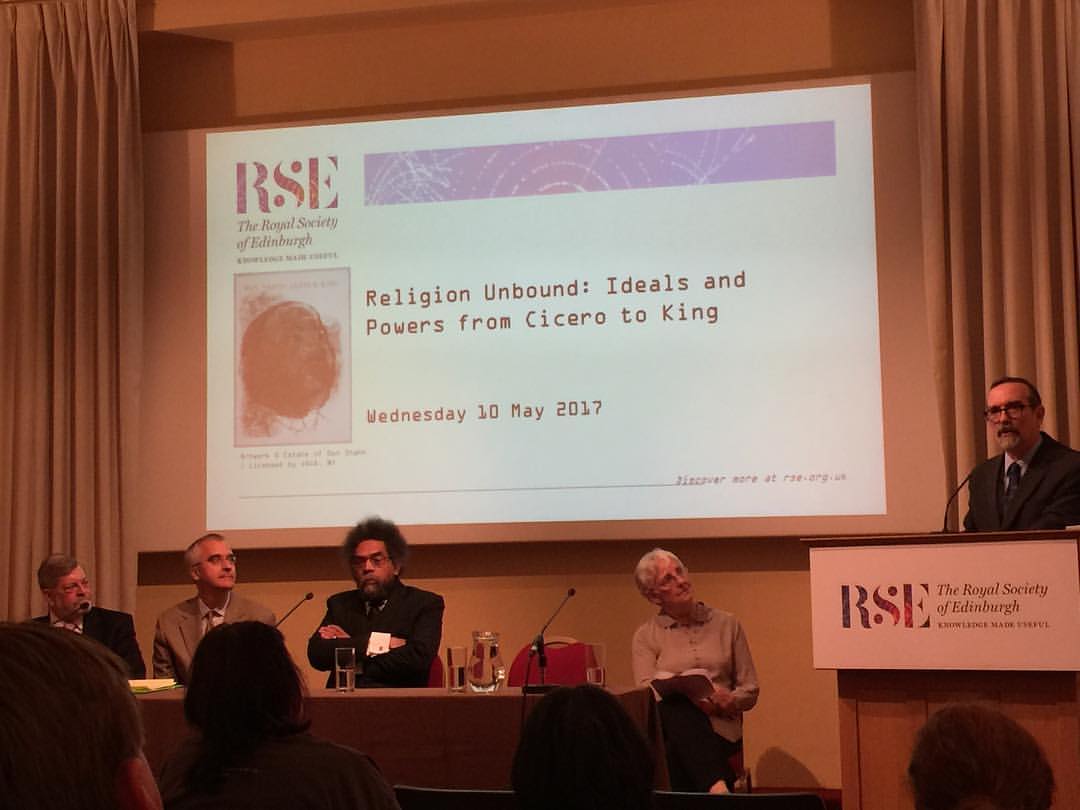 Ladies and gentlemen, distinguished guests and colleagues.
It is an enormous privilege but also a challenge to give a vote of thanks at this event but I hope that my few words will do justice to this evening and encapsulate what many of us have been lucky enough to observe over the last few days.
Over dinner yesterday Professor Cornel West used the words intellectual integrity when he spoke of his friend Jeffrey Stout – this phrase stayed with me during the evening as I made my way home afterwards on a rather cold and empty train. How do we know and measure intellectual integrity and what value should we place on it?
We have heard much on what Professor Stout calls 'religion talk.' As scholars broadly in the field of religion and society, we bring not only our academic training into our work but also something of our innermost – that struggle which lies within us – and however much we try to define academia as objective, critically distant and abstract, our writing is shaped not only by what we research and think but also and at times more importantly, by what we feel and what we know it is ethically imperative to say. When academics are also public intellectuals, their life is never confined to the university, their reach is more expansive, their words must be more probing, not confirming to what has gone before, but always encouraging us to rethink and reframe. This is called intellectual courage.
Yet in giving such prestigious lectures such as the Giffords, what one also needs is intellectual humility – having a consciousness of the limits of one's knowledge, that what makes us good scholars is the extent of our imagination, our ability to make the deepest and most profound concepts meaningful, but that despite wisdom speaking, we are also aware of the limits of our viewpoint, that all scholarship is subject to critique and debate. There is no one grand narrative and to misquote J M Barrie, 'academia as well as life is one long lesson in humility.'
What we have been witnessing is honest critical thinking. The idea of a critical society dates back many hundred years, but it was very pointedly called for in 1906, by the anthropologist, William Graham Sumner, who emphasized in his seminal book, "Folkways," that if a critical society existed – that is, a society in which critical thinking was a major social value – if such a society were to emerge, it would transform every dimension of life and practice. This kind of society requires vision and action. I think we have seen this today
I want to conclude on friendship and fellowship – on what I know many of us have observed and appreciated during these past few days on the occasion of Professor Stout's lectures – his friends and colleagues who have accompanied him. CS Lewis said that 'Friendship is unnecessary like philosophy, like art… it has no survival value; rather it is one of those things that give value to survival.'  It seems to me that it says something about Jeffrey as a person and a scholar when his friends give up their time to be with him, to support him and to challenge him.
I have realised that may be our closest friends are only those with whom we share an intellectual intimacy, something elusive but magnetic. But there is also a fellowship here and fellowship is based on commitment not chemistry, it is about trust, collegiality and giving back. It is a fostering of community and not just friends hanging out together – it has been humbling to see and hear this friendship which after intellectual integrity, intellectual courage and intellectual humility I would call intellectual warmth  – thank you.
– Mona Siddiqui