Continuing on from his earlier blog, Shawn Soh builds upon his experiences in both online and face2face learning environments.
I recently attended a course on "Writing a data management plan" which was conducted online on 19th November 2020. Prior to this, I had also attended two other courses: "Stats for the terrified" and "A realistic introduction of R". The courses were held online in response to the COVID-19 situation. In some way, I am fortunate that ECRF has made efforts to conduct the courses online. As I am away from Edinburgh doing my data collection, it would not have been possible for me to attend the courses physically at WGH. I was asked by the administrator 'why I had signed up for these online courses?'. Besides gaining new knowledge, I must admit that the courses fees were more affordable for me, as a student, to attend. Further, the easy accessibility and convenience of attending the online course was the main reason for me.
Attending the online courses with WCRF was seamless. A link to the course session would be provided via email a few days before the course day. Then, Ta-dah! Students would usually appear on the online platform 5-10 min before the lesson begins. What a breeze to attend (with a cup of nicely prepared roasted coffee placed on my study table). In the recent course, when I joined in fifteen minutes earlier, there were no students in the online platform except the administrator and the course tutor. I took the opportunity to have a wonderful conversation with them while waiting for the other students to join in.
Similar to physical-based sessions, the courses conducted by ECRF were well-received. Each session would usually have about 15 to 20 students, depending on the course's objectives and the comfort of the tutor to manage the group. Given the nature of online teaching, I found that the skill of the course tutor to facilitate the session would be paramount. If the courses were generally highly content-driven, the information would be seamlessly delivered as a form of didactic teaching. However, when courses were more practical driven, e.g. requiring the practice of skills, then the delivery may be more challenging to be conducted online. For example, the learning of the use of R had needed more hand-hold guidance of the tutor to help less technologically-savvy individuals and those who were unfamiliar with the programming language. Perhaps, one way to circumvent the issue would be to have more facilitators and the use of break-out rooms. Other challenges, such as the lack of students' participation or inadequate group participation might also arise. Students would not be able to see each other, given that the option that the video may be switched off. Consequently, course tutors would not be able to see the responses of students and make the necessary judgement whether the course delivery had been paced appropriately. The lack of visual inputs restricts interactions among course tutors and students. One possible approach would be that the course tutor might request students to switch on their videos. However, such request might possibly affect bandwidth usage, which in turn cause video lags, affecting the learning experience.
Nevertheless, I had enjoyed my online training sessions with ECRF. The course tutors checked in with the students verbally or through the chat box to ascertain whether students had any issues with the delivered information. Vibrant and positively-vibe conversations were held through the meeting chat panel between the course tutors, course administrators and students.
For centuries, knowledge has been traditionally transferred from a teacher to a student in a place-based classroom method. One challenge emerged through this mode of knowledge delivery. What happens when the student is unable to be physically present in the classroom? For example, even though I was keen to attend the lesson, but I would be unable to attend physical-based lessons as I was not in Edinburgh. Should learning be stopped if the student is unable to be physically present in school? Does learning need to be restricted by geographical locations? In today's modern world abuzz with technological advancements, what ways can the students' learning be enhanced and enriched?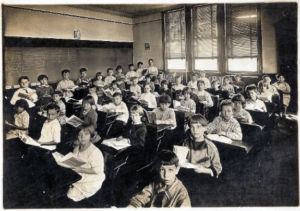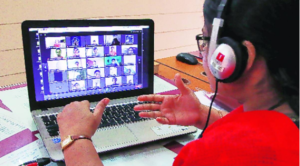 There is no doubt that the internet has decolonised learning in the educational field. Today, everyone can seek (or share) any kind of answers using popular search engines such as Google or Yahoo. The wealth of knowledge can incredibly be acquired at any time, at any place at the snap of my fingers (think "Ask Google…"). However, learning through the internet may not necessarily obliviate the need of teachers, or that "Mr Google" should be the Omni-teacher. It may be argued that there is a greater need for more course tutors to adequately guide the student to distil and discern knowledge through a critical, yet inclusive manner. Students do need some degree of guidance on what knowledge would be meaningful to them in an increasingly VUCA (volatility, uncertainty, complexity and ambiguity) world. Skills such as critical thinking, ethical reasoning and moral agency cannot be easily taught through the internet, and such appreciation of knowledge should be guided through wise educators. I have no doubt that various elements of respect, professionalism and encouragement of participation, inclusion and emancipation could still be illuminated in the online space.
Some pros of online space
Ease and convenience of attendance
Lower course fees
Accessibility to global course tutors and audience
Some cons of online space
Lesser feedback, e.g. body language obtained from course tutors and students
Need to have greater awareness on pacing the session accordingly based on verbal or written cues
Need for logistic planning, e.g. synchronising breakup rooms and online quizzes
Require a basic comfort of the use of technology
Decolonizing learning helps us to recognize, understand, and challenge the ways in which our world is shaped by colonialism. It also prompts us to examine our professional practices. It is an approach that includes indigenous knowledge and ways of learning, enabling students to explore themselves and their values and to define success on their own terms.
The time is right for us to review the decolonisation of the curriculum, even in the practice of various modes of course delivery. In critically re-examining our approach of teaching and learning, education would be transformative, not just for the student, but for the educational institution and the course tutors. It would not be an easy transition, but it is long overdue and must be addressed to advance our educational practices. Perhaps, we might also consider that physical-based learning or online learning might not need to be a binary option, but the choices that could complementary (blended teaching) or offered simultaneously (to allow better accessibility). Nevertheless, whatever the teaching pedagogy selected, online teaching and learning will be part of mainstream education in this present time and age. If educational institutions resist the use of online teaching, other online learning resources would still be readily available to the students through the internet. To prepare the student for the future, educational organisations need to be forerunners, to decolonise the curriculum and to explore different pedagogy. The adoption of forward-looking educational culture would nurture the learners for them to flourish through the provision of diverse teaching and learning methods.