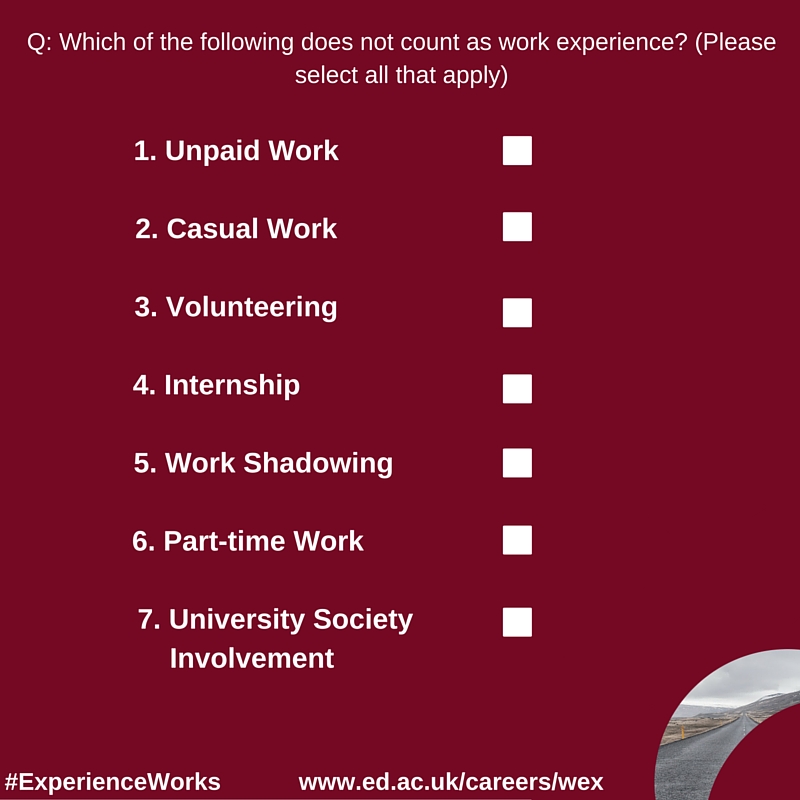 Experience. Job adverts ask you to have some. Sometimes they say relevant. Sometimes they don't specify. Sometimes they even ask you to have 'x' number of years of it but really, what counts as work experience?
If you ticked all of the above then great – you are correct. Shadowing someone for one day, through to undertaking a year's placement as part of your degree (and everything in-between) all amounts to the very experience employers are asking for. Your part-time job in a bakery, your position as course representative, your involvement in the dance society committee, your role as a Head Girl/Boy at school – all count as experience. The important thing is articulating the skills you gained from these roles on your CV.
"In my role as a course rep, I passed on the concerns of my peers to the course lecturer" – that is what you did but tell me how you did it. This therefore becomes…
…"Using my communication skills, I listened to the concerns of my peers, took the initiative to solve some of these problems and proposed solutions to the course lecturer."
In short, all the experience you have counts. You then need to make sure that experience works for you on your CV by highlighting your skills and achievements from that role.
This post is just the tip of the iceberg – there is more advice, employer and student videos, as well as resources on our website www.ed.ac.uk/careers/wex 
Get out there. Do something – everything counts. It's never too late. There is definitely something out there for you.
#ExperienceWorks
Share